New Tape Of ISIS Leader Appears To Prove He Was Not Killed In U.S. Airstrike
In the recorded audio, Baghdadi promises to expand the Islamic State across the Middle East.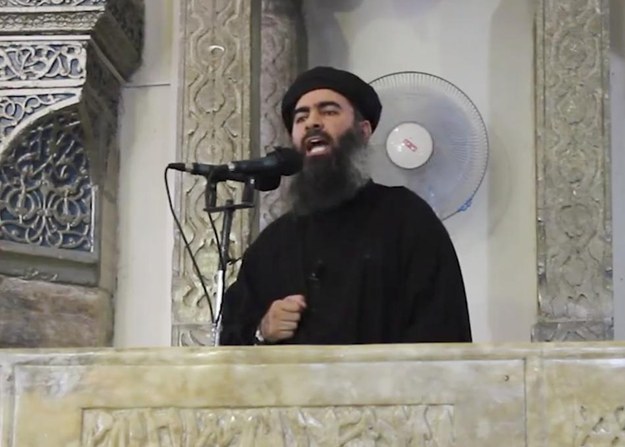 The leader of ISIS and self-declared leader of the Islamic State, Abu Bakr al-Baghdadi, released an audio recording on Thursday in what could be the first sign of life since rumors spread that a U.S. airstrike hit Baghdadi and a convoy of ISIS leaders in Iraq.
BuzzFeed News could not independently verify the audio recording, but the voice matched previous recordings attributed to Baghdadi, and it was released through the same channels as other information attributed to ISIS.
In the 17-minute recording, Baghdadi references several events that happened in the last week, including the recent move by militant groups in Yemen and Sinai to swear allegiance to ISIS. He welcomes them, and swears that the Islamic State will continue to expand across the region.
"We have heard of the expansion of the Islamic State to New lands, from Yemen to Egypt, Libya and Algeria. We accept their bay'ah [pledges of allegiance]," said Baghdadi in the recording.
He goes on to threaten those who fight against ISIS, which he repeatedly refers to as "crusaders."
"Soon, the Jews and the crusaders will be forced to come down to the ground and send their ground forces to their deaths and destruction, by Allah's permission. In actuality, this has already begun. Obama has ordered the deployment of 1,500 additional soldiers claiming that they are advisers. But the crusaders' airstrikes and constant bombardment, day and night, to the positions of the Islamic State has not prevented any advance nor weakened our resolve," said Baghdadi.
Baghdadi goes on to say he will "never leave fighting, even if only one soldier remains."
Sheera Frenkel is a cybersecurity correspondent for BuzzFeed News based in San Francisco. She has reported from Israel, Egypt, Jordan and across the Middle East. Her secure PGP fingerprint is 4A53 A35C 06BE 5339 E9B6 D54E 73A6 0F6A E252 A50F

Contact Sheera Frenkel at sheera.frenkel@buzzfeed.com.

Got a confidential tip? Submit it here.