This Sexual Harassment PSA Shows You What Egyptian Women Live With Every Day
Sexual harassment is a growing problem in Egypt. Now, the U.N. is trying to show men what it feels like to walk...like a woman in Egypt.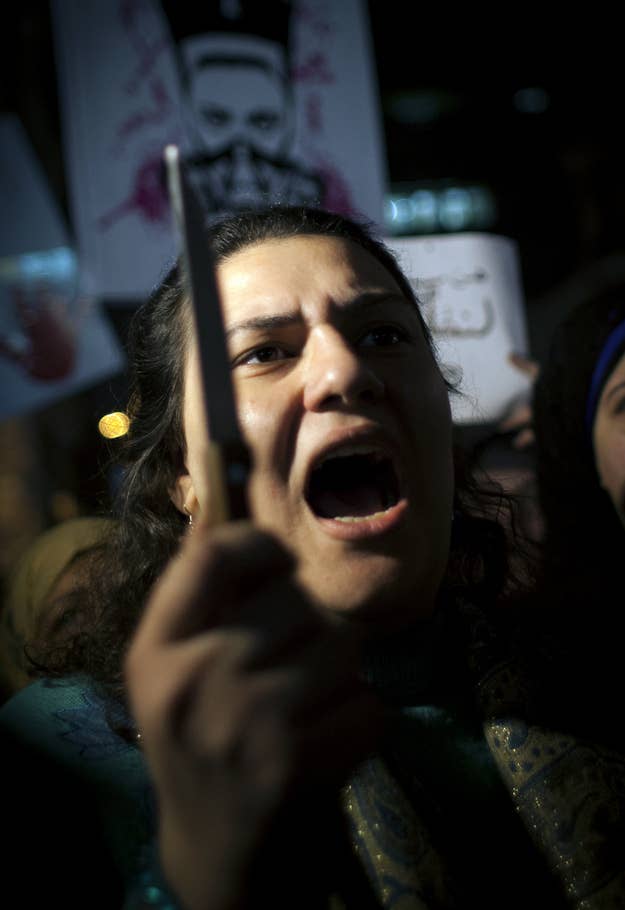 Ahmed Bashkay doesn't know why he harasses women – almost daily – when they walk by his parent's home in downtown Cairo.
"It's something to do. Everybody does it," was his answer when a young Egyptian woman asked him why he made hissing and kissing noises at her. "I tell women they are beautiful, that I want to be with them. This is a nice thing for them to hear."
Bashkay's way of thinking is all too common. Sexual harassment in Egypt is often described as an epidemic by NGOs and human rights groups. The United Nations Entity for Gender Equality and the Empowerment of Women published a report earlier this year showing that 99.3% of Egyptian women have experienced some form of sexual harassment, and 91.5% of women saying that unwanted touching was the most common for of harassment.
A lot has been done to try and stop the harassment of women in Egypt. Various groups have organized protests, including a bike riding campaign by women trying to assert their right to public spaces in Egypt. Women have taught themselves self-defense and formed groups to protect themselves during protests. HarassMap even lets women plot locations where they have been harassed and upload information about their attackers.
Now, the United Nations Women group has made a video showing Egyptians what a day in the life of a woman on the streets of Cairo feels like.
The video shows women, both in secular and modest religious dress, in the types of daily-life scenarios in which they are commonly attacked: riding public transportation, walking down the street, hailing a taxi, or entering a store.
At the end, a voiceover says, "Every day she faces humiliation, anger, she lives in fear, and she experiences violence... put yourself in her shoes, instead of finding ways to blame her."
Placing blame on the victim is all too common in Egypt, said May Iskander, a student women's rights activist at Cairo University.
"When we try to complain, even to friends or family but especially to authorities, they say we are to blame because of the way we dress, the way we act, where we were walking," she said. "And you can be a full women in a full niqab [headscarf] and still be harassed. Whoever doesn't know this doesn't live in Egypt."
Over the years many student films have been made about the harassment women face, but the problem appears to keep getting worse, she said. Iskander pointed to one recent film in which an Egyptian actor spent a day dressed as a woman and was followed by a hidden camera.
The segment was aired on an Egyptian television program called Awel el Kheit or "The Thread." Lena el-Ghadban, a senior reporter on the show, said they wanted to show Egypt through a woman's eyes.
"We want them to try to feel how women feel about sexual harassment," el-Ghadban told the Associated Press earlier this year. "If the man sees himself as the victim of sexual harassment maybe this could get him to think, What am I doing?"
Women have begun finding creative outlets to get their message across. Earlier this year, Qahera, a veiled heroine who patrols Egypt's streets to battle misogyny and Islamophobia, took off on Tumblr.
Deena, the woman behind the art wrote, "Here's another installment of my comic, featuring Qahera the hijabi superhero! This time it's mostly about sexual harassment — and the majority of the themes in this comic are based on real experiences with street harassment."
Sheera Frenkel is a cybersecurity correspondent for BuzzFeed News based in San Francisco. She has reported from Israel, Egypt, Jordan and across the Middle East. Her secure PGP fingerprint is 4A53 A35C 06BE 5339 E9B6 D54E 73A6 0F6A E252 A50F

Contact Sheera Frenkel at sheera.frenkel@buzzfeed.com.

Got a confidential tip? Submit it here.