Hamas released its first-ever video of a tunnel raid late Tuesday, in a move aimed at boasting about its successes against Israel on the battlefield and boosting support in the Arab world and at home.
The video, which shows a raid by Hamas fighters onto an Israeli outpost overlooking the Gaza Strip, resulted in five Israeli soldiers being killed and several weapons seized. It is an example, said Israeli military experts, of the type of surprise attack strategy Hamas uses to inflict maximum damage on Israel's forces.
"They don't stand in the open and fight, like they used to, waiting to be mowed down," said Amir Buhbot, a military correspondent for the Walla news site, who has been briefed on the Hamas attack tunnels. "They use these tunnels to raid, and then retreat. They wait in secret bunker rooms and attack, or force Israeli soldiers into booby-trapped houses. Their strategies have shifted."
As a result, more Israeli soldiers have died in this war with Gaza than have in the last two Israeli military offensives into Gaza combined. Israeli officials say that 53 soldiers have been killed and hundreds wounded. In Gaza, more than 1,200 have been killed, with Israeli military officials estimating that at least 400 of the dead are Hamas fighters. Exact figures are unknown, due to the ongoing clashes in Gaza.
As opposed to Israel's last offensive into Gaza in 2012, Israeli soldiers have been engaged in close-quarters gun battles. For Hamas, the relatively high casualty figures among Israeli soldiers are a victory to bring home — not just to their own people in Gaza, but to the wider Arab world.
"You don't want to feel like only your own people are dying," said Mahmoud Hamoudi, a Palestinian medic in Gaza. "Hamas can show off that they have killed Israeli soldiers to everyone now."
While support for Hamas had ebbed over the last year, driven, in part, by faltering relations with Egypt, the ongoing war with Israel has refocused the attention of the region on the Gaza Strip, and by extension Hamas.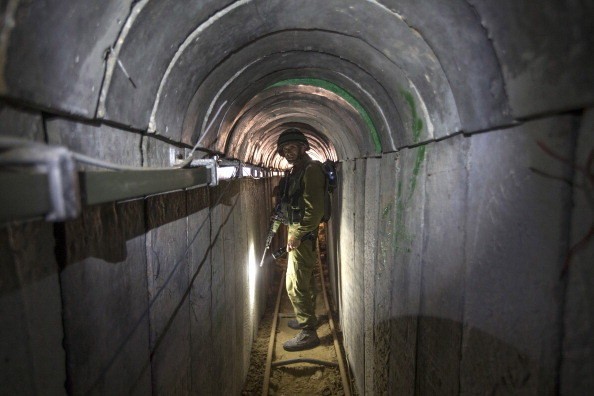 The video starts with a Hamas fighter just breaking the surface of a tunnel that snakes its way between the Gaza Strip and Israel. Within minutes, the fighters appear to make their way down a dirt road to an Israeli military outpost near Kibbutz Nahal Oz. The video slows down, showing them opening fire on a soldier standing in front of the outpost. Israeli officials confirmed that five of their soldiers were killed in the ambush. In the video, the Hamas fighters can be seen tussling with one of the soldiers, but an apparent attempt to drag him back through the tunnel to Gaza fails. The end of the video features a bounty of captured Israeli weapons.
"The Israeli army knows that Hamas' highest priority, the one thing they want to do above anything else, is kidnap an Israeli soldier or civilians," said Buhbot.
Israel's military has long used videos of its military operations, often to explain or provide evidence of their operational strategy.
In initial statements, the Israeli military spokesman's office said the military succeeded in fighting off the attack, and the Hamas fighters involved were killed. But in subsequent statements, Israeli officials said at least some of those involved in the ambush escaped back to Gaza, using the same tunnel they had built to enter Israel.
The tunnels are one of the Israeli army's greatest fears.
"In this case, they use the tunnel to attack an Israeli military position, but in the future they can use them to attack the thousands of Israeli civilians who live in the area around Gaza," read a military statement given to Israel's Channel Two news about the video.
Israeli officials have said they will continue their offensive in Gaza until all the tunnels are unearthed. The military believes there could still be up to a dozen tunnels under the border, most shaped into zigzags to avoid detection or easy destruction. It could take months, according to Israeli military officials, to effectively destroy all the tunnels.