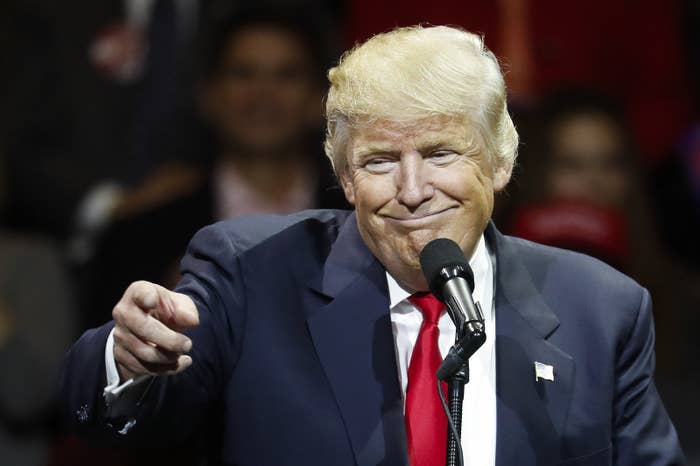 SAN FRANCISCO — Activists in the United States were left scratching their heads this week after realizing that small islands in the Pacific Ocean had begun blocking all efforts to create websites associated with Donald Trump in what appears to be an unprecedented move for an internet domain server.
To understand why activists are interested in these particular islands, you need to know about domain hacking, the practice of finding clever ways to create memorable website URLs. Say, for instance, that you were an activist looking to launch SupportTrump.com, or ResistTrump.com, the chances are those domains were snatched up and bought months ago by someone waiting to sell the domain the highest bidder. Anything that ends in .COM is controlled by the Internet Corporation for Assigned Names and Numbers (ICANN). But there are other URLs, such as those controlled by independent countries or territories, that you can buy. Egypt, for instance, controls any URL ending in .EG, Libya controls the URLs ending in .LY, and Canada controls .CA. If you wanted to try and find a way to spell Trump, however, you would be looking towards the Northern Marianas Islands.
The Northern Marianas Islands, which voted to become a U.S. commonwealth in 1975, control any site ending in .MP. Internet activists who tried this month to regster domains such as Tru.mp or ResistTru.mp found all of their attempts blocked. Anything, it appeared, that ended in 'tru.mp' couldn't be purchased, no matter how long a string of random letters or numbers came before it.
"This is the first act of suppression of political speech on the internet in Trump's America, as far as we know, and an early signal of what could become routine," Joe Dinkin, a spokesman for the Working Families Party who tried to register ResistTru.mp earlier this month, told BuzzFeed News. "Any American who cherishes freedom of speech should not take this lightly. The erosion of our rights and our democratic norms can happen fast unless we're vigilant."
Dinkin's group, which has hosted roughly 150 meetings across the US in an effort to block the agenda of the president-elect, said it was forced to register ResistHere.org after their original request was blocked.
Dinkin had been using a service called 101 Domains to try to purchase ResistTru.mp. In an email, the service told him that the URL was unavailable. Dinkin then asked the .MP service registry, which said, "The U.S. presidential election presents a unique set of circumstances that we are taking the appropriate time to explore. Therefore, all names derived from 'tru.mp' are currently unavailable."
BuzzFeed repeatedly tried to contact the managers of the .MP service. It appears to be trademarked by a group called Saipan DataCom, whose president is named as Gib Bintliff. Neither Saipan DataCom nor the .MP registration page provide an email or phone number for contact, and Bintliff did not respond to a request for comment from BuzzFeed News.
Eric Case, one of the founders of Domainr, which offers a fast service to register domains, independently tried to register any URL which ends with tru.mp, and was unable to do so.
"I've never heard of anything like this. In software it is trivial to do this, to take a string and say do this, block this if this string occurs," said Case, who has long been interested in domain hacking. "It's just such a weird thing. I've never heard of this happening before."