The Short-Lived Cease-Fire Between Israel and Hamas Leaves Literally Everyone A Loser
"Nobody really wins from this war."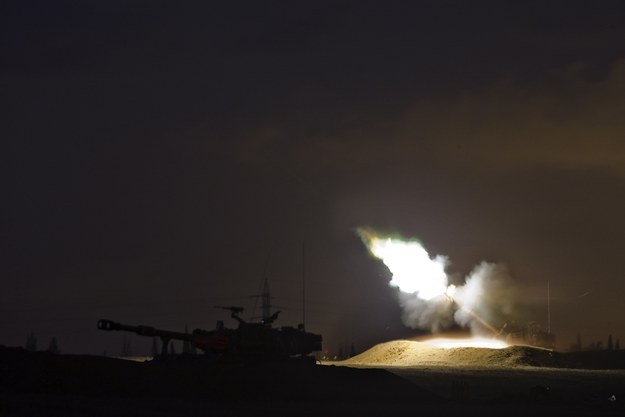 EREZ CROSSING, Israel — In what might be one of the shortest attempted cease-fires on record, a rough truce was in place between Israel and the Gaza Strip for approximately six hours Tuesday morning, briefly giving hope that the most recent round of violence might be coming to a end. But by Tuesday afternoon, rockets were slamming into Israeli communities, and Israel's air force was striking dozens of sites in Gaza.
The current round of violence — as well as the failure of the Israeli government in Jerusalem and Palestinian factions in Gaza to come to a cease-fire deal — has done little to serve any of their causes.
"Nobody really wins from this war," said a U.S. official in Cairo, who was privy to Egyptian efforts to come to a cease-fire deal. "It's a lose-lose scenario for all of them, and unfortunately it's a war they keep repeating again and again, despite neither side ever achieving a true victory."
Israeli Prime Minister Benjamin Netanyahu is now facing challenges from right-wing elements within his own party, who argue that no matter how far he goes, nothing but the complete annihilation of Hamas and other militant groups in the Gaza Strip should be considered.
The senior Hamas leadership, while achieving a small boost in popularity in Gaza, are more isolated than ever before. Cash-strapped and increasingly besieged by other militant groups in the Gaza Strip, Hamas has suffered deep fractions within its own leadership.
The Israelis (especially those living in the direct line of fire in Southern Israel) and Palestinians (especially those trapped in the Gaza Strip) have raised a generation of children who have spent their entire lives under the drumbeat of war.
Israeli Prime Minister Benjamin Netanyahu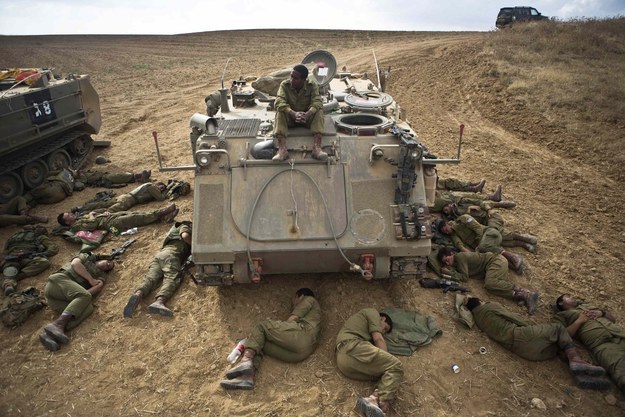 Israeli Prime Minister Benjamin Netanyahu has faced criticism for being both too hard and too soft on Hamas.
His two key coalition partners, Economy Minister Neftali Bennet and Foreign Minister Avigdor Lieberman, both of whom are politically to the right of Netanyahu, have lambasted the Israeli prime minister for his handling of Operation Defensive Edge as a whole and also his brief acquiescence to a cease-fire deal Tuesday morning.
"A cease-fire would give Hamas a chance to re-arm," Lieberman said in a press conference Tuesday. "The Israeli army should conquer the Gaza Strip." Bennet told Israeli television reporters that the cease-fire deal, which both he and Lieberman voted against, was "bad for Israel, good for Hamas."
They and other right-wing leaders in Israel argued that if Israel ceased its operation at its current state, it would risk going to war again in another one to two years. In background briefings with the press, both have hinted that if they were charged with leading Israel, they would put an end to Hamas, once and for all.
"It will definitely be part of their campaign when they eventually run for prime minister to say that Netanyahu is not right-wing enough," said Gil Hoffman, political editor of the Jerusalem Post.
Ministers from within Netanyahu's own Likud party have also posed a threat to the prime minister. On Tuesday, Netanyahu fired Deputy Defense Minister Danny Danon for making remarks against the prime minister during a time of war. Danon, who has been an outspoken critic of Netanyahu, threatened to resign earlier in the day if the Israeli government accepted a cease-fire deal. Upon hearing that he had been fired, Danon retaliated by saying, "I won't (accept) the weak, leftist spirit of the prime minister," according to the Ynet news site.
Israeli pundits said many Israelis agreed with Danon's criticism: A poll on Israel's Channel Ten Television news Tuesday revealed that only 31% of Israelis approved of Netanyahu's handling of Operation Defensive Edge.
Several prominent defense officials, including former head of Israel's Shin Bet, Yuval Diskin, have blamed Netanyahu for creating an atmosphere of fear in Israel, which undermined true security concerns.
"Let's frighten the public over everything that's happening around us in the Middle East, let's prove that there's no Palestinian partner, let's build more and more settlements and create a reality that can't be changed, let's continue not dealing with the severe problems of the Arab sector in Israel, let's continue not solving the severe social gaps in Israeli society. This illusion worked wonderfully as long as the security establishment was able to provide impressive calm on the security front over the last few years as a result of the high-quality, dedicated work of the people of the Shin Bet, the IDF and the Israel Police as well as the Palestinians whose significant contribution to the relative calm in the West Bank should not be taken lightly," wrote Diskin on his Facebook page.
The Hamas Senior Leadership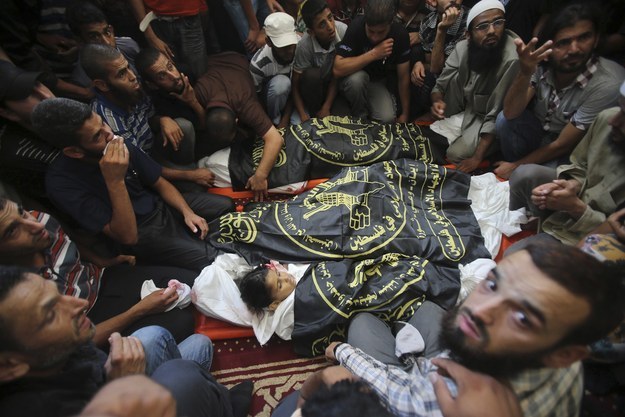 Going into the recent round of fighting, Hamas was at one of its lowest points in years. It had been struggling to pay the salaries of public service employees, including police officers, for months. Most banks and ATMS had ceased to work due to the severe shortage in funds, and with the summer's hottest months approaching, blackouts were happening almost daily.
The recent round of violence has given Hamas at least a temporary boost in popularity, as it always does when rockets are successfully fired from the Gaza Strip into Israel. But beneath the cheering of the home team, many Palestinians in Gaza have become increasingly disenchanted with the group.
"What has their resistance got us?" asked Samir Mashrawy, a long-time supporter of Hamas in Gaza. "We thought they would bring order and strength. Instead, we have no jobs, the economy is worse than ever before, and I have to worry that my children will be killed by an airstrike. And their rockets… their rockets don't even hit Israel half the time!"
A recent poll cited by the Washington Institute suggested that 70 percent of those questioned in Gaza agreed or strongly agreed with the statement "Hamas should maintain a cease-fire with Israel in both Gaza and the West Bank."
Israeli officials claim they have destroyed up to half of Hamas' missile arsenal over the last week. The elaborate system of tunnels between the Gaza/Egypt border have been demolished over the last year, part of Egyptian efforts to end the smuggling trade to Gaza. Without access to Egypt through the tunnels, or through the Rafah crossing, Hamas will struggle to rebuild its weapons arsenal or demolished neighborhoods.
"Last time there was a war, you saw the Arab world falling over itself to try and visit Gaza, to give assistance to Hamas," said Palestinian journalist Hamzi Abu Eid, a freelancer in the West Bank. "You won't see it this time around."
When violence between Israel and the Gaza Strip last flared, the Muslim Brotherhood was leading the Egyptian government and relations between Gaza and its neighbor to the south had considerably warmed. Following the 2012 offensive, a Bahraini Prince and Qatari Emir personally visited Gaza to pledge aid money, while Turkish Prime Minister Recep Tayyip Erdogan planned a visit that he cancelled at the last minute. Dozens of articles were written declaring that Hamas was achieving a new regional status in the wake of the 2012 offensive.
"As the clout of the Muslim Brotherhood in the region has faded, so has that of Hamas — which is the Palestinian extension of the Brotherhood," said Abu Eid. "There is no powerful big brother watching over them right now like they've had in the past."
The Israeli and Palestinian People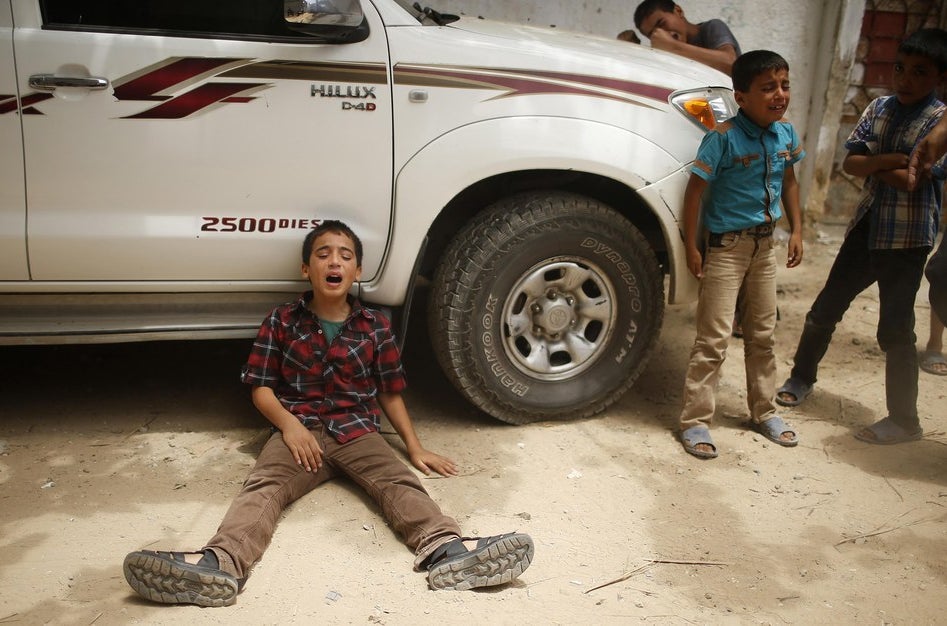 On the left, the son of one of 18 people killed in a bombing on the house of the Al Batsh family cries during their funeral in Gaza City. On the right, a young girl leaves her family's shelter in southern Israel after a missile barrage.
Shulamit Avner remembers the days her grandfather would drive to Gaza for a fish lunch — it's something the 42-year-old Israeli resident of Sderot says she "can't imagine" doing today.
"It seems surreal that just 10 years ago, Israelis were still living in Gaza. It's even more surreal that before that people were coming and going between Israel and Gaza," Avner said.
She has been to Gaza, and speaks dreamily of the beautiful beaches she remembers there. Her children, she adds, have never been, and would probably be shocked to hear that their mother once swam off Gaza's shores.
"With each generation that passes there is less understanding, less empathy or sympathy for the other side," said Ya'ara Tavon, a psychologist who counsels PTSD patients in Jerusalem. "We see more and more people who are afraid, even terrified of the 'other.' It's very unhealthy."
In Gaza, only the older generation can remember the days of traveling freely to and from Israel. With more than half of Gaza's population under the age of 18, many are growing up having never spoken to, or even seen, an Israeli national.
"I live with my extended family in one building, including my young nieces and nephews. To comfort them, we tell them that the loud explosions are part of a party, but they are too traumatized to even sleep," wrote Gaza-based journalist Abeer Ayoub in Mic. "Gaza's young children, many of whom already suffer from post-traumatic stress disorder, will feel the impact of this most recent military operation long after it is over."
More than 190 people in Gaza have been killed in the last week, and hundreds more wounded. In Israel, one civilian was killed Tuesday, the first casualty on the Israeli side, as he delivered food to soldiers at the Erez Crossing.
As the exchanges of violence continue between Gaza and Israel, millions of civilians on either side are living in fear of an attack by rocket or airstrike. They, more than anyone, have something to lose as the violence continues.
Sheera Frenkel is a cybersecurity correspondent for BuzzFeed News based in San Francisco. She has reported from Israel, Egypt, Jordan and across the Middle East. Her secure PGP fingerprint is 4A53 A35C 06BE 5339 E9B6 D54E 73A6 0F6A E252 A50F

Contact Sheera Frenkel at sheera.frenkel@buzzfeed.com.

Got a confidential tip? Submit it here.