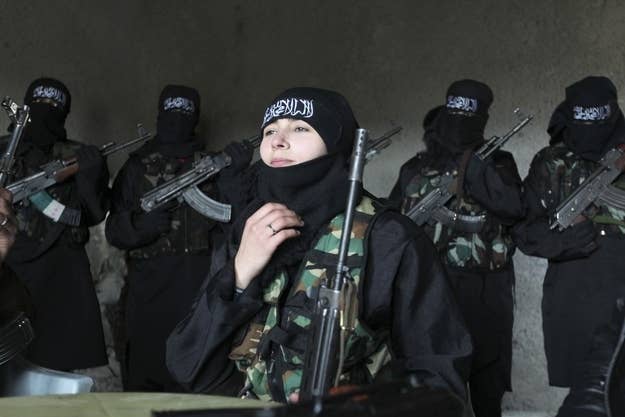 RAMTHE, Jordan — Leila, 23, still blushes when she talks about her first kiss. Now heavily pregnant with her first child, she says she didn't even hold hands with a boy until she met her husband.
"I come from a rural area, I am a modest woman, a believer," she says. "You understand that my husband and I were both very innocent when we were married. That is why this whole story, this crazy sex jihad thing is so so shocking."
Leila is one of hundreds of women who have been accused of going on a "Sex Jihad" in Syria. Last month, her parents appeared on a local Tunisian television network to speak about their "lost daughter." Her mother stands silently as her father tearfully recounts how his daughter was led astray to "prostitute herself to Syrian dogs."
The video was one of many quoted by Tunisia's interior minister Lotfi Ben Jeddou when he promised to stem the phenomenon of Tunisian women traveling to Syria to wage "sex jihad" where they were having sex with "20, 30, [or] 100" militants, before returning pregnant to Tunisia. Sex jihad, or Jihad al-nikah, permits extramarital sexual relations with multiple partners, and is considered by some hardline Sunni Muslim Salafists as a legitimate form of holy war.
"After the sexual liaisons they have there in the name of Jihad al-nikah they come home pregnant," said Ben Jeddou, though he declined to name any specific cases.
Leila, who asked that her real name and details of her identity remain private, says that the entire story is a lie. The only part that is true is that two years ago she left her small village in Tunisia to volunteer as a nurse among the Syrian rebels fighting against Syrian President Bashar al-Assad.
It was there that she met her husband.
"We met and we got married – in an Islamic wedding recognized by the court – and we made a home together," said Leila. "My family in Tunisia did not accept this, and this is very hard. But they know I am a married woman and not some prostitute on a sex jihad!"
Her husband is currently in Syria fighting among the rebels in Homs. Leila shares a small apartment in the northern Jordanian city of Ramthe with three other Syrian families.
"It was a scandal and some people maybe they believed these lies. But most people knew these were disgusting things said by the regime to try and make our fighters, our husbands, look dirty," said Leila. "We do not know of any sex jihad here and we have not seen it. It is something invented in the mind of perverted people."
She is not the only woman who has come forward and discredit the notion that women are flocking to Syria on a sex jihad.
A few days ago, the Al Arabiya network revealed several cases of Syrian women who had accused Syrian rebels of rape, when they were actually kidnapped by Syrian state security forces.
Rawan Qadah accused her father of "selling his honor" to the Syrian rebels and allowing her to be raped, and Sarah Khaled al-Alawo said she had spent months catering to the rebels as a "sexual jihadist." Both women's families, however, later said that the women had been kidnapped and held by government security forces and were forced to tell false stories of rape at the hands of the rebels.
Another story, aired by Iran's Press TV last week was widely discredited after it claimed that a Syrian women had set herself and her children on fire after being raped by Syrian rebels in a Turkish refugee camp. International humanitarian groups and Turkish authorities who work with the Syrian refugee community in Turkey told Buzzfeed that there is no known case of self-immolation in the camps, and that the story had no basis in reality. The report only quoted one person, Turkish journalist Adil Haciomerogl, who has in the past espoused extreme views on the Syrian rebels on his blog and on his Twitter account.
A still picture shown during the Press TV report that claimed to show the said woman on fire, appears to have been lifted from a BBC report on spontaneous human combustion.
Picture from Press TV report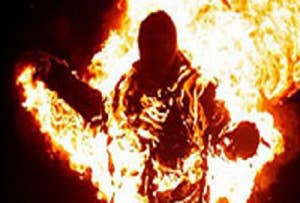 Picture from BBC report
The story of girls traveling to Syria on a sex jihad first appeared in the Arabic press over a year ago, and has slowly gathered steam.
"There is a scarcity of any factual evidence that this sex jihad thing is real. I haven't seen any kind of credible reports from news agencies or human rights groups," said Amna Guellali, the Tunisia researcher for Human Rights Watch. "When I have tried to research or dig deeper into the issue I always find unconvincing accounts… and institutions that are unwilling to provide any evidence."
She said that it is common for stories of women, particularly dishonored women, to be seized upon by political groups looking to discredit one another.
"In every armed conflict women are used as a sexual tool. In order to gain in some kind of symbolic battle, the waging parties are also waging battles over bodies of women," said Guellali. "It is surprising that the western media would seize on this, or any other kind of hoax, just because it discredits Islamists."
Lauren Wolfe, the Director of the Women Under Siege project at the Women's Media Center, said she was also surprised to see how the "sex jihad" story was widely published without any supporting evidence behind it.
"We are spending all this time looking at something that has zero evidence behind it. And in the meantime we are ignoring actual rapes that are actually happening," said Wolfe. "There is something really upsetting to me about this particular story. It's sensationalizing, almost fetishizing the rape that is happening in Syria, instead of looking at real, prosecutable cases that we know about."
For Leila, the accusations of taking part in a sex jihad continue to haunt her and her unborn child.
"Will my baby grow up and hear these lies about me? I am so angry that these lies are being said about me and about other women and that nothing is being done to correct them," she said, holding tightly onto the smartphone she had just used to view yet another Arab-language media report about sex jihad. "Every day there is a new report. I do not know all these women, I can't tell you in their cases what is true. I only know what it is, what is the truth for myself. I was never raped, I was never a sex jihadist, and whoever says so is a liar."