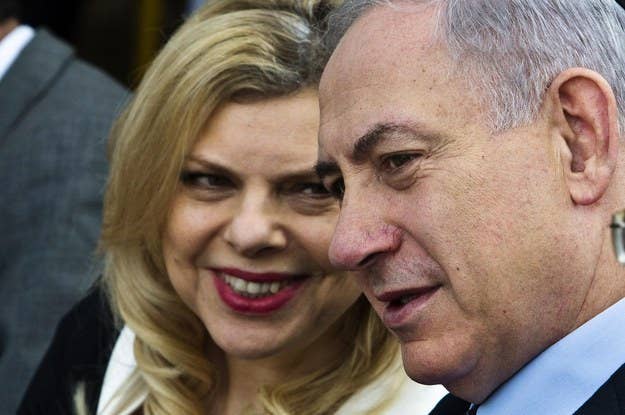 JERUSALEM – The most recent scandal to rock Prime Minister Benjamin Netanyahu's nine-year turn in office — one that struck deep into the Netanyahu home — could hurt his party's chances in the upcoming election.
A state comptroller report into the prime minister's spending habits at his official residence in Jerusalem and private beachfront villa in Caesarea was released Tuesday along with a scathing note on "excessive spending" by the family.
"We see this as much too high," said Yosef Shapira, Israel's state comptroller. He noted that Israel has no guidelines or budget set for the prime minister, but that "the way in which the budget of the prime minister's residence was managed during the years 2009 until 2012 does not comply with the basic principles of money management, saving, and efficiency and is likely to result in a waste of public funds."
After the Netanyahu family endured years of being mocked for their lavish lifestyles, ranging from first-class private bedrooms on board planes to boutique pistachio ice cream, their budget was laid bare. From 2009 to 2013, average monthly cleaning expenses at the Netanyahu homes were $20,000. Other items highlighted in the report were $24,000 on takeout, $42,000 on hair and makeup, thousands of dollars in overtime electrical work fees, and some missing patio furniture.
The questions now being asked by the Israeli public are many. Why would the Netanyahu family need to spend $24,000 on takeout when they have a private chef in their residence? Who needs an electrician on call once a week, on weekends, and specifically on the Jewish fast day of Yom Kippur? And where did that patio furniture go?
"Maybe in America you don't think this is so much money, but for us in Israel this is a scandal. So many Israelis are struggling to make rent, and you have a prime minister who spends thousands each month on hair? I find it disgusting," said Sarai Limor, a 41-year-old Israeli who has voted for Netanyahu in the past two elections but said that she is reconsidering her vote in the upcoming March 17 vote. "I'm not the only one who is feeling like Netanyahu has totally lost touch with the average Israeli family."
Israeli polls are already predicting a tight race between Netanyahu's Likud Party and a joint slate being run between the Labor Party leader Isaac Herzog and Tzipi Livni. On Wednesday morning, a poll released by Israel's army radio station showed that 40% of Israelis said that the state comptroller's report on Netanyahu's expenses lessened their support for Labor, while 50% said the report would not influence their vote.
"Israel's economy may be strong, but there is also a widening gap between the rich and the poor here, and the poor are getting poorer. Netanyahu does not have a strong socioeconomic platform, and this report highlights why the working class are turning away from him," said one Labor Party campaign strategist, who agreed to speak on condition of anonymity. He said Labor was focusing their election campaign around those voters, and that the state comptroller's report could have further ramifications.
On Wednesday, the state comptroller said that he had requested a possible criminal investigation into allegations that the prime minister's wife, Sara, pocketed $1,000 in recycling deposit funds for bottles purchased on the public tab. The report noted that because the bottles had been purchased using government funds, the refunds should have also been given back to the government.
Another issue drawing calls for further investigation is some patio furniture purchased by the couple. The report says that teak tables and chairs were moved from the official prime minister's residence and then back again with no explanation.
Netanyahu's Likud Party has issued a statement saying that there has been "absolutely no indication of any assault on the public's integrity and certainly no indication of any criminal transgressions." They refused to comment directly on the allegations facing Sara Netanyahu.
"These may seem like quibbles but for Israelis they are a big deal. We have a history of prime ministers who showed austerity, who were one of the people, and we loved them for it," said Limor.
Israel's recently retired President Shimon Peres has spoken publicly about how he and Israel's first prime minister, Ben Gurion, used to sleep sprawled out on coach chairs during long flights, and about the early days of kibbutz, or communal meals shared by Israel's earliest governments.
Netanyahu has worked hard to convince Israelis that the allegations being made against him are part of a concerted effort to shame his family, and that the family lives by fairly austere standards.
Over the weekend, a video was released in which Netanyahu and his wife show Israeli interior designer Moshik Galamin their official residence.
Netanyahu, who uploaded the video to his official Facebook page, is seen greeting the designer before handing him off to his wife, who takes him on a tour of threadbare carpets and cracked walls in the official residence.
While the video was highly shared, many in Israel questioned its message.
"So she doesn't like the paint, and the carpets are a little torn? That looks like 90% of my friends' homes," said Mairav Cohen, a 27-year-old mother of two from Bat Yam. "I get that as the prime minister he needs a nice house but to me it just seemed like they were complainers."
Israeli reporters watching the video also pointed out that camera shots were chosen to make the home appear as dusty and derelict as possible. In one scene, Sara Netanyahu takes the decorator into a kitchen which he describes as a "Romanian orphanage." The kitchen shown, however, is the staff kitchen on the ground floor of the residence, while a new, updated kitchen recently installed on the second floor of the home remains unseen in the video.