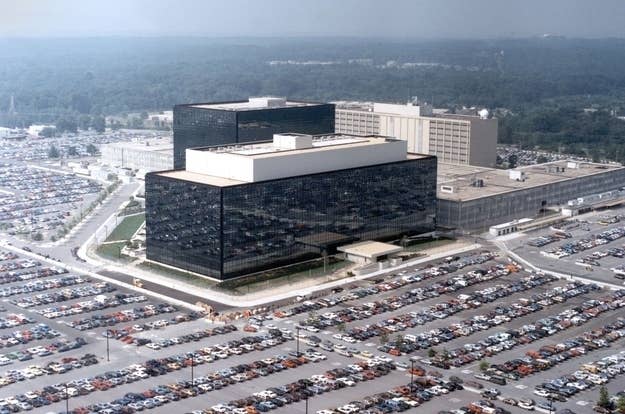 JERUSALEM, Israel — Nestled between the Glilot highway junction and a multiplex cinema in central Israel is a hill that looks like it doesn't belong. Underneath the grass sits the underground headquarters of 8200, the Israeli Intelligence Corps Unit, which has grown over the past 60 years to accommodate the thousands of soldiers it needs for decrypting codes and collecting signal intelligence. The unit, secretive and elite, outgrew its Tel Aviv headquarters just two years after its inception in 1984, and over the past decade has massively expanded its intelligence-gathering installation in southern Israel's Negev desert.
"We're one of the largest units in the Israeli military, we're bigger than the navy. We're arguably more important than the navy too," said Shlomo, a soldier who recently retired from the 8200 unit to take a job in the private sector. He agreed to be interviewed by BuzzFeed if only his first name was used. "What we do is at the forefront of how our country will fight and defend itself in the future."
As the U.S. begins to consider curbing some of the vast spying powers allotted to the National Security Agency (NSA), in Israel the presence of a big brother-type of intelligence agency is not only largely accepted by the public, it's a popular career choice for high-tech entrepreneurs. As the Obama administration begins to debate the recommendations of the panel of presidential advisors who this week reviewed the NSA's surveillance practices and recommended that data should not be stored wholesale by the NSA, Israel's intelligence apparatus continues to focus on how to collect even greater caches of data, and — more importantly — how to organize and peruse that data through complex computer programs they develop.
Dozens of private companies have been founded by veterans of Unit 8200, many of them based on the work they did for Israeli intelligence. They have turned Unit 8200 into an incubator for so many successful security companies that Yossi Vardi, who founded Israel's first software company in 1969, said "more high-tech millionaires have been created from 8200 than from any business school in the country."
One former Unit 8200 head told Haaretz that in 2000, 30-40 high-tech companies founded by Unit 8200 veterans were launched, and of those 5-10 were floated on Wall Street. Since then, say army officials, the number has likely skyrocketed.
"This correlation between serving in the intelligence Unit 8200 and starting successful high-tech companies is not coincidental: Many of the technologies in use around the world and developed in Israel were originally military technologies and were developed and improved by Unit veterans," the head told Haaretz.
Recent Unit 8200 members said the line between service in 8200 and Israel's high-tech sector was "very grey." "
"Many people develop their concepts while still in 8200 and then launch them alongside the officers they served with. It's actually a very, very small world," said Shlomo. Their concepts, he said, have been increasingly geared towards the data-gathering needs of the NSA, allowing the U.S. to cast the type of wide net that Israel's government has been using for years in its own intelligence community.
"In America, you have this perception of privacy and everyone was shocked by the Snowden thing. In Israel we weren't shocked because people have taken it for granted a long time ago that their communications are watched. We were maybe ahead of the U.S. in giving up our private data, but we've also been ahead of them in organizing that data," said Shlomo.
Over the past six months, revelations over the scope of the NSA's intelligence gathering operations have given way to questions over how the agency does it. The answer, in many cases appears to be companies developed within Israel's tech and security establishments.
"Israeli tech is becoming a household name. It's hot right now. Combined with the defense industry, which we already have a name in… well you can imagine Israeli high-tech security companies are in hot demand," said Shlomo.
Several Israeli companies have already been singled out as possible arms of the NSA's data collection project. Many say it is no coincidence that at least four companies headed or engineered by former members of 8200 have been outsourced to the NSA to help the spy agency gather and organize its data.
Verint, founded by former intelligence officer Jacob "Kobi" Alexander, has a product called Star-Gate, which allows "access to communications on virtually any type of network, retain communication data for as long as required, and query and deliver content and data," according to its company statement. Verint has been lauded for its ability to manage a vast expanse of targets, and sift through call data records and cellular communications, making it a particularly attractive company for Verizon, which purchased it in the early 2000s. According to James Bamford, a journalist who has written extensively about the way in which the NSA collects data and author of The Shadow Factory, Verizon has long used Verint to collect data about its customers and pass that data along to intelligence agencies.
Narint, an Israeli-founded company which in 2010 was acquired by Boeing, does a similar service for AT&T, alleged whistleblower Mark Klein. In 2003, Klein, a former AT&T employee, revealed to Bamford how the Narus system was being used to analyze and organize data from AT&T customers through its "semantic Traffic Analyzer." Narus says that its technology allows it to gather cellular data ranging from calls made through Skype or Viber, to text messages and emails.
Amdocs, another company, has contracts with the 25 biggest phone companies in the U.S., and more worldwide, to organize and manage call records and billing. Amdocs has been publicly accused of wiretapping, and was briefly investigated by the FBI for intercepting sensitive telephone conversations.
One of the newer, and more uniquely-named NICE, was founded by seven veterans of the 8200 unit, to "provide voice content analysis with features such as: word spotting, emotion detection, talk pattern analysis, and state-of-the-art visualization techniques."
According to Nice's website, Nice, "captures and analyze interactions and transactions, realize intent, and extract and leverage insights to deliver impact in real time." The company lists Orange and T-Mobile among its clients.
"Israel developed these companies to meet their own security needs. In Israel, we have known for a long time that the collection of data is a necessary protective step, and our citizens know this. There isn't the same expectation of privacy here," one Israeli officer from the IDF's cyber command center told Buzzfeed in an interview. "Other countries have been known to use our technology."
Yossi Mellman, an Israeli journalist who reports on the intelligence community and author of a book called Spies Against Armageddon told BuzzFeed that, "it is possible that the NSA subcontracted some Israeli companies to do some work for them, or to provide equipment or software. But this is a sharing of equipment of means."
Mellman recently published a rare interview with Hanan Gefen, former commander of Unit 8200, in which he argued that the US and Israel have the same objectives in the spying game.
"Terrorists are sophisticated; they have a lot of electronic means and take advantage of modern communications," Gefen told Mellman in an interview published in the Jerusalem Report. "They can plot attacks by communicating with each other via a landline, a cellular phone, a fax machine; they can send text messages using WhatsApp, Viber, SMS, emails, Facebook, LinkedIn and many other social networks. They can use Internet cafés and create their own codes. The world had to fight back and invent ways to follow the terrorists and monitor them. In that regard, I have only admiration for the NSA and its innovative ways to penetrate and monitor and put suspects under surveillance."
Israeli officials have repeatedly denied accusations that their technology gives them "back-door" access to U.S. intelligence, arguing that the U.S. and Israel regularly share intelligence through well-established channels. Documents published by Snowden revealed that the U.S. gives Israel raw intelligence, though its unclear if Israel does the same.
"That they share is clear, but I don't think there is any situation where these Israeli companies are taking information," said Mellman.
For Shlomo and his roommate, David Cohen – who also works in high-tech – working in and inventing new programs to mine for the type of data intelligence agencies need is, "the way of the future."
Last week, the two friends sat drinking a mid-afternoon beer on Tel Aviv's trendy Rothschild Boulevard with their laptops settled in their laps. They were testing out a new idea for translating data in real-time they said, though they wouldn't share the details.