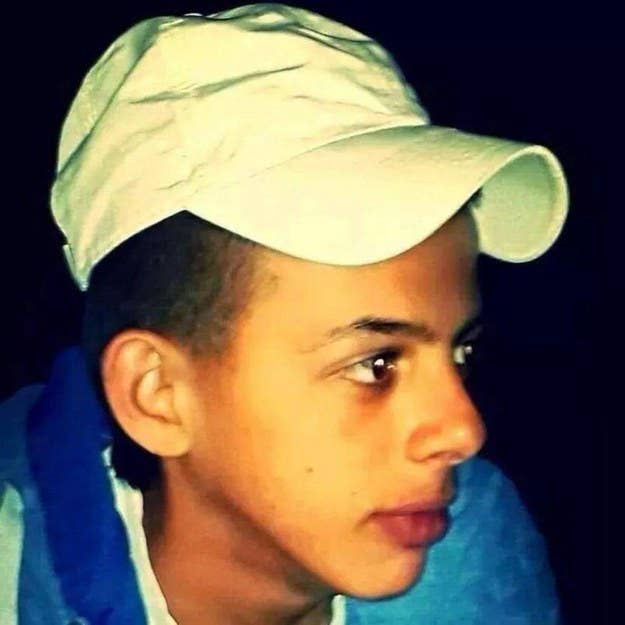 JERUSALEM – Moshe Aviram flashed a smile as he yelled "Death to Arabs" at a passing car on a busy street in Beit Shemesh. It was not a protest, he explained, but an "action" he would later boast about on the online forum for hardline fans of the soccer team Beitar Jerusalem.
"We will carry out other actions, God willing, this is just the beginning," he said. "We aren't afraid to do what is needed."
Aviram is part of La Familia, a dedicated group of several thousand fans of the Jerusalem team, who take as much pride in their devout allegiance to the far-right group as they do in their anti-Palestinian chants and racist slogans.
Over the weekend, police arrested six people for the kidnapping and murder of Palestinian teen Muhammed Abu Khudair. The group, they said, were all part of the La Familia, and had taken part in an anti-Palestinian rally the day before killing Abu Khudair.
Aviram said he doesn't personally know the six who were arrested, but they have mutual friends.
"They are good people, good people whose names are being muddied by our spineless political leadership," said Aviram. "When a soldier kills a Palestinian terrorist in Gaza we celebrate him, they should be celebrated too."
Aviram refused to distinguish between Israeli soldiers and the young, mostly male, teenage fiefdom of which he is a part. He also refused to distinguish between Palestinians, calling them "terrorists" and insisting that any non-Jewish person in Israel should be forced to "leave or face the consequences."
On Facebook, the fan group for La Familia posts photos and videos of recent rallies. Underneath, many of the comments urge "Kill the Arabs" and "The only good Arab is a dead Arab."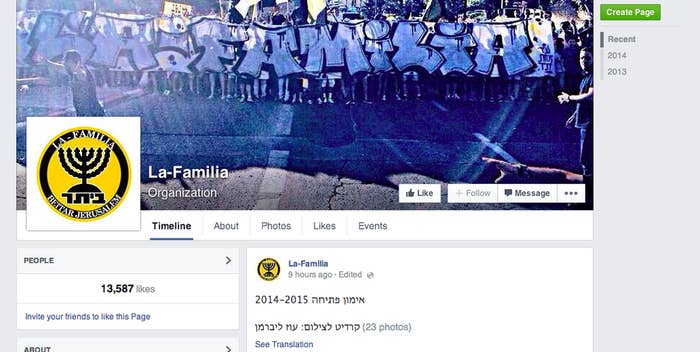 Police have kept a gagging order on many details of the case, but in off-record briefings they have revealed that the six suspects live in Jerusalem, the Adam settlement, and Beit Shemesh. At least three of the suspects are cooperating with police, including one whose car was allegedly used to carry out the crime.
On Monday, police revealed that the six were members of the same family, and that some were minors.
"The brutality of the crime is even more shocking considering their age," said one police officer, who gave reporters an off-record briefing.
The group had been tied to an attempt on the previous day to kidnap 9-year-old Musa Zalloum from the East Jerusalem neighborhood of Shuafat. They allegedly returned early on Wednesday morning, and snatched Muhammed Abu Khudair in front of his family's home as he waited for his father to return from evening prayers. Fifty minutes later, they allegedly set fire to his body in the forest west of Jerusalem.
Police are still awaiting a final autopsy, but Palestinian officials who saw a preliminary report said that Abu Khudair had been beaten and then set on fire. Soot had been found inside his lungs, indicating that he was still alive when he was burnt to death.
While some hardline groups, including La Familia fans, have cheered their actions, others in Israel have questioned the political and religious leadership that called for revenge in the week leading up to the event.
Israeli media have largely called the death of Abu Khudair a "revenge killing" in response to the murder of three Israeli teens, whose bodies were found a week ago. The three teens had been hitchhiking near the southern West Bank city of Hebron when they were kidnapped and killed on June 12. Police are still looking for two Palestinian men wanted in connection with the deaths.
The mother of one of the teens, Rachel Fraenkel, spoke out on Monday against some of the violence that has been committed in the name of vengeance for her son:
Even in the abyss of mourning for Gil-Ad, Eyal and Naftali, it is difficult for me to describe how distressed we are by the outrage committed in Jerusalem – the shedding of innocent blood in defiance of all morality, of the Torah ,of the foundation of the lives of our boys and of all of us in this country.Only the murderers of our sons, along with those who sent them and those who helped them and incited them to murder – and not innocent people – will be brought to justice: by the army, the police, and the judiciary; not by vigilantes. No mother or father should ever have to go through what we are going through, and we share the pain of Mohammed's parents.The legacy of Naftali, Gil-Ad and Eyal is one of love, of humanity, of national unity, and of integrity.