Israeli Airstrikes Hit Air Force Base Near Damascus, Says Syrian State TV
Several Syrian and Lebanese news channels claimed Sunday that Israeli jets hit an air force base in the town of Dimas, outside Damascus. On Monday, the foreign ministers of Syria and Iran condemned the attacks while Israel would not confirm they were responsible.
Updated: Monday, Dec. 8, 7:18 a.m. ET
Syrian State TV said Sunday that Israeli jets had violated its airspace, and bombed several military air bases in the town of Dimas, just outside Damascus.
"The Israeli enemy attacked Syria by targeting two safe areas in Damascus province, namely the Dimas area and the area of Damascus International Airport," said the channel.
An Israeli military spokesperson would not comment on the attack, but an air force officer reached by BuzzFeed News Sunday evening said that Israel "regularly monitors the activities in Lebanon and Syria" and was "concerned about efforts to smuggle advanced weapons systems and anti-aircraft weaponry to militant groups." He did not confirm or deny if Israel had been involved in the attack Sunday.
Syrian State TV said that residents in Damascus heard loud explosions just after 4 p.m. local time. They added that there had been no casualties in the attack.
BuzzFeed could not independently confirm the authenticity of this video, which was uploaded to YouTube on Sunday and purported to show the contrails left by Israeli planes.
Israel has refused to comment on reports that its air force has hit Syria several times over the past two years. The area of Dimas, just to the west of Damascus towards its border with Lebanon, was previously hit in May 2013.
On May 3 and 5, Syrian news networks reported a series of air strikes on targets just outside Damascus. Satellite imagery showed that the attacks hit near or on Syrian military sites.
Former Israeli Mossad director Danny Yatom alluded to his country's involvement in those attacks, adding that Israel needed to defend itself and occasionally take preemptive action.
The New York Times published a report quoting unnamed American officials who said the May 2013 attack had targeted at a shipment of advanced surface-to-surface missiles from Iran that Israel believed was intended for Hezbollah.
These photos were uploaded to Syrian news networks. BuzzFeed could not independently confirm their authenticity.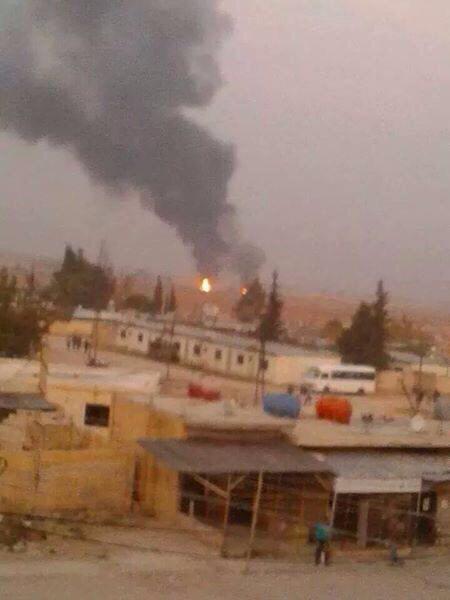 On Monday, the Syrian and Iranian foreign ministers condemned the airstrikes.
Both officials said the strikes show Israel is "in the same trench" with with rebel groups fighting the Syrian government, the AP reported. The strikes caused damage to facilities, they said.
Appearing on Israel Radio on Monday, Intelligence Minister Yuval Steinitz would neither confirm nor deny the news, but offered a subtle hint about what might have been involved.

"We have a very potent defense policy that is oriented toward safeguarding the country and wherever possible preventing the upgrading of weaponry that gives terrorist organizations game-changers or unusually sophisticated means of attack," he said.
Russia's foreign ministry also condemned the attack and wrote a letter to United Nations Secretary General Ban Ki-Moon and the chair of the UN Security Council "with a complaint against Israel's aggressive actions and an appeal not to allow the repetition of similar attacks in the future," spokesman Alexander Lukashevich said in a statement.
"Moscow is deeply concerned about this dangerous turn of events, whose circumstances demand explanation," Lukashevich said.
Max Seddon contributed reporting from Kiev, Ukraine.
Sheera Frenkel is a cybersecurity correspondent for BuzzFeed News based in San Francisco. She has reported from Israel, Egypt, Jordan and across the Middle East. Her secure PGP fingerprint is 4A53 A35C 06BE 5339 E9B6 D54E 73A6 0F6A E252 A50F

Contact Sheera Frenkel at sheera.frenkel@buzzfeed.com.

Got a confidential tip? Submit it here.