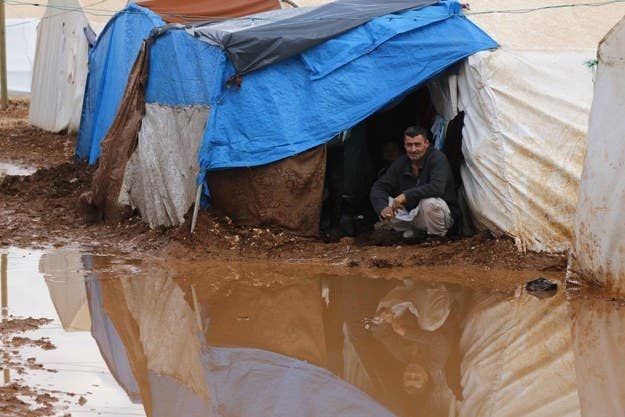 Abu Jameel had been trying to cross from Syria into Jordan for weeks, but found the once-clear path for refugees no longer safe.
Last month, the father of four left his family behind in Jordan's Za'atari refugee camp to try to return to their village in southern Syria to see what could be salvaged from their home.
"For almost two years we have been in Jordan, and we are living on things that are borrowed. I wanted to see what was left in Syria," said Abu Jameel, who asked to be called by a pseudonym to protect his family's identity as he illegally travels in and out of Syria. He spoke to BuzzFeed News by phone, having only recently returned to Za'atari. "But there was nothing left, and I could barely return. The village was dangerous, the roads were dangerous, and the border is dangerous."
He said that it was only after three separate attempts that he was able to leave his village and safely cross into Jordan, along the way avoiding various militant groups and regime forces to find a safe path across the border.
In the last few weeks, United Nations officials in Lebanon and Jordan have reported that those countries are no longer accepting Syrian refugees in the same numbers and frequency as they were just a few months ago. The U.N. estimates that over 3 million Syrians have fled their country in recent years. Of them, approximately 618,000 are in Jordan, while Lebanon, which has the highest per capita concentration of refugees in the world, currently houses over 1.1 million Syrian refugees. Turkey, with 1.5 million Syrian refugees, is still accepting hundreds daily, though communities in southern Turkey have complained that their resources are vastly overstretched.
"We have to appreciate that countries in the region are totally overstretched," said Killian Kleinschmidt, the U.N. official who runs Jordan's Za'atari refugee camp. "There are serious concerns, because we are speaking here about a large population drawing on scarce resources — particularly Lebanon and Jordan."
Last week, Ninette Kelley, a U.N. official in Lebanon, told Reuters that "many fewer people are being allowed in than would normally be coming in to get refugee status." Andrew Harper, the top U.N. official in Jordan, told the New York Times, "We have not recorded any Syrian refugees crossing into Jordan in the past week."
Kleinschmidt said it wasn't as simple as those countries shutting their borders to Syrian refugees.
"The official position of the government of Jordan is that the border remains open," he said. "However, we know there is reduction in number of people coming in. There is concern that people cannot come in because of conditions [in Syria], and security concerns."
A year ago, humanitarian groups recorded 1,500 people entering Jordan each day, Kleinschmidt said, but those numbers have steadily dropped and in recent weeks only a few dozen were recorded coming across.
Officially, Jordanian officials say there is no change in policy, but in off-the-record conversations, they admit that they are "discouraging" refugees from entering the country.
"We can't safely facilitate their movement into Jordan due to security concerns along the border," said one official in Jordan's Foreign Ministry, who agreed to speak to BuzzFeed News on condition of anonymity. "We can't make targets of ourselves and there are serious concerns that terrorists will attack us on the border region."
Jordan has been actively helping the U.S.-led coalition against the militant Islamic State of Iraq and Syria (ISIS) group, and has allowed the U.S. and U.K. to use Jordanian facilities to train and arm moderate Syrian rebel groups. ISIS has directly threatened Jordan in the past, and concerns have mounted that if cornered by the coalition, ISIS could seek to target Jordan.
"It would be easy for ISIS to sneak into Jordan, or to kill our soldiers who are on the border helping refugees," said the Jordanian official. "It would be too easy, so now we have to be more careful on the borders."
In Lebanon, officials have openly said they will no longer take in Syrian refugees, with Social Affairs Minister Rashid Derbas telling Lebanon's Al-Akhbar newspaper that Lebanon would only take in refugees with pressing humanitarian reasons.
"Anyone who passes the Syrian-Lebanese border will be questioned and should have a humanitarian reason for their entry," he said. "This will be decided by the Interior and Social Affairs Ministries."
For Abu Jameel, and hundreds of thousands of Syrian refugees who have family remaining in Syria, the newly tightened borders are yet another blow to their attempts to reconstruct their lives.
"At the beginning of summer, some people talked about returning to Syria, of maybe trying to reunite there or bring out others who had moved to different villages to be safe," he said, naming a dozen or so cousins who were internally displaced in Syria. "But now we are again feeling stuck."
He said his family had no plans for what to do next.
"We will try to survive the winter," he said. "We will hope that peace comes to Syria. But this is not a big hope. So far, every year that passes is worse and worse for us."