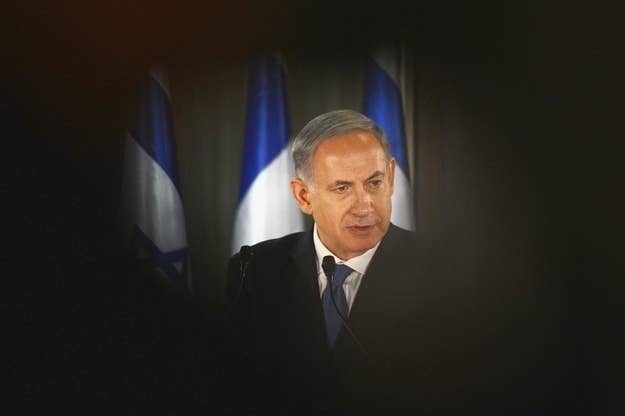 CAIRO — As Israeli Prime Minister Benjamin Netanyahu called the deal to slow Iran's nuclear program a "historic mistake" that would make the world "a dangerous place," his political rivals said that the most immediate threat was to his own domestic standing.
Netanyahu sought to wash his hands of the deal six world powers reached with Iran, insisting that he had had nothing to do with what he had repeatedly called "a bad deal." Figures close to him, however, said that he was preparing for a backlash against his leadership after staking so much on halting Iran's nuclear efforts.
"He knows that people will be coming for him, pointing the finger at him and asking how he let this happen," a Netanyahu aide told BuzzFeed by phone Sunday.
Confusion was quickly replaced with anger as Israelis woke to the news of the deal, reached in the early hours in Geneva, which provides Iran with much-needed sanctions relief in exchange for reductions in its enrichment program.
"All he needed to do was stop Iran. That's all we elected him to do for us, and we elected him twice in a row on that promise," Israeli schoolteacher Mordechai Ben Yishai told Israel's army radio Sunday morning. "As far as I'm concerned he failed. He was all hot air and no results."
Iran has been the focus — if not the defining obsession — of Netanyahu's political career. One of his first speeches in parliament as a lawmaker in 1997, five years before the nuclear crisis began, was about stopping Iran from obtaining atomic weapons. Campaign posters from his last two election runs featured frightening images of Israel under siege from a nuclear Iran.
His speeches often focus on an Iranian bomb as an "existential threat" to the state of Israel. Just days before he was reelected as prime minister in January, Netanyahu told a delegation of U.S. senators: "My priority, if I'm elected for a next term as prime minister, will be first to stop Iran from getting nuclear weapons." At last year's United Nations general assembly, Netanyahu even held up a placard with a comical cartoon bomb, complete with a fuse, representing Iran's progress towards obtaining weapons capability.
"There is no doubt that Netanyahu is a big loser in the Iran deal," said Gil Hoffman, political editor at the Jerusalem Post. "His whole political career is built on two things: number one is that he persuaded Israelis that only he could protect them from Iran, and number two is his image as someone who could speak to the world in his perfect English in a persuasive way better than any other Israelis. And here he failed."
While Netanyahu could have stressed that the deal reached in Geneva was a six-month interim deal, and that efforts were still being made to secure more of Israel's demands on the permanent deal, he instead lambasted the entire effort as a "disaster."
"It just goes to show how singular minded, how obsessive Netanyahu is about Iran, that he can't see any of the positives of this diplomacy or at least spin it that way to his constituency," an Israeli foreign ministry official said. "This is what we call blind diplomacy and in the long run, it harms Israel's interests abroad."
Netanyahu currently commands a strong coalition in parliament, but challengers from within his own party and from the hawkish right-wing flanks have been looking to exploit any perceived weakness to anoint themselves his successor. Though Netanyahu is slated to hold office for another three years, his political rivals could easily use his perceived failure on his life's mission to chip away at his support base, a senior lawmaker from a right-wing political party said.
"Netanyahu left himself wide open to this. He promised Israel that he would stop Iran's nuclear program, and rattled his saber and then did nothing. In Israeli terms he's now going to be seen as a 'loser' — someone who couldn't get his way," the lawmaker, who sits on Netanyahu's Likud party slate, said. "Netanyahu also told them that the deal being reached in Geneva wasn't a good deal, and yet, he let it happen."
Netanyahu's rivals were quick to condemn the deal on Sunday.
Foreign Minister Avigdor Lieberman, who returned to government last week after winning acquittal on corruption charges, said "there is no achievement in the agreement. This is the biggest diplomatic victory Iran has known in recent years — since the Khameini regime (came to power)."
Economics Minister Naftali Bennet, whom Netanyahu dispatched to Washington to try and persuade U.S. lawmakers to stop the deal, said that "Israel does not see itself as bound by this bad, this very bad agreement that has been signed."
"The battle is still long and we will continue on with our every effort. It is important for the world to know: Israel will not be committed to a deal that risks its existence," said Bennet.
While they refused to criticize Netanyahu publicly, their aides and key party members stressed that the blame for the deal lay with the prime minister.
"He isolated us from the United States at a time when we should have been strengthening our bond with them, and he put his faith in the wrong people. He thought he could fly to Russia or France and change everything, and all he got was pretty words and empty gestures," one lawmaker in Bennet's party said. "At the end of the day, Israel will look for someone to blame and they will blame him."
Rather than stress that the interim deal on Iran was a starting point, Netanyahu set a high bar that no one in the West would be able to meet during negotiations, Hoffman, the Jerusalem Post editor, said.
"He wasn't realistic in what he could get. He set himself up for failure by going for an all-or-nothing deal on Iran instead of accomplishing something he could take credit for," Hoffman said.