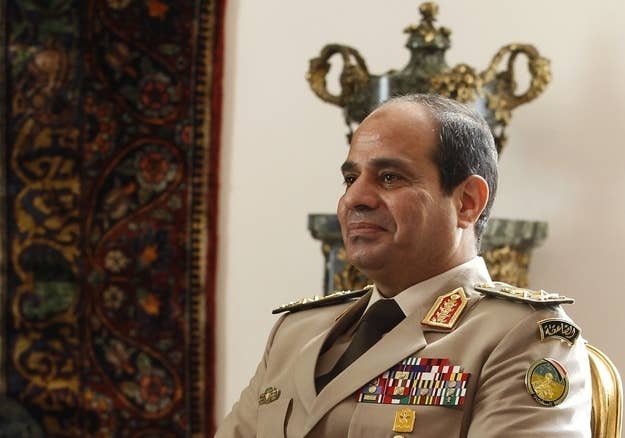 A report claiming that Egyptian Defense Minister Abdel-Fattah al-Sisi has amassed a fortune of over LE30 million (U.S. $4.2 million) was pulled from one of Egypt's largest newspapers over the weekend at the request of its owner.
The Al-Watan newspaper had already printed its Friday edition, with an exclusive report documenting Sisi's private funds, when its owner Magdy El-Galad ordered his editors to remove the story on Sisi from the front page.
"The editor of the newspaper called us and gave the order that the subject be removed immediately, before it the newspaper was published," said one correspondent at Al-Watan, who spoke to BuzzFeed on condition of anonymity to protect his job. "The editor was very nervous while giving us the orders."
He could not say what had spooked the owner, or if there had been an explicit request by the Egyptian military to remove the story. Al-Watan often takes a pro-military stance, and has long-standing ties to Egypt's security establishment.
An original version of the story viewed by BuzzFeed and included below cites a source from within Sisi's family who disclose that he inherited the funds from his family, who own a stall in Cairo's famed Khan el-Khalili market.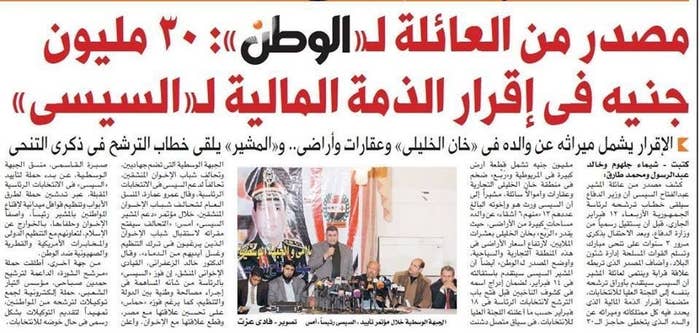 The article also claimed that Sisi intends to officially throw his hat in the ring for the upcoming presidential elections on Feb. 11, the day marking the third anniversary of former President Hosni Mubarak's resignation.
Egyptian media embraced Sisi's expected presidential run months ago, although the defense minister has yet to make a public announcement confirming his candidacy. Earlier this month, Egypt's army announced that they were endorsing Sisi to run for president, adding that it was his duty to lead Egypt.
A slew of stories have appeared in the Egyptian press backing Sisi and touting the benefits of strong military leadership. Over the weekend, Mohamed Amin, owner of the Egyptian CBC television network defended a police officer who assaulted one of his reporters by saying that "in these times of terrorism" it was important to stand behind the Egyptian army and police.
"I am sorry for the reporter and the violence he experienced... but he must take into account the circumstances and we all have to be supportive of the Ministry of Interior in these times," said Amin.
The reporter had arrived at the scene of a bombing on Cairo's Giza bridge, when a police officer "kicked and slapped" him, according to an account he gave on air.