Some Jihadis Look To Crimea As Ukraine Crisis Escalates
The chatter is on the margins, and could be more Russian propaganda point than reality — for now. "If one of the key players makes this decision then Russia could quickly be playing a very different game," said one intelligence analyst.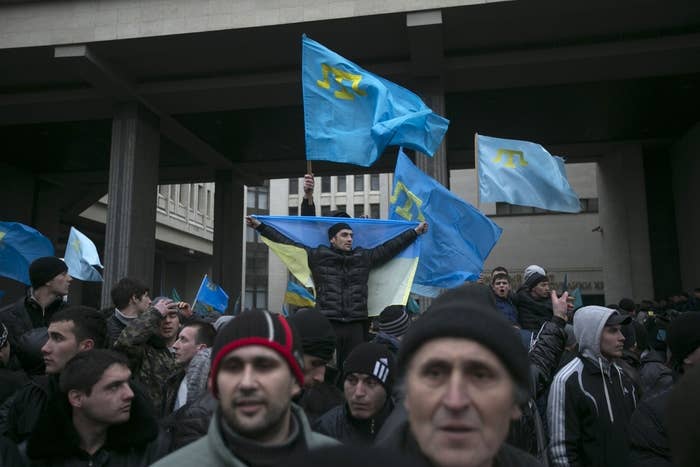 Some extremist Muslim fighters — already hostile to Russia over its wars in Chechnya or support of the Syrian regime against jihadis — have begun to cast the invasion of Crimea, with its minority Muslim Tatars, as part of their broader struggle.
Intelligence analysts said Sunday that no major leaders had yet called fighters to defend Crimea's Tatar minority, which is traditionally Muslim. They also cautioned against turning the chatter among less important figures into a Russian propaganda point.
But experts say calls have already been raised in several international online forums for "jihad" in Crimea against invading Russian forces, building on longstanding mistrust against Russia and the country's adventures in largely Muslim lands.
Aviv Oreg, former head of the "Al Qaeda and Global Jihad" desk at the Israel Defense Forces' military intelligence, said it is far too early for a group like al-Qaeda to issue a call to jihad, and that intelligence agencies are closely monitoring forums where such topics are debated.
"We are waiting to see if there is a serious character who makes this call. If one of the key players makes this decision, then Russia could quickly be playing a very different game," he said.
Oreg and other analysts warned however, that it is important to distinguish between true calls for jihad and messages that could be used for propaganda and manipulation by Russian media.
"Russia could look to use the idea of jihadi groups in Ukraine to serve its own purposes. It could argue that it needs to secure Ukraine against such groups," said one former Israeli ambassador to Russia, who spoke in a background briefing Sunday. "We are already seeing those types of reports in Russian media, sowing this idea that Ukraine is in chaos and Russia is stepping in as a stabilizing force."
A third Israeli intelligence expert said Sunday that the calls have so far come from the margins of the movement.
"At the moment, it is a few characters who are calling for this. All of them either have ties to that region through Chechnya or have a bone to pick with Russia over their support of the Syrian regime as they fight jihadi groups there," said the intelligence expert, who specializes in covering online extremist Muslim groups for a government-linked company and could not be quoted on the record because he did not have clearance from his company to speak to journalists. "If the Tatars in Crimea take up arms, if there are images of them dying trying to protect their region against the Russian forces there, than we could see this quickly spiral as other jihadi elements look to get involved."
Tatars number around 250,000 in Crimea and make up between 12 and 14% of the peninsula's population.
He pointed to remarks made by several individuals on Twitter trying to rally support:
"On their own, these are still relatively small. But this is the kind of thing we are watching to see if it takes off," the expert said. "Especially among the foreign jihadi groups who have been fighting in Syria, and who have a lot of built up resentment against the Russians."
Russia fought two brutal separatist wars in Chechnya after the fall of the Soviet Union, which attracted Islamist fighters from around the world, many with links to al-Qaeda.
Various Russian officials have accused Kiev's new government of being fascists, and have also sought to link them to Chechen militants. But a widely circulated report yesterday saying that forces inside Ukraine had appealed to Chechen rebel leader Doku Umarov for help was later found to be false.
Sheera Frenkel is a cybersecurity correspondent for BuzzFeed News based in San Francisco. She has reported from Israel, Egypt, Jordan and across the Middle East. Her secure PGP fingerprint is 4A53 A35C 06BE 5339 E9B6 D54E 73A6 0F6A E252 A50F

Contact Sheera Frenkel at sheera.frenkel@buzzfeed.com.

Got a confidential tip? Submit it here.