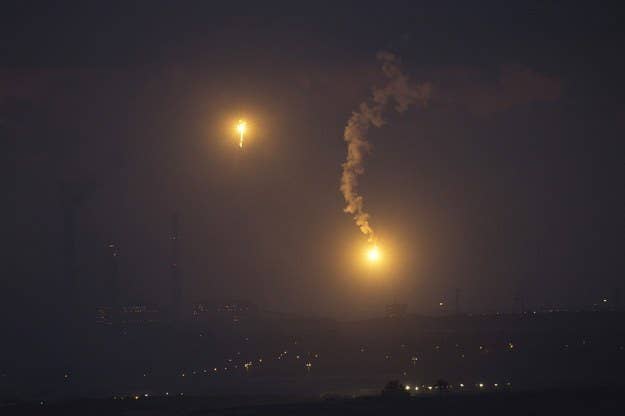 Update — 2:45 a.m. ET:
EREZ CROSSING, Israel – Tanks along Gaza's eastern border began advancing into the coastal strip's territory Thursday night, using the cover of darkness to move into the rolling hills of "no man's land" between Israel and Gaza.
As tanks shelled into the east, Israeli navy boats opened fire on the west, hitting the beaches of Gaza. Israeli officials said it was a two-pronged attack aimed at clearing the way for ground troops to move into Gaza in the largest incursion since 2008.
"Following ten days of Hamas attacks by land, air, and sea, and after repeated rejections of offers to de-escalate the situation, the Israel Defense Forces (IDF) has initiated a ground operation within the Gaza Strip," said the IDF in a statement.
Israeli officials said the ground invasion had come following hundreds of rockets that were fired into Israel daily by militant groups in Gaza.
Overnight, one Israeli soldier was killed in the northern Gaza Strip, with the circumstances behind the death not immediately clear. The Israeli death toll now stands at two in the ten days since Israel launched Operation Defensive Shield.
Twenty Palestinians are being reported as having been killed overnight in the IDF bombardment, bringing the Palestinian death toll in the conflict to more than 240.
Three Israeli soldiers were hospitalized in Soroka hospital, according to Haaretz. One was hit by light fire in his neck and arm, another injured when a military vehicle overturned and the third suffering head wounds following mortar fire.
An Israeli officer in Southern Command who spoke to BuzzFeed from near the Gaza border said the operation would focus on routing out tunnels near the border with Israel.
"At this stage this is one of the chief operation goals of our movement into Gaza. These tunnels pose a direct threat to Israel's security, and we need to put an end to them," said the officer, who spoke on condition of anonymity as he was not allowed to speak to the media. Israel's censorship office has prohibited the Israeli media from reporting on any details of the army's movements into Gaza beyond what is officially released by the Israeli military spokesman's office.
"It could be that at a later stage the operation is expanded further, to other objectives," said the officer. "We are ready to take on other operational objectives and our prime minister knows that all options are on the table."
The officer said that additional troops were ready to be called up in addition to the tens of thousands already deployed along the border.
"We are prepared to go as far as needed," he said.
Israeli officials have said that a ground invasion could portend a much higher rate of casualties. In Gaza, hospitals reported that the first hours of the Israeli invasion were already showing a sharp rise in injuries.
"We are seeing many many people coming to the hospital, and these are just the ones that can get here," said Dr. Walid Taha, a surgeon at Gaza's Shifa Hospital who spoke to BuzzFeed by phone. "We don't know how many won't be able to reach us tonight."
He said that al-Wafa Hospital in eastern Gaza had managed to evacuate all of its patients, including 16 elderly and terminally ill patients, Thursday evening before Israel shelled the hospital. "They barely got out," he said. "Thank god they got out, but we are already overstretching to care for everyone here and we need more facilities, not fewer facilities."
Electricity was cut off in Gaza's northern areas in the first hour of the ground operation. Israeli officials said it was to give ground troops a tactical edge to operate in the area under the cover of darkness.
The skies above Gaza pulsed with orange and red flares that rained down from the skies to create a smokescreen and mark targets for Israeli troops. Mohammed Wissam, who lives in Gaza City's Tel el Hawa neighborhood, said it looked like the sky "was on fire."
"It is terrifying to look outside my window right now. It is like the sky was on fire, was burning. All we hear is thuds and booms and we don't know which direction it is coming from," he said.
Along Gaza's western shores, dozens of journalists had to be evacuated from several hotels that were near the beach. The journalists said Israel's military had warned them that they had 30 minutes to evacuate the area before Israel launched an amphibious attack near where their hotels were located.
Palestinians in Gaza began uploading photos showing the glowing flares and thick smoke flowing in from the east.