Sisi Set To Become Egypt's Next President, But Can He Live Up To The Hype?
Egypt's military council announces that it is endorsing Egypt's army chief as Egypt's next president, but among Egypt's working class, Sisi's star factor has already begun to fade.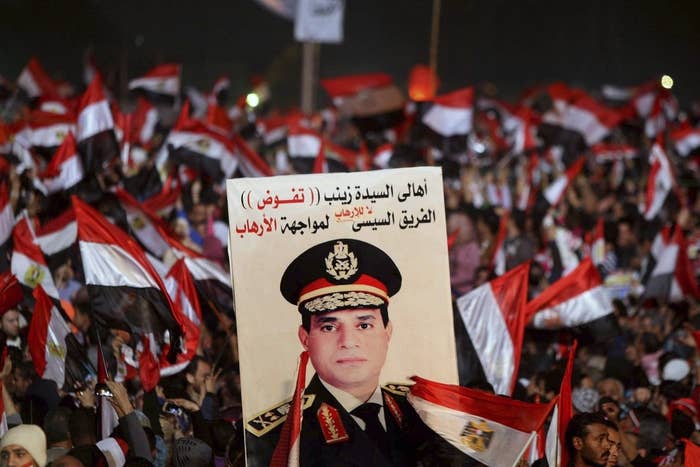 CAIRO — Egyptian Army Chief General Abdel-Fattah al-Sisi hasn't begun to campaign for the presidency, but Tamer el-Sagawy is already disillusioned with the military leader. The 34-year-old laborer said, "I once believed in Sisi, but now I feel that no one can save Egypt."
"I believed that Sisi could stop the terrorism and bring us jobs, but it has been months and I see nothing is improved," said el-Sagawy, who, like many in Egypt, believes that Sisi has been ruling the country since the ouster of the Muslim Brotherhood from office on July 3, 2013. "For us it has not gotten better. It is the same, and some days worse. There are no jobs, food is more expensive, and we are poor."
A woman who gave her name as Um Ayman said that she thinks Sisi might be a good person but that all he has done since ousting the Brotherhood is talk. "Talking doesn't pay our bills," she said.
In the small outdoor stall where el-Sagawy sits with several friends on haphazard plastic stools, talk often turns to the rising price of basic foodstuffs, the lack of fuel and cooking gas, and the bombings that have suddenly found their way into the heart of Cairo. Their voices are often drowned out by the overwhelming tide of support Sisi has enjoyed these last six months and the growing clamor for him to run for office. Just a week ago, when a small bomb exploded at the polling station in Imbaba meant to hold a vote on a new constitutional referendum, a crowd quickly gathered chanting for Sisi to hurry up and become president so that he could save them from terrorism.
"When Sisi got rid of the [Muslim Brotherhood] I was so happy I cried," said el-Sagawy. "I believed he would finally save this country. But things now are very bad, maybe even worse than they were before. I don't know who can save Egypt, but I do not think Sisi is a magic person, a magic solution, anymore."
Just three years after the Arab Spring revolution that toppled the decades-long regime of Hosni Mubarak, an army chief with an almost cult-like following is poised to sweep into office as Egypt's new president. While Sisi is yet to make an official announcement regarding his candidacy, the Egyptian military's top council of generals endorsed him as president in an audio statement.
"The council cannot but look with respect and homage to the desire of the wide masses of the great Egyptian people to nominate Gen. el-Sisi for the presidency, and considers it an assignment and commitment," read the statement, leaving little room for the general to gracefully back down from the new "assignment" bestowed upon him by the military.
Earlier in the day, interim President Adly Mansour announced that Sisi had been promoted from general to field marshal — the top rank in the Egyptian military. The move was likely a parting honor, as Sisi would have to officially resign from the military if he assumes a new post as Egypt's president.
For months, evidence had been building that Sisi was preparing for a presidential run. Egyptian state media reported that Sisi was brushing up on his economic policies, and the Egyptian journalist syndicate held the opening rally for a grassroots campaign to convince Sisi to run for office. Sisi posters, chocolates, and even lingerie were everywhere in what Egyptians called "Sisi-mania."
But some of that rosy fervor has begun to fade, especially among working-class Egypt, where high prices and joblessness have driven many to despair. Hitham Gabr, a journalist at the Egyptian daily Al Masry El Youm, said that while many Egyptians consider Sisi their holy savior, that star can quickly fade.
"Once he wins — and he will win the presidency — he will have to face the people's demands, which are great," said Gabr. "I can't see there being any chance that he will be able to satisfy everyone. Anger will increase and his popularity could quickly collapse."
According to the new constitution, Egypt's presidential elections must be held within the next three months, giving scant time for other candidates to throw their hats into the ring against Sisi's overwhelming popularity. Egypt's next president will inherit a deeply divided country, with Brotherhood supporters holding regular demonstrations and a militant Islamic insurgency rapidly expanding its attacks past the Sinai Peninsula and into Egypt's most densely populated urban centers.
One European diplomat, who has met with Sisi in the past few months, said that he expected the army to "crack down with iron will on Egypt."
"From my meetings with him, he is very serious, very measured. He feels that he has gotten a mandate from the people to wipe out voices of dissent," said the diplomat, who asked not to be quoted by name to preserve his relationship with the Egyptian government. "He doesn't strike me as a person who is interested in pursuing pluralistic ideals."
Western diplomats also told Reuters that Sisi had been weighing whether or not to run for president for some time.
"I suppose in the back of his mind is the fact that once he takes off his military uniform he suddenly becomes more vulnerable. There is always the chance of another takeover," said a Western diplomat, not named by Reuters.
Another said, "There is a belief among diplomats that he is making a big mistake by going for this job. He will expose himself and the army. The army may act if things go wrong and its image is tarnished. His fall could be sudden and sharp."
But in Cairo, the news that Sisi would run for office was met with more jubilation than doubt. Ululating and cheers were heard throughout the streets of Cairo when the army statement endorsing Sisi was released.
"I believe he will be the best thing for this country," said Rawya Atef, a 26-year-old student who has taken part in numerous demonstrations celebrating Sisi this month. "He is handsome and brave and smart and pious. He will lead Egypt from these dark times we have known these last few years."