First Shock, Then Fear As San Bernardino Shooters Opened Fire
"There's a shooting going on outside. Don't tell mom."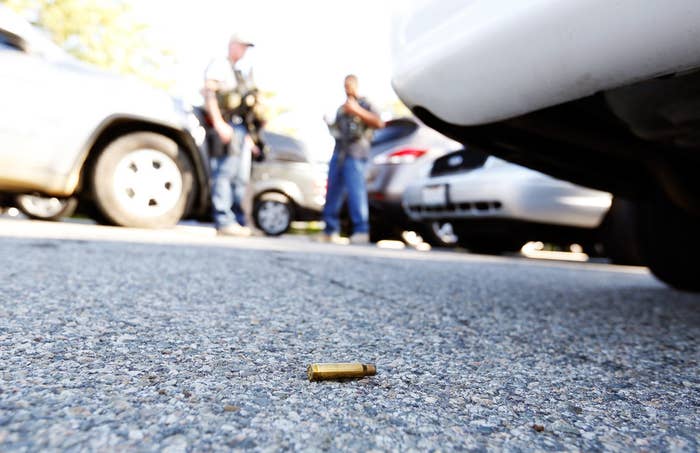 When Diana Perez heard the first shots on Wednesday, she thought someone was setting off fireworks for one of the annual holiday parties at the Inland Regional Center.
"The first thought was not 'shooter,' it was 'fireworks,'" said the 28-year-old, who works at the center and spoke to BuzzFeed News by phone. "Then I looked out the window and there were, I think it was at least two men, who were dressed in dark vests and carrying big guns."
Across the sprawling, three-building complex which made up the center, many of Perez's co-workers had the same reaction. Daniel Martinez, who worked on the same floor as Perez thought, at first, that it was a car backfiring, or just another one of those emergency drills that the center regularly held.
From her second-story window, Perez saw the shooters enter "Building Three" at the Inland Regional Center, a space she said was often left unlocked and used to hold conferences and events. And then, within seconds, she heard a barrage of gunfire.
A second witness, who asked to remain unnamed, also said she watched from her office window as two people wearing tight-fitting tactical gear walk casually up to the back of the conference room. When she looked up through her window again a man exiting the conference center was walking out just as the two shooters made their way to the back. She caught a glimpse of the rifle as one of them lifted it.
"That's when they shot him, I saw him go down," the witness said.
Local police said most of the 14 people killed and 17 injured were part of a holiday party for hundreds of county government workers held in building three, the easternmost building on the complex. Police said the room was "sprayed with bullets," and yet one eyewitness told BuzzFeed News that the shooters appeared to aim and choose their targets.
Police named Syed Rizwan Farook, 28, and Tashfeen Malik, 27 — both killed in a shootout with authorities after a brief car chase — as two of the suspects who opened fire inside the building. The two met over an online dating site, according to San Bernardino Police Chief Jarrod Burguan.
Farook was a U.S. citizen with multiple profiles set up over Islamic dating sites, Malik was a citizen of Pakistan.
In July 2014, Farook travelled to Pakistan and returned to the U.S. with Malik. The two married shortly afterwards. Authorities said Thursday that they were still investigating if the two may have travelled to other countries, or been in touch with militant groups.
Farook was at the holiday party Wednesday, but left "under circumstances that were described as angry" prior to the shooting, according to eyewitness testimony given to police.
Farok and Malik then returned to the party leaving their child, a 6-month-old baby girl, with her grandmother. The couple drove a black Ford Expedition they had rented days earlier and came armed with four, legally purchased weapons, among them were two .223-caliber assault rifles — one a DPMS model A-15, the other a Smith & Wesson M&P-15 model — and two semiautomatic handguns. They entered the center building through the eastern parking lot and opened fire on the party.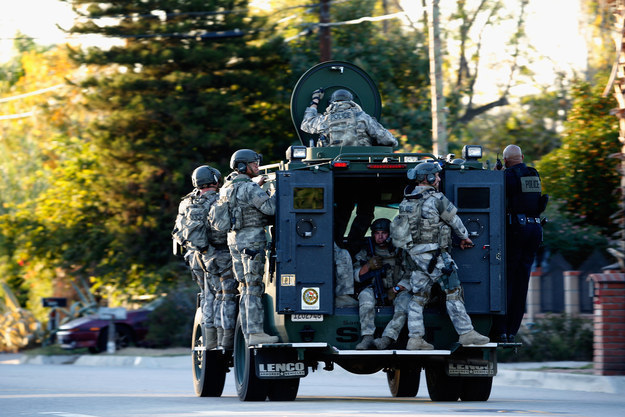 "We have no information at this point to indicate that this is terrorist-related, in the traditional sense that people may be thinking," Burguan said. "Obviously, at a minimum, we have a domestic terrorist-type situation that occurred here."

Police said they began investigating Farook and Malik fafter an eyewitness described Farook as behaving strangely. Police then discovered the rented SUV, which matched a description of the getaway vehicle.
More than four hours after the shooting took place, at approximately 3 p.m. PT, officers approached the home of Farook and Malik in the nearby community of Redlands and engaged the SUV in a brief chase. On a residential street, a hail of gunfire erupted, sending bystanders and unsuspecting motorists scurrying for cover.
And then, almost as quickly as the attack unfolded, Farook and Malik were dead, their bullet-ridden SUV on full view of television news helicopters overhead.
A third person seen running away from the scene of the gun battle was detained, but Burguan said it was later determined that he had nothing to do with the shooting.
Twelve pipe bombs, 2,000 9-millimeter rounds, and 2,500 .223 rounds were found at the Redlands home Farook and Malik were renting. Also found were "hundreds of tools, many of which could be used to construct IEDs or pipe bombs," Burguan said on Thursday.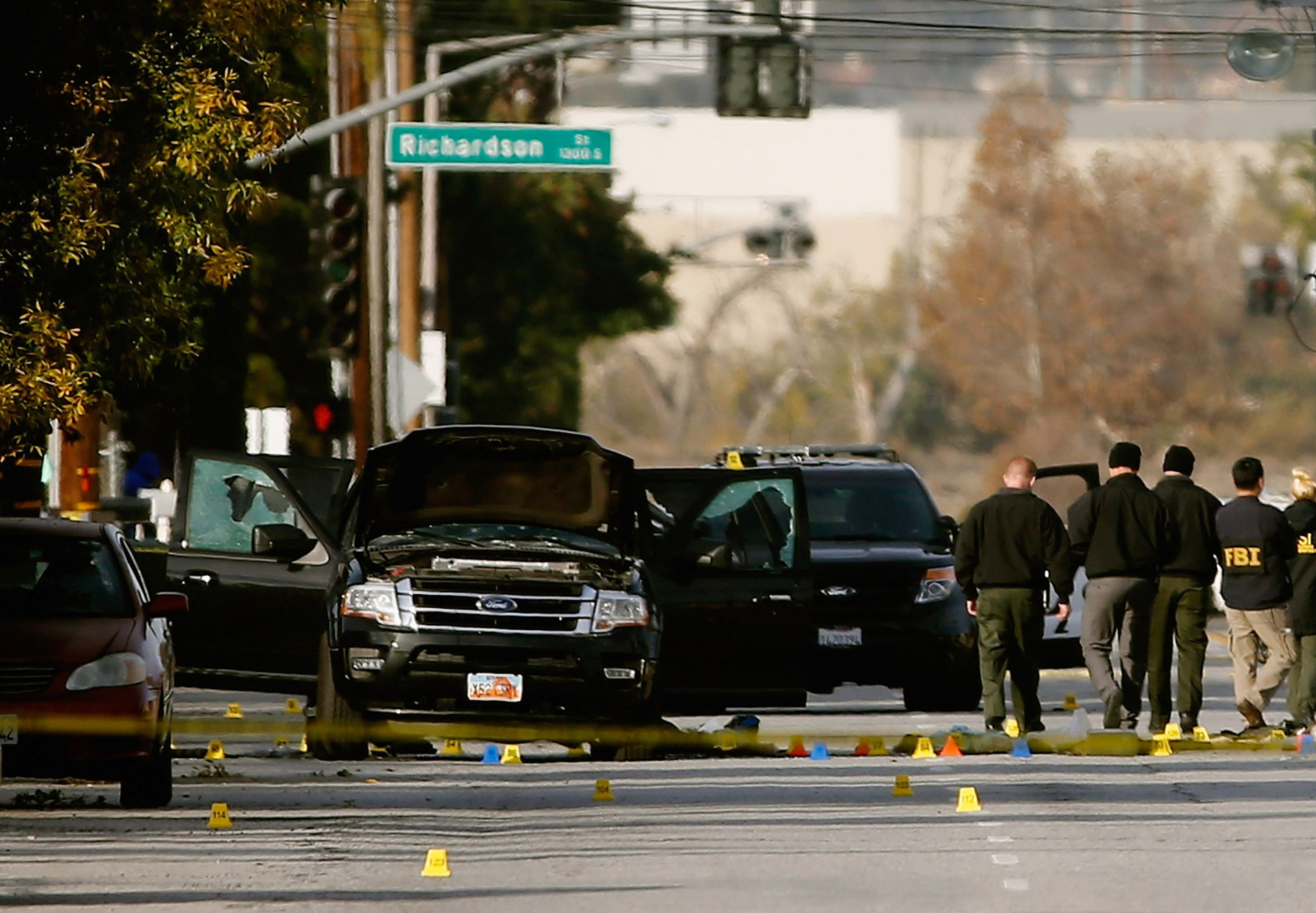 Eyewitnesses told BuzzFeed News that the attackers appeared well-trained on their assault rifles, and many barricaded themselves in rooms and closets and prayed that the shooters wouldn't find them.
Diana Ramos, 19, of San Bernardino told BuzzFeed News her 25-year-old sister, Esly Ramos, was a social worker with an office on the second floor of the building. At 10 a.m., Esly texted her sister "happy birthday." An hour later, she sent a second text: "There's a shooting going on outside. Don't tell mom. There's a man shooting outside the building."
Ramos told her sister that the gunshots were coming from next door.
"They put desks by the door so nobody could come in...it's scary to think that one moment your sister is texting you happy birthday and then the next moment she says there's a shooting outside."
Denise Peraza, 27, said that when the doors to the conference room opened, two men dressed in black and wearing face masks opened fire for 30 seconds.
"The guys opened fire for 30 seconds, randomly, then paused to reload and began firing again."
"Everyone dropped to the floor," Peraza told her relatives, who relayed the conversation to the Times. "The guys opened fire for 30 seconds, randomly, then paused to reload and began firing again."
Peraza was hiding under a desk when she was hit with a bullet in her lower back. She called her sister from her hospital bed to say that she would be OK.
Julie Paez, an inspector with the San Bernardino County Department of Health, was shot in the upper thigh and abdomen as she mingled at the party, preparing to receive her Employee of the Year award. Her son, Nick Paez, told the L.A. Times that she sent a group text message to her family saying,"Love you guys...Was shot."
When her family found her at the hospital post-surgery, they told their mother that the shooter was Farook, one of her co-workers.
"That doesn't make sense," she replied. "They were congratulating him for having a baby."

A second co-worker told police that Farook appeared to be living "living the American dream," and that the office recently threw him a baby shower.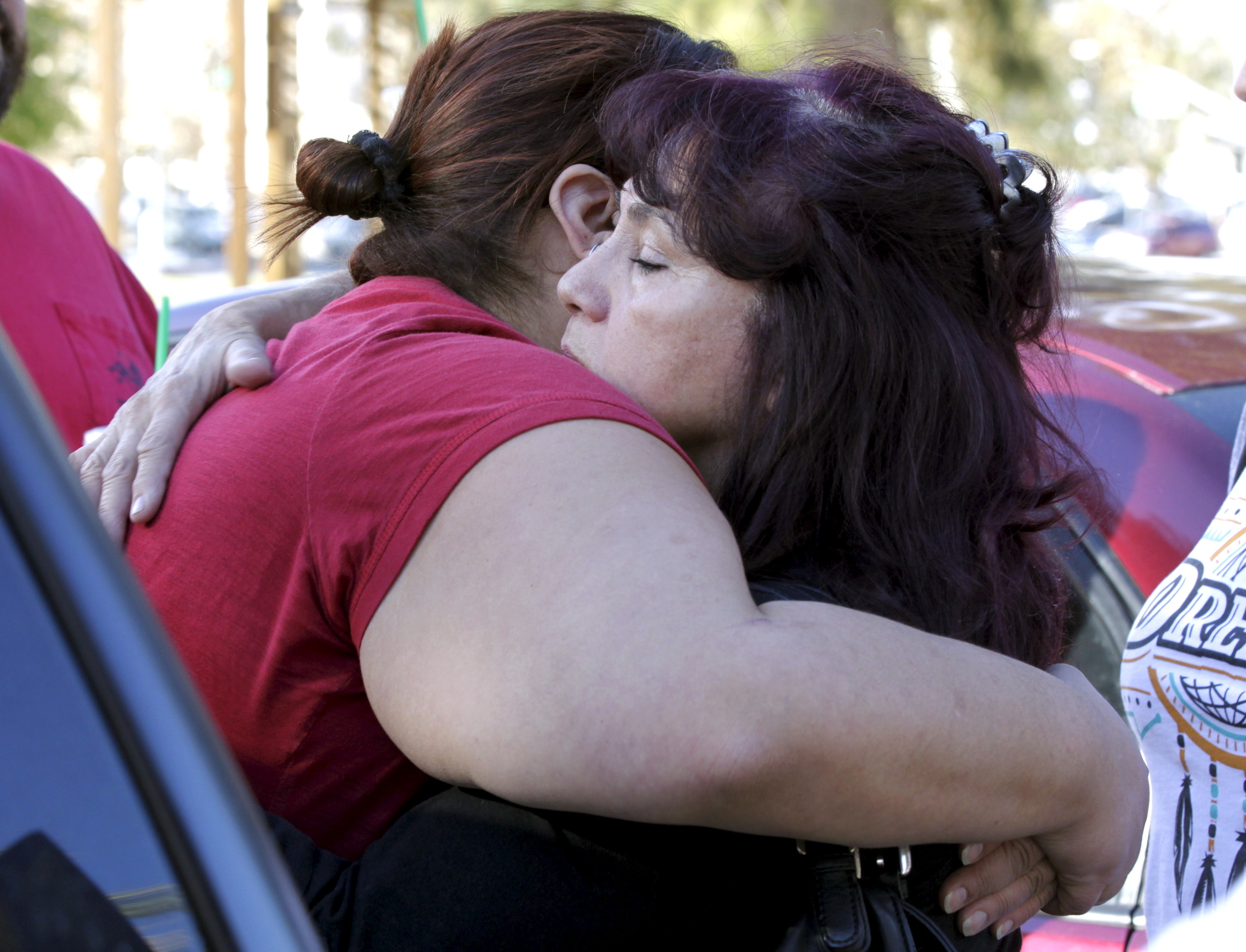 A former employee who was with the survivors of the shooting on Wednesday relayed how they remembered Farook leaving the party just as they were getting ready to take a group photo.

"He came in late, looked a little upset…anxious, he wasn't happy," the former employee told BuzzFeed News on condition that he not be named because he did not have permission to speak with the media.
Witnesses said one of the shooters had pointed the gun at some people without shooting, but appeared to be deliberately shooting others.
"We left messages, texts, everything. Haven't heard from her. I'm petrified. I'm worried and scared."
Ramos, Ortiz, and Peraza consider themselves lucky that they knew where their family members were. On Wednesday afternoon, Sherry Esquerra waited nervously outside a community center set up to reunite families with victims, as the hours passed without word on the whereabouts of her daughter, Shawna Timmons, and her son-in-law, Daniel Timmons.
"We left messages, texts, everything. Haven't heard from her," Esquerra told reporters at the scene. "I'm petrified. I'm worried and scared. I just want them to find out something. I know if she could text me or call me she would, and that makes me so much more worried."
Buses filled with dozens of survivors of the shooting were still arriving at makeshift meeting points at nightfall. With each bus's arrival, family members would rush forward and embrace their loved ones.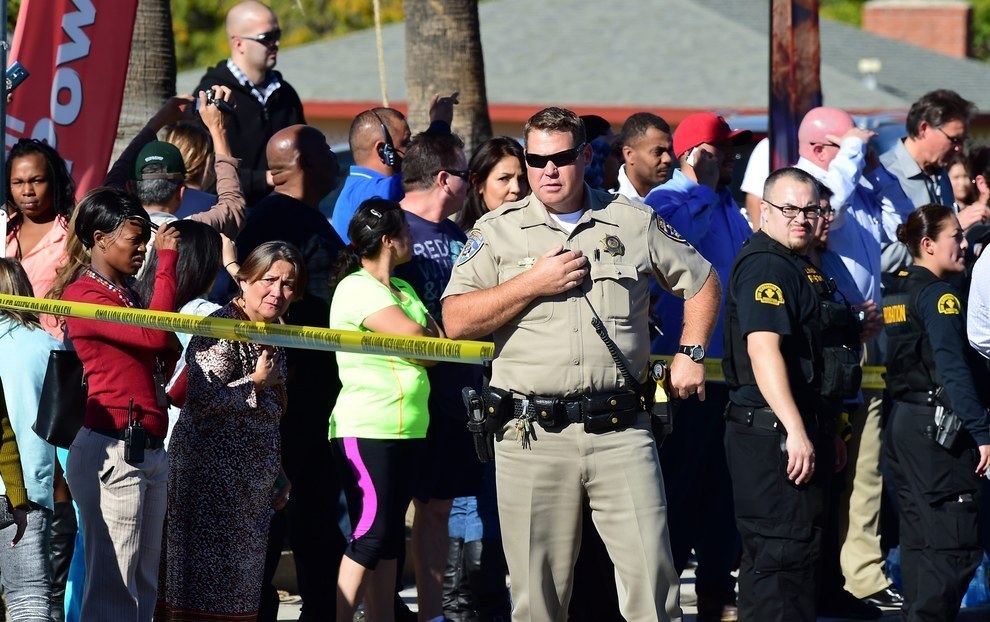 "It's been the longest day. At least my daughter sent a text, so I knew she was OK. I pray for those that are still waiting for their loved ones," said Manuel Ortiz, whose daughter was one of the last pulled from the building as she barricaded herself and a co-worker in a closet. "I pray for the police who got my daughter and others out safely."
According to local police, it took four minutes from the first 911 call for the first police officers to reach the scene. Chief Berguan said the suspects may have already fled the scene in a dark-colored SUV by the time police arrived.
"They came prepared to do what they did as if they were on a mission. They came in with a purpose," Berguan said, noting that the shooters were armed with long guns rather than handguns.
"They came in with the intent to do something."
FBI officials also could not immediately rule out terrorism as investigators work to determine a motive, something that would no doubt focus attention on Farook's relationships at work.

Public records showed a man named Syed Farook worked as an environmental health specialist for San Bernardino County with an annual salary of $51,747.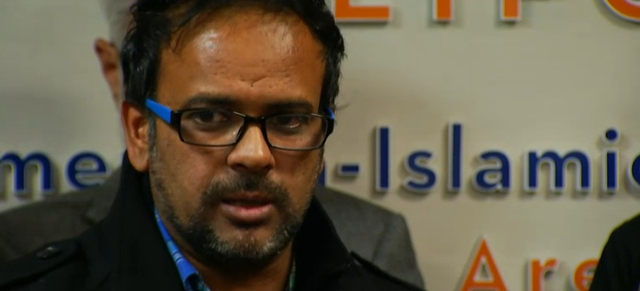 Farhan Khan, Farook's brother-in-law, said at a news conference that his family was in a state of shock and could offer no insight into a possible motive.
"I cannot express how sad I am for what happened today," Khan said. "I have no idea why he would do that."
Whatever the motive, the shooters were well armed. Burguan said they both carried assault rifles and semiautomatic handguns, and, gauging from their equipment and attire, it appeared there "had to be some sort of planning that went into this."
Still, he added: "We are reasonably confident that we have two shooters, and we have two dead suspects."
Sheera Frenkel is a cybersecurity correspondent for BuzzFeed News based in San Francisco. She has reported from Israel, Egypt, Jordan and across the Middle East. Her secure PGP fingerprint is 4A53 A35C 06BE 5339 E9B6 D54E 73A6 0F6A E252 A50F

Contact Sheera Frenkel at sheera.frenkel@buzzfeed.com.

Got a confidential tip? Submit it here.

Ken Bensinger is an investigative reporter for BuzzFeed News and is based in Los Angeles. He is the author of "Red Card," on the FIFA scandal. His DMs are open.

Contact Ken Bensinger at ken.bensinger@buzzfeed.com.