For approximately 20 minutes Sunday morning the website of Russia Today was hacked, with the word "Nazi" swapped into top headlines including: "Russian senators vote to use stabilizing Nazi forces on Ukrainian territory."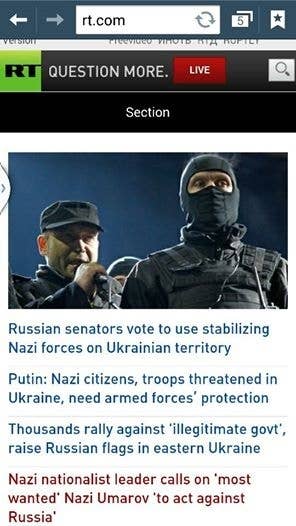 The headlines were quickly changed back, including the top story: "Russia senators vote to use stabilizing military forces on Ukrainian territory."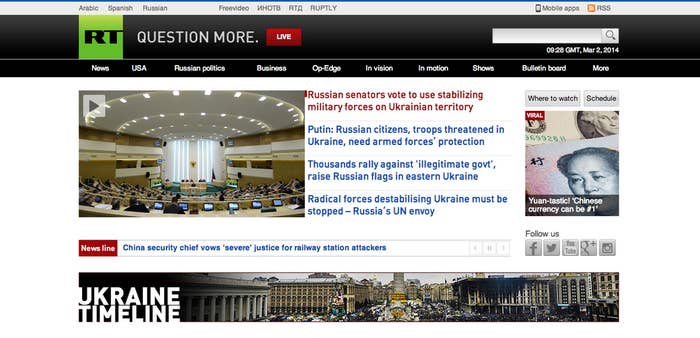 The attack on the Russia Today website came as leaders of a shaky new government in Ukraine mobilized troops amid signs of Russian military intervention in Ukraine's Crimean peninsula.
Russian President Vladimir Putin appeared to dismiss warnings from world leaders to avoid military intervention in Crimea, as evidence mounted that pro-Russian forces were already in the autonomous region of eastern Ukraine, which has strong loyalty to neighboring Russia.
As troops mobilized on the ground, there were increased fears that Russia's powerful cyber-army could already be preparing to attack communications in Ukraine, as they did in 2008 when Russian hackers cut off Georgia's communications networks prior to the Russian army's military invasion of the country.
Over the weekend, the Russian-language social network VK started blocking pro-democratic Ukrainian pages. Ukraine's largest telecom company, Urketelecom, also announced Friday that it had lost data and voice connectivity between Crimea and the rest of Ukraine.
The hacking of Russia Today, the Kremlin's English-language mouthpiece, was one of the first shots fired back at Russia by pro-Ukraine hackers.