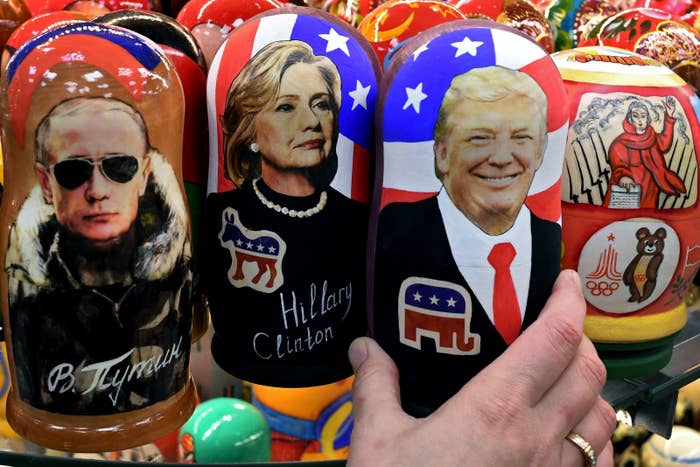 WASHINGTON — The US intelligence community released their report on Russian meddling in the US election on Friday, concluding that the Russian government was responsible for hacking, and leaking the emails of top Democratic Party officials in an attempt to swing the election for Donald Trump.
However, while the report was expected to give evidence of the intelligence community's conclusions that Russia was behind the hack, the report contained few new details or forensic evidence to back their findings.

"We assess Russian President Vladimir Putin ordered an influence campaign in 2016 aimed at the US presidential election," the report reads. "Russia's goals were to undermine public faith in the US democratic process, denigrate Secretary Clinton, and harm her electability and potential presidency. We further assess Putin and the Russian Government developed a clear preference for President-elect Trump."
"We also assess Putin and the Russian Government aspired to help President-elect Trump's election chances when possible by discrediting Secretary Clinton and publicly contrasting her unfavorably to him," the report adds.
The much-anticipated report, ordered by President Barack Obama last month, was expected to shed new light on what intelligence officials and members of Congress have said is "conclusive evidence" that Russia was not just behind hacking the Democratic National Committee servers, but also directly involved in releasing tens of thousands of emails from top Democratic Party officials. But while the 25-page report drew damning conclusions of Russia's motivations for meddling in the US elections, and highlighted the misinformation campaign that attempted to influence US voters, it did not provide evidence for those conclusions.
Private cybersecurity companies have long published detailed reports on the Russian group known as Fancy Bear which they believe was behind the hacks, though they said it was impossible to prove whether the group had been in direct communication with Wikileaks. Those reports have provided far more forensic evidence than that which was made public in the declassified intelligence report issued Friday.
On Friday morning, President-elect Donald Trump again sought to throw cold water on the intelligence assessment, telling the New York Times that as the FBI had not examined the DNC servers for themselves, they could not draw conclusions about the hack. Trump based his observation on a BuzzFeed News report, which revealed that the FBI had not been able to access the DNC servers.
But he shifted his tone and released a statement seeming to acknowledge new evidence that foreign spies had hacked the DNC after his briefing Friday afternoon by Director of National Intelligence James R. Clapper Jr., FBI Director James Comey, and other intelligence officials.
"While Russia, China, other countries, outside groups and people are consistently trying to break through the cyber infrastructure of our governmental institutions, businesses and organizations including the Democrat National Committee," Trump said, "there was absolutely no effect on the outcome of the election including the fact that there was no tampering whatsoever with voting machines."

He also reiterated the point in two early morning tweets on Saturday.

Trump's initial argument has been echoed by others within his inner circle, who have argued that it is unclear how the DNC breach, and subsequent release of emails affected the vote on Nov. 8. Trump added that within 90 days of taking office, he would appoint a team tasked with planning how to stop cyberattacks, and that, "the methods, tools and tactics we use to keep America safe should not be a public discussion that will benefit those who seek to do us harm."

In the past, Trump has publicly faulted the US intelligence community for its conclusion that Russia hacked the DNC, claiming that a "14-year-old" or "somebody sitting on their bed that weighs 400 pounds" could have been behind the DNC hack.
Senator Ron Wyden, a Democrat on the Senate Intelligence Committee, told BuzzFeed News Thursday that "anyone who had seen the intelligence had no doubt" that Russia had been behind the DNC hack.
"Russia's interference with our election is a direct threat to our democratic system," he said, adding that there was a "significant amount of additional information that could be brought to light," which would provide more evidence for the U.S. intelligence community's conclusions. He said that a declassified report published last week by the Department of Homeland Security and the FBI, was "not nearly enough" and that he was unsure if the report released would include the information he requested be declassified.
House Speaker Paul Ryan, said in a statement that, "Russia has a track record of working against our interests, and they clearly tried to meddle in our political system. I strongly condemn any outside interference in our elections, which we must work to prevent moving forward."
"Today's report is well in line with previous assessments from the intelligence community that Russian officials at the highest levels engaged in an unprecedented level of interference in our elections, and these actions had the goal of harming the candidacy of Hillary Clinton and boosting the candidacy of President-elect Donald Trump," Sen. Mark Warner, the new chair of the Senate intelligence Committee, said in a statement.

Representative Adam Schiff, the top Democrat on the House Intelligence Committee, also told BuzzFeed News that there "was not doubt" that Russia had been behind the hack from anyone who had seen the evidence gathered by intelligence agencies. He added that while the report included new details, he was "not sure it would change the minds of people who were convinced that Russia was not behind the hack."

"There will be new insights in the report, and finer details than what we've heard before, but will it dramatically change people's perception? I don't know," said Schiff. "The only camp that is not convinced is Donald Trump and a cadre of his supporters."