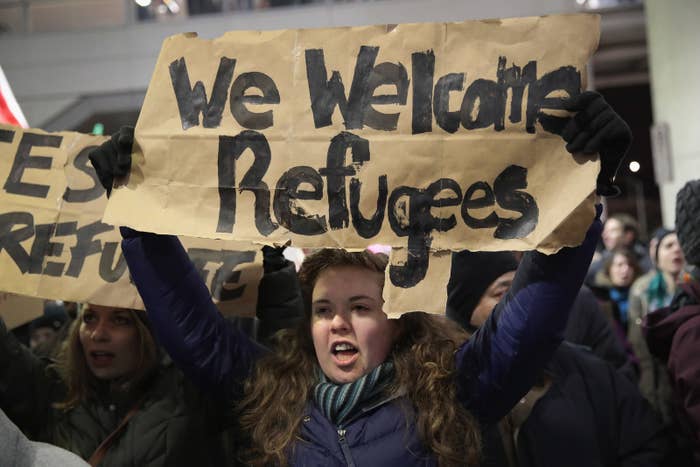 United States diplomats are divided over whether to try to resist President Donald Trump's executive order on visas or resign in protest, amid a crisis inside the State Department that one outraged diplomat said has "reached a boiling point."
US diplomats are debating whether to sign onto one of at least three dissent memorandums currently circulating over the administration's executive order that suspends refugee resettlements for 120 days and imposes a 90-day ban on visitors from seven majority-Muslim countries. Four US diplomats who spoke to BuzzFeed News said the travel restrictions undermine US diplomacy worldwide — and some are already calling it quits.
"As a diplomat, you represent US interests. I couldn't live with myself if I had to stand there, day in and day out, and defend the Trump administration," said a US diplomat based in the Middle East, who recently submitted their resignation. "I quit before the executive orders, but over the weekend a lot of people reached out and told me they are struggling with what to do and thinking about quitting."
Another US diplomat who specializes in Middle Eastern issues said morale has fallen as low as he's ever seen it during his years in the foreign service. He said he'd heard about or seen the dissent letters now being circulated among State Department employees, one of which was published Monday by the Lawfare blog. He said he was considering signing one of them.
"There's this spontaneous combustion," among the diplomatic corps, he said.
The executive order — which bars visitors from Syria, Iraq, Iran, Sudan, Somalia, Libya, and Yemen for 90 days and all refugee resettlements for 120 days — has provoked days of outrage and protests around the world as visitors with US visas were blocked from traveling to the US and even permanent US residents were detained at US airports. Syrian refugees felt a sense of betrayal over the ban, which indefinitely prevents them from resettling in the US.
Responding to reports of the dissent letters, White House press secretary Sean Spicer on Monday said those diplomats "should either get with the program, or they can go."
That retort did not land well at the State Department, where the dissent channel was created during the Vietnam War to open a channel for alternative views. Those who write them are supposed to be protected from retaliatory action.
"The Dissent Channel is a longstanding official vehicle for State Department employees to convey alternative views and perspectives on policy issues," Mark Toner, the acting State Department spokesman said in a statement, adding, "It allows State employees to express divergent policy views candidly and privately to senior leadership."
On average, the department receives about five such cables a year, a State Department official told BuzzFeed News.
The diplomat who focuses on Middle East issues said he was still conflicted about whether to quit over a policy he considered racist, and would wait to see how long the executive order stood.
"It's one thing to be opposed to the policies generally, but another thing to be asked to implement policies one considers abhorrent," said the diplomat, who, like other serving diplomats, asked for anonymity because he was not authorized to speak to the press.
"With this administration we were prepared for a policy we were going to be opposed to and we all signed up knowing it was a possibility and part of our job is to implement policies we don't agree with," he said. "But to have it come so quickly and be so obviously rooted in racism and Islamophobia came as a shock."
Some Democrats want to question Rex Tillerson, the former chairman of ExxonMobil whom Trump has nominated to lead the State Department, over Trump's "extreme vetting" executive order.
Many foreign service officers are pondering whether it might serve US interests to continue their civil service careers inside Trump's State Department, with the hope that they'll be better able to influence Trump's policies from inside the US government, or at least provide resistance from within.
"For a lot of lot of people in my position, you feel like a hypocrite if you stay and don't have a backbone," said the diplomat who focuses on Middle East issues. "Even if you love your job and you want to do what's in the best interest of the country, you feel like a hypocrite if you don't quit."
The announcement last week that much of the State Department's top leadership had been pushed to resign only bolstered his view that the Trump administration was not interested in working with longtime diplomats.
"It's one more blow to the diplomatic corps. If our leadership in DC see a president that they can't work with, what does that mean for the rest of us?" said another US diplomat. "We felt leaderless before, not knowing what the administration was going to do that flew in the face of our stated diplomatic initiatives. Now, it's like all the adults have left the building."
One US diplomat based in the European Union said that while the resignations in DC were worrying, he was more concerned that local staff and contacts no longer wanted to be associated with the US government.
"The resignations in DC, the way they happened all at once, is definitely concerning, but what is more concerning [are] the resignations happening at US embassies all over the world — from career diplomats to local staff," he said. "What do I say to a local staff member who tells me they don't want to work at the US embassy anymore because the values of the US president are abhorrent? What do you say to local staff who say that being associated with US government policy is an embarrassment?"
It remains unclear how many US diplomats will choose to leave, whether mid-career diplomats serving overseas to experienced leaders adept at managing a bureaucracy that reaches out to nearly every nation. Personal circumstances may ultimately trump ideals.
"Some of those not old enough to retire will not put up with the situation and will leave," explained Wayne White, a former director of the State Department's bureau of intelligence for the Middle East. "In defense of many, say, in their mid-thirties through fifties, we must remember that they have mortgages to pay, kids to put through college, and other expenses common to us all that hinder their ability to leave abruptly."
As one career US diplomat, watching the unfolding crisis within the State Department, told BuzzFeed News, it felt as though the US foreign service corps were going through an unprecedented time of turmoil.
"I personally know three career diplomats who have handed in their letters of resignation since Trump was elected. These are the kinds of people that had you asked me last year, I would have told you were lifers in the State Department," said the diplomat. "It's just this feeling that everything we have been working toward, the entire reason we became diplomats has been thrown out the window by someone who can wake up in the morning and tweet something that flies in the face of all our efforts at diplomacy."