Palestinian Wakes Up To Find His Innocent Facebook Photo Used As Symbol Of Anti-Israel Hate Campaign
The Israeli public has been horrified in recent days by an online campaign in which people hold up three fingers to celebrate the kidnapping of three Israeli teens. But at least some of the photos appear to be misappropriated.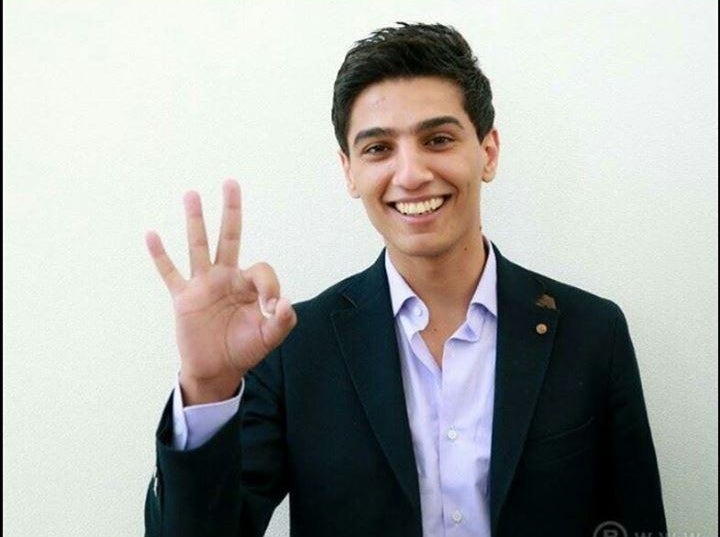 Two photos posted on AlQadi's personal Facebook page last year.
Palestinian peace activist Mohammed AlQadi woke up Wednesday morning to discover that his photo was caught up in the middle of a campaign of hate.
The 22-year-old, who currently attends culinary school in France, was surprised to find angry messages from Israeli friends on Facebook, who wanted to know why he supported terrorism.
"I had no idea what they were talking about," AlQadi told BuzzFeed by phone from his home in Lyon. "I went online to discover my photo being used for something I had no part in at all."
AlQadi's photo was one of dozens listed on sites that purport that the Palestinians are celebrating the kidnapping of three Israeli teens last Friday. The Israeli Walla news agency posted AlQadi's photo prominently on its site, along with an article that elicited hundreds of angry comments from Israeli users outraged that Palestinians would support the kidnapping of three Israeli teens.
"By holding up the three sign what they are saying is that they condone terrorism, they condone kidnapping of innocent kids," said one Israeli user named Dan Rav. "They should be ashamed of themselves."
But AlQadi's photo had been lifted from his Facebook page without his knowledge. He posted the photo last year, in support of Palestinian Arab Idol winner Mohammed Assaf, who on the show was identified as "contestant three."
"If you look at the Facebook pages of Palestinians there are dozens even hundreds of us making the three sign to support Assaf. He was our winner, he was the most popular winner of Arab Idol," said AlQadi. "It makes me very, very, very angry that somebody took these photos and lied and said they were something else."
AlQadi wrote to the Walla website and demanded that it take the photos down — which it did after several hours.
It remains unclear where other photos that have been listed as part of the campaign come from, though it seems clear that many are indeed posted by Palestinians who support the kidnapping.
"I know there are Palestinians who are happy when these horrible things happen to Israelis. But I don't believe in violence. Violence only brings more violence," said AlQadi. "It is horrifying to wake up and have your photo associated with this thing."
In recent days songs have emerged on Palestinian radio stations that gloat over the kidnapping of the three teens and call for more Israelis to be kidnapped. Others, including Palestinian Authority Chairman Mahmoud Abbas have condemned the kidnapping and called for the boys to be returned to their parents.
Sheera Frenkel is a cybersecurity correspondent for BuzzFeed News based in San Francisco. She has reported from Israel, Egypt, Jordan and across the Middle East. Her secure PGP fingerprint is 4A53 A35C 06BE 5339 E9B6 D54E 73A6 0F6A E252 A50F

Contact Sheera Frenkel at sheera.frenkel@buzzfeed.com.

Got a confidential tip? Submit it here.