Updated – Thursday Dec. 11, 6:45 a.m. ET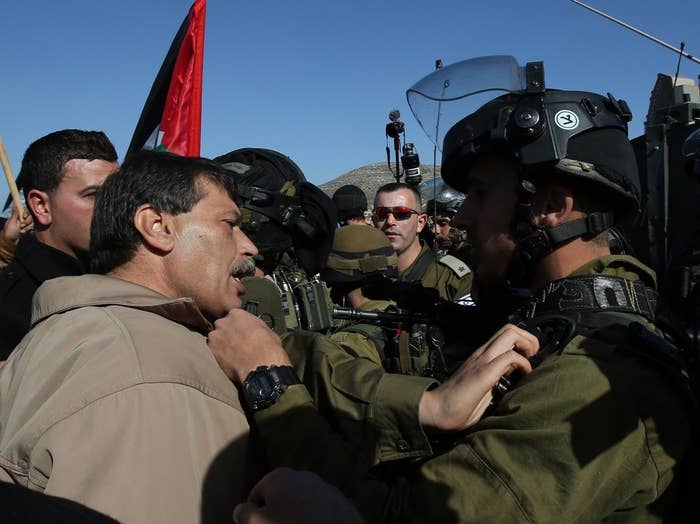 Palestinian Minister Ziad Abu Ein died Wednesday shortly after taking part in a demonstration in which people carried olive tree saplings to protest land confiscations by Jewish settlers and attacks on historic Palestinian olive groves.
Ein was a senior Palestinian official in charge of the Committee Against the Wall, a Palestinian watchdog group which oversees the Israeli settlements.
Palestinian activists say Abu Ein died after inhaling tear gas and being shoved by Israeli soldiers during the protest in the village of Turmosiya, north of Ramallah. A Reuters photographer who was observing the protest said Abu Ein was standing close to the Israeli soldiers, who pushed back the crowd several times.
"We had been walking and then we got to a place where the Israeli soldiers would not let us pass," said Muhammed, a Palestinian protester who asked to be identified only by his first name out of fear of arrest. "We tried to get past them. We were led by Abu Ein. They fired tear gas and then a little while later I saw him fall.
"They pushed him back roughly. He didn't fall, but they pushed him roughly."
That story was corroborated by Roy Sharon, a journalist with Israel's Channel Ten News, which was filming at the protest.
"I was standing there the whole protest," Sharon told BuzzFeed News. "There were about 50 Palestinians and 20 foreign nationals taking part. The Israeli army let them go until a certain point, and then would not let them pass."
At around 10:30 a.m., several rounds of tear gas were fired at the crowd. Around 10:45 a.m., Abu Ein got into an altercation with the Israeli soldiers.
Abu Ein was heard shouting at soldiers, "This is an illegal occupation of Palestinian land," right before the altercation. He told soldiers that he had a right to be at the protest.
By 10:49 a.m., according to time stamps on Sharon's photos, Abu Ein was on the ground, clutching his chest. It took several minutes for the ambulance to arrive, Sharon said.
These videos, from Sky News, show Abu Ein being repeatedly shoved by an Israeli border policeman and arguing with police before his death.
This screengrab was taken from Sky News Arabic, which filmed the protest. It shows Abu Ein in an altercation with an Israeli border policeman.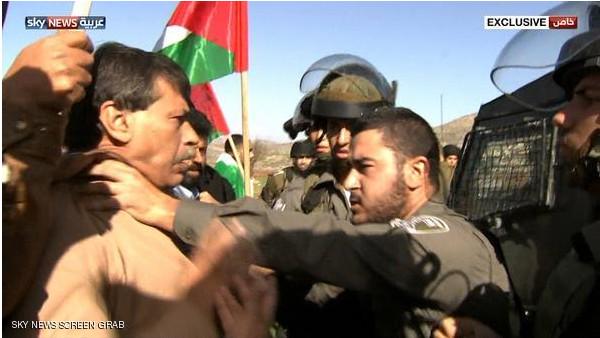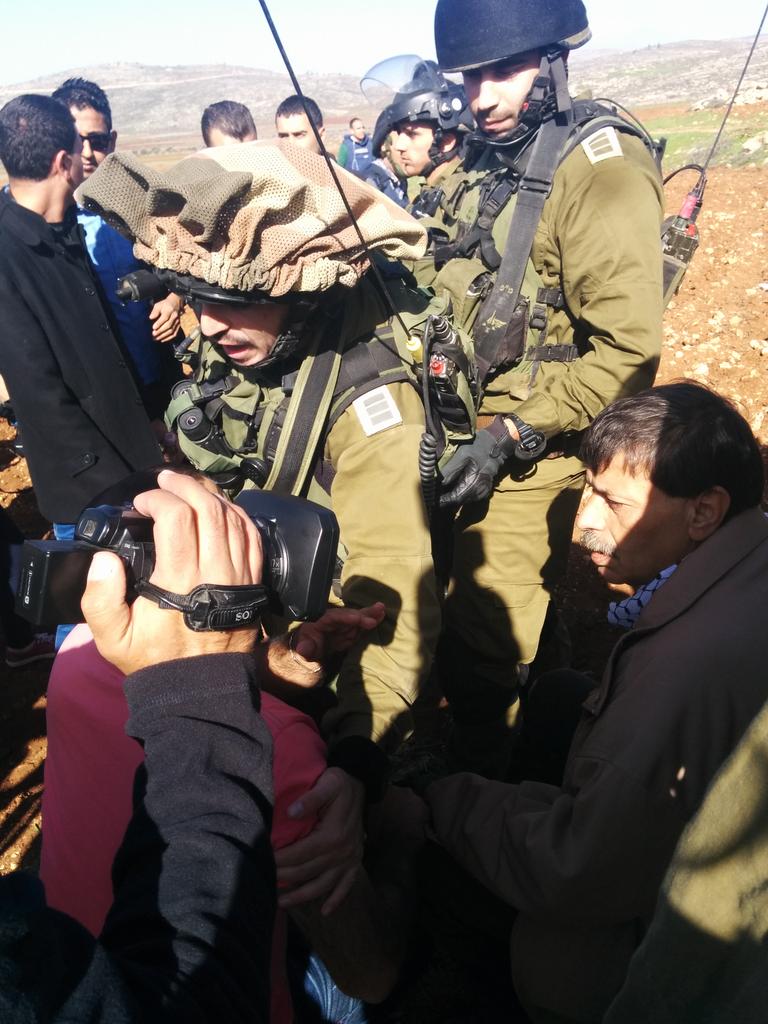 "About 10 minutes later, after the tear gas, some people were standing near the IDF solders and were pushed back. They weren't overly violent that I could see, they were pushing them back," said Sharon. "Abu Ein was there among them, he was on the front line getting pushed back. Suddenly he was sitting on a rock, holding his chest."
Sharon said that early reports that Abu Ein had been hit by a helmet or a tear gas canister were incorrect. Witnesses said that no rocks were being thrown at the time of Abu Ein's altercation with the soldiers, and video reviewed by BuzzFeed News supports their claim in the 10 minutes leading up to the altercation.
"I never saw that happen," said Sharon. "There were lots of cameras there. They were pushing people back but I didn't see anyone get hit by a helmet or with the canister."
Abu Ein, a Palestinian minister who reports on Israel's West Bank settlements, was a popular figure at protests across the West Bank.
In an interview with BuzzFeed News earlier this year, he said nonviolent protests were popularizing the Palestinian cause across Western societies.
"In Europe, in the U.S., they now look at us and see a movement they can support. They come here to protest with us, because they see our case is just," Abu Ein told BuzzFeed News from a protest in Ramallah over the summer. "Our cause is growing, because people see Palestinians want peace, and they want to help us achieve this."
Palestinian President Mahmoud Abbas called the killing a "barbaric act" that he cannot be silent about, adding that all the "necessary measures" will be taken once an investigation is complete, according to the Zamnpress website.
The Israeli military said it was looking into the report.
Palestinian officials said that doctors were performing an autopsy on Abu Ein Wednesday evening. His funeral will be held Thursday in Ramallah.
Abu Ein was a member of the Palestinian Fatah movement's Revolutionary Council, and previously served as undersecretary to the minister of prisoner affairs. The Times of Israel reported that he was extradited to Israel from the United States to face charges that he was involved in a 1979 bombing that killed two Israeli teens. He was released from Israeli prison in 1985, during a prisoner swap.
This video, which could not be independently verified by BuzzFeed, shows Abu Ein in the moments after activists say he was struck in the chest with a tear gas canister.
Abu Ein's funeral took place Thursday in the West Bank city of Ramallah: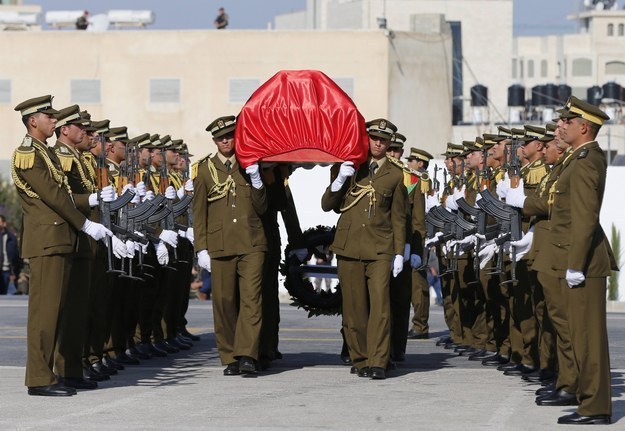 Thousands of people turned out for the funeral. As Reuters reported:
To the sounds of drums and bagpipes, Ziad Abu Ein's Palestinian flag-draped coffin was carried by pallbearers in military uniform along a red carpet at the presidential compound in the city of Ramallah.

The funeral procession then streamed through the streets to a cemetery as people fired in the air. Crowds of men in leather jackets and black-and-white checkered scarves used mobile phones to film the funeral on a cold but sunny afternoon.