Palestinian Dressed As Journalist Attacks Israeli Soldier
Journalists condemned the attack, saying it was a dangerous development.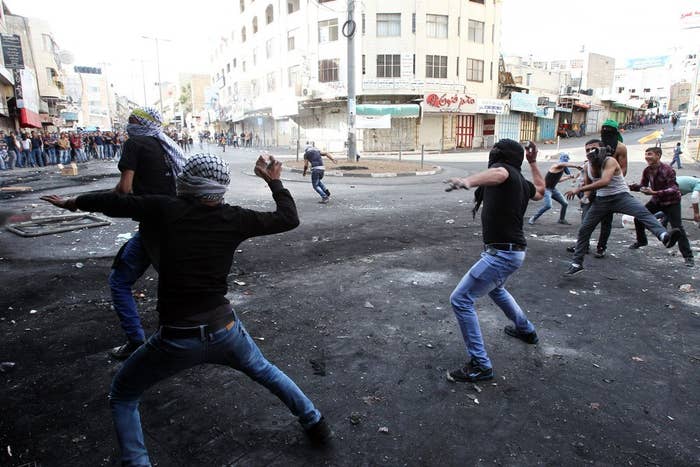 JERUSALEM — A Palestinian man disguised as a journalist stabbed and moderately wounded an Israeli soldier near the West Bank city of Hebron Friday, according to army reports and local medics at the scene.
Video captured at the scene shows a young man dressed in a fluorescent yellow traffic vest and black t-shirt with the stenciled word "Press." The outfit is similar to that worn by many local Palestinian journalists, who wear the traffic vests to distinguish themselves as press during protests.
The footage shows the man approaching a group of soldiers and stabbing one before being shot and killed. An Israeli army spokeswoman said the soldier stabbed was in his 20s, and sustained moderate wounds. There are currently no further details about the identity of the attacker.
Israel's Foreign Press Association (FPA) released a statement condemning the attack.
"We utterly deplore this violation of press privilege and call on local Palestinian media organizations to immediately verify all media credentials to ensure there are no violations," read the statement. The FPA said the incident marks, "a worrying development that demands that all media operate with heightened caution in the West Bank and East Jerusalem."
Over the past month, journalists have been attacked both by Palestinians and by IDF soldiers at protests.
Israeli deployed troops and police officers across Israel and the West Bank Friday ahead of expected protests. Overnight Joseph's Tomb, a site in the West Bank city of Nablus which is holy to Jews, Muslims, and Christians was torched by Palestinian youths. Palestinian President Mahmoud Abbas joined Israeli members of the parliament in denouncing their actions as "irresponsible."
Sheera Frenkel is a cybersecurity correspondent for BuzzFeed News based in San Francisco. She has reported from Israel, Egypt, Jordan and across the Middle East. Her secure PGP fingerprint is 4A53 A35C 06BE 5339 E9B6 D54E 73A6 0F6A E252 A50F

Contact Sheera Frenkel at sheera.frenkel@buzzfeed.com.

Got a confidential tip? Submit it here.