On Anniversary Of Revolution, 29 People Killed
On the anniversary of January 25, the day in which protesters first filled Tahrir Square in 2011, clashes filled the streets of Egypt.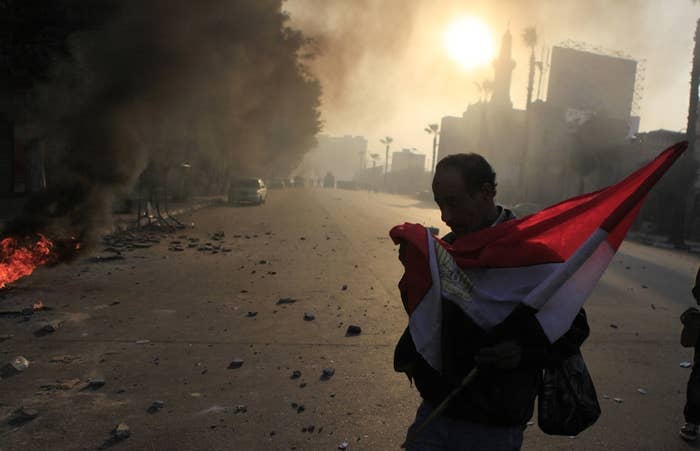 Usama Diab knew that no matter what he chose to do on January 25, he would at best be disappointed and at worst get injured or killed.
He has never been an active member of the revolutionary groups who organized the marches that took over Tahrir Square in 2011, and now sees any participation in their protests as dangerous. He was never a fan of the Muslim Brotherhood, but is frightened but how brutal the police crackdown on the group has been. And he wants to support the military and police, but feels they have no place in politics and certainly not in the hero worship currently sweeping through much of Egypt.
"I don't feel like I belong in Egypt anymore. Today has just felt like a war between all these different groups, who looked like they wanted to kill each other, and I can't sympathize with any of them," said Diab, who instead spent the day watching the drama unfolding on Egypt's streets from the balcony of the apartment he shares with two friends near downtown Cairo. "There is no place in Egypt for people like me."
The deep divisions that have formed in Egypt came to the fore on Saturday, as the country marked the three year anniversary of January 25 — the day that tens of thousands of protesters filled Tahrir Square, beginning the upheaval that led to the ouster of Hosni Mubarak's decades-long regime.
While that day has previously been marked by celebrations, many this year choose to remain home.
"I see today as a day of clashes, and I don't think more clashes will get us anywhere," said Mohamed Naem, an activist who spoke to BuzzFeed by phone. "I think this is a very dangerous moment for Egypt; everybody is nervous."
His fears were, perhaps, warranted. At least 14 people were killed in clashes across the country on Saturday, including at least six in greater Cairo, security officials said.
While Tahrir Square filled Saturday with staunch supporters of Egypt's military commander, Gen. Abdel Fatah al-Sisi, the narrow alleyways that wind their way from the road and through downtown Cairo were the scenes of fierce street battles between small pockets of left-wing, anti-military groups and those who support the army.
"I am here to defend the revolution," said Amany Tarek, a 24-year-old activist who took part in demonstrations in front of the journalist syndicate. The crowds in Tahrir were trying to return Egypt to the "time of Mubarak," he said.
But as soon as he and other activists attempted to march towards Tahrir, they were chased off by pro-Sisi demonstrators.
Police often stood by and watched as demonstrators armed with rocks, molotov cocktails and fireworks attacked each other.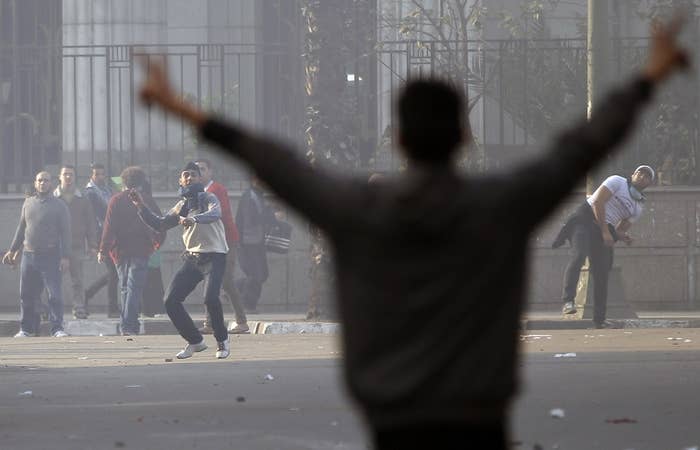 Photographer Mosa'ab Elshamy captured this image of locals armed with guns firing live rounds at demonstrators. "Unbelievable violence today," he later tweeted.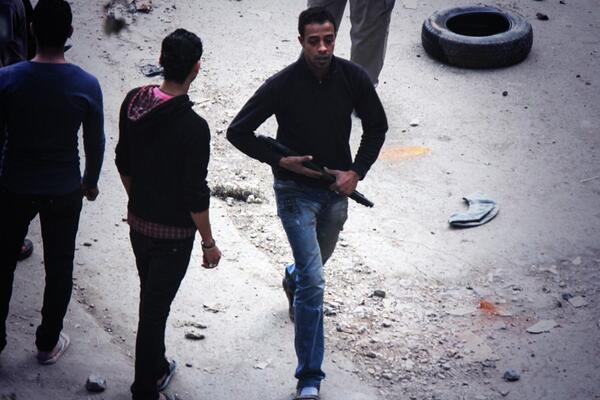 Across Egypt, 34 marches were organized by the Muslim Brotherhood, many of the ending in clashes with security forces and locals.
The violence met by any groups who did not support the army was in stark contrast to the festive atmosphere in Tahrir Square. A crowd wearing Sisi masks lifted policemen to their shoulders and danced to nationalistic songs. Helicopters circled overhead, dropping Egyptian flags to the cheers of the crowd below.
"We came here to support Sisi, and to ask him to run for president," said Hana Farag, a 44-year-old who joined the celebrations in Tahrir. "Only Sisi will save this country from the terrorist groups. We need him!"
On Friday, four bombs shook Cairo in separate attacks targeting security officers that left six people dead. While many at the site of the bombings blamed the Brotherhood, the group condemned the attacks and a Sinai-based militant group later claimed responsibility for the bombs.