SAN FRANCISCO — An outlet linked to ISIS released a video Tuesday praising the attack against a gay club in Orlando, Florida, and calling for supporters of the group to "march forth" and attack the West.
The five-minute video, put out by an outlet called Al Battar, which is not an official ISIS media outlet but produced by sympathizers to the group, opens with a tribute to Omar Mateen, the gunman who killed 49 and wounded 50 in the weekend attack on the Pulse club in Orlando.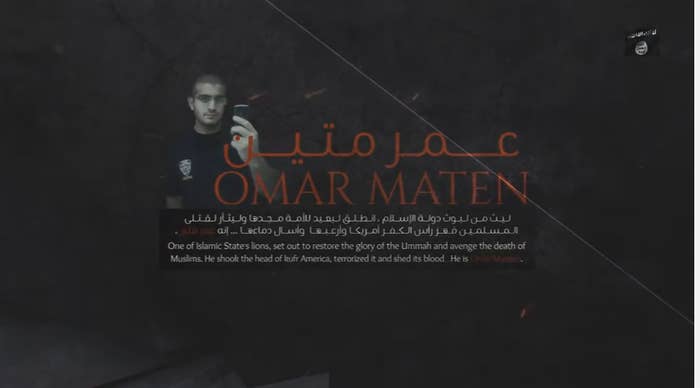 "One of the Islamic State's lions, set out to restore the glory of the Ummah and avenge the death of Muslims," reads a text on the screen. "He shook the head of the kufr America, terrorized it and shed its blood. He is Omar Mateen."
The FBI confirmed in a press conference on Monday that Mateen pledged allegiance to ISIS in a phone call to police before the attack, but investigations and reports into his true motivations continue to emerge. No evidence has emerged to suggest that ISIS directed the attack. Similarly, the new video is also decentralized, not put together by an official ISIS propaganda outfit.
The second half of the video quotes various extremist clerics who have made arguments supporting attacks on the West. "The men of the Islamic State are everywhere," the video states. "The Islamic State has alerted the Muslims to march forth and strike the Kuffar in the lands of Kufr," it says, using a derogatory term to refer to a nonbeliever.
The video goes on to quote an old statement from Abu Mohammed al-Adnani, an ISIS leader and one of its chief spokesmen, as saying "the smallest act you do in their lands is more beloved to us than the biggest act done here. It is more effective for us and more harmful to them."
The release notably lacked evidence of any prior involvement by ISIS in the planning or execution of the attack, something the group has generally included in statements that claimed responsibility for previous events such as last November's attack in Paris or the March bombings in Brussels. In both cases, ISIS released statements, photos, and videos of the participants discussing the planning of the operation and detailing their role in the group that were obviously filmed before the attacks took place. In the case of Orlando, nothing in the video released on Tuesday required a previous relationship between Mateen and the group, down to the photo of Mateen used at the start of the video, which was widely distributed on social media after the attack.