New Right-Wing Israeli Government Expected To Complicate Palestinian Peace Process
One U.S. State Department official told BuzzFeed News that relations between Jerusalem and Washington were not expected to "warm up anytime soon" given Israeli Prime Minister Benjamin Netanyahu's last-minute coalition.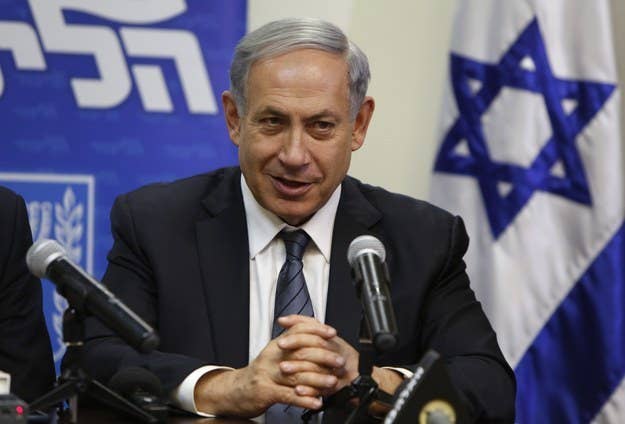 Israel's new government is a "diplomatic headache," according to European and American officials who reacted on Wednesday to news that Israeli Prime Minister Benjamin Netanyahu had formed a coalition.
"We had very much hoped that Netanyahu would include one of the more moderate, or even centrist parties in his coalition," said one State Department official who spoke to BuzzFeed News on condition of anonymity, as the U.S. government will not officially comment on the new Israeli government until it is sworn in. "We had hoped there would be a player in the Israeli government whose agenda was more in keeping with what the U.S. wants to see happen — a peace process leading to two states, one Palestinian and the other Israeli — but that doesn't seem to be the case."
Instead, the official added, "it looks like we will have a regular diplomatic headache on our heads. Relations are not going to warm up anytime soon between Jerusalem and Washington."
On Wednesday, Netanyahu announced that he had managed to form a new government just two hours ahead of the legal deadline. Despite Netanyahu's strong performance in the March 17 elections, it took him the full 42 days allotted by law to scrape together a coalition of the bare minimum 61 seats in the 120-seat parliament. It is the smallest government Israel has had in two decades, and forced Netanyahu to make major concessions to several right wing parties.
U.S. Rep. Brad Sherman, the second-ranking Democrat on the House Foreign Affairs Committee and a prominent pro-Israel voice in his party, told BuzzFeed News that there was still hope that Netanyahu would put together a broader coalition.
"It wouldn't surprise anyone if eventually Netanyahu puts something together with another party to form a national unity government," Sherman said. "I would say that it is obvious that 61 seats is not a stable government, and he would likely want to create stability beyond those seats."
Regarding the agenda set forth by Netanyahu's coalition, Sherman added: "The U.S. government policy, my policy, is a two-state solution."
Before Netanyahu's coalition is sworn in next week, it will present a charter outlining its objectives. Whereas past governments have included centrist and left wing parties that insisted on specific wording promising that the State of Israel would advance a peace process with the Palestinian leadership, the current government is not expected to include such language, said Erel Margalit, an opposition MP from the center-left Zionist Union Party.
The coalition that Netanyahu has put together sends the wrong message to the world, "and specifically to the U.S.," Margalit said, noting that it makes for "an extreme right-wing government" that makes Israel look extremist and uninterested in peace.
"I fear that U.S.-Israel relations will only further be harmed, and I call on our allies, especially the U.S., to realize that there is a big difference between this government and Israel as a country," he said. "There are about half the people who currently live in Israel who didn't vote for this government."
In March, White House spokesman Josh Earnest said that the U.S. would "evaluate" its approach to Israel in light of comments made by Netanyahu suggesting that the Israeli premier no longer supported a two-state solution.
According to the State Department official who spoke to BuzzFeed News, U.S. officials have since been sending warnings to Netanyahu that should he choose to form a narrow, right-wing government that did not support a peace process with Palestinians, they would have "deep concerns."
"The prime minister needs to show that he is still committed to a two-state solution," the official said. "There were, and are, deep concerns that this is no longer the case."
Alon Pinkas, the former Israeli consul to New York, told BuzzFeed News that the current Israeli government did not have a "fig leaf for peace" that would allow the U.S. and other countries a channel through which to continue peace talks.
"There is not even one element of the government that the world can look to and that western governments can say, 'Hey, that is someone we can work with,'" said Pinkas. "What we have instead is a right-wing government which is officially committed to the things that would create friction with the U.S."
Sheera Frenkel is a cybersecurity correspondent for BuzzFeed News based in San Francisco. She has reported from Israel, Egypt, Jordan and across the Middle East. Her secure PGP fingerprint is 4A53 A35C 06BE 5339 E9B6 D54E 73A6 0F6A E252 A50F

Contact Sheera Frenkel at sheera.frenkel@buzzfeed.com.

Got a confidential tip? Submit it here.