New Egyptian President Visits Woman Who Was Raped During Celebrations For His Inauguration
Amid furor over sexual assaults in Egypt, Sisi said, "I take responsibility."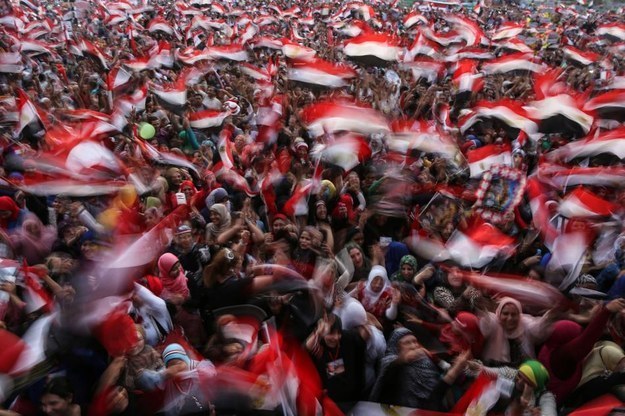 Just days after being sworn in as president of Egypt, Abdel Fattah el-Sisi has visited the hospital bedside of a woman who was raped during celebrations for his inauguration over the weekend.
Carrying a bouquet of red roses, Sisi approached the woman with one hand over his heart. The first thing he said was "I take responsibility."
"I have come to tell you and every Egyptian woman that I am sorry. I am apologizing to every Egyptian woman," said Sisi. The move came as Egyptians expressed their anger over a video posted online that showed one of at least five attacks that happened that day, and state newspapers ran headlines calling for rapists to be executed.
Egypt's Interior Ministry said they had arrested seven suspects in connection with the attacks. Three of those men have already been charged with attempted rape, according to a statement issued by the nation's chief prosecutor, Hesham Barakat.
The statement also gave graphic details of the attack, saying the attackers first formed a circle around a woman and her teenage daughter, before stripping the mother of her clothes and assaulted her.
Rights groups in Egypt said at least five women were assaulted over the weekend, during festivities in Tahrir square that marked Sisi's inauguration. On Monday, 29 women's rights groups released a joint statement accusing the government of failing to do enough to address the endemic violence against women in Egypt and asked for a "comprehensive national strategy" to stop the violence. They said they had documented more than 250 cases of "mass sexual rape and mass sexual assaults" from November 2012 to January 2014.
Sisi, having been criticized in the past for his support of virginity tests, was quick to take a stance against the recent assaults.
"I tell the judiciary that our honor is being violated on the streets and that is not right. It is not unacceptable, even if it is one case," said Sisi.
He, like many other Egyptian government officials, has referred to the increasingly violent attacks against women as an "alien phenomenon" in Egypt.
Activists, however, said that the problem has been allowed to flourish, unchecked, for decades.
"This kind of attitude – treating it like it is some new thing that nobody has ever heard of before when in fact Egyptian women have been experiencing this for a generation – is totally unhelpful," said Mai Iskander, a female student activist at Cairo University. "It's good that he made a point of going to the hospital, but I wish he and the rest of Egyptian government acknowledged how deep rooted this problem is."
Sheera Frenkel is a cybersecurity correspondent for BuzzFeed News based in San Francisco. She has reported from Israel, Egypt, Jordan and across the Middle East. Her secure PGP fingerprint is 4A53 A35C 06BE 5339 E9B6 D54E 73A6 0F6A E252 A50F

Contact Sheera Frenkel at sheera.frenkel@buzzfeed.com.

Got a confidential tip? Submit it here.