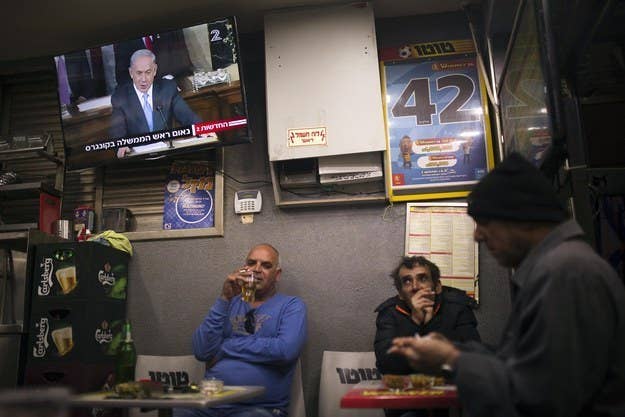 TEL AVIV – Moluk Hanasab paused briefly from stuffing zucchinis when Israeli Prime Minister Benjamin Netanyahu got his first standing ovation in his speech to the U.S. Congress on Tuesday.
"Will you look at that? They are actually standing up. In the Knesset [Israeli Parliament] they spit at him, and in America he is like their god," said Hanasab, the matron of the popular Tel Aviv Persian restaurant, Shamshiri. "He's more popular in D.C. than he is in Jerusalem these days."
The restaurant, owned by Hanasab and her husband, has become a popular gathering place for Iranian-Israelis, who linger over crispy kebabs and golden gondi soup to talk politics and reminisce about the Iran they remember. Not the one whose leadership revels in anti-Israel rants, but the one that existed before the Islamic Revolution of 1979.
On Tuesday only a handful of stragglers remained when Netanyahu started his speech at 6 p.m. local time, and Hanasab decided to use the opportunity to begin stuffing vegetables for the next day's lunch rush while keeping an eye on the speech.
"Most of the people I know aren't watching the speech. Netanyahu, he's been talking about Iran here for years, people are sick of it," said Hanasab. "We all want Iran to not have a nuclear bomb, that is obvious, but how much more can we hear about it?"
Just two weeks before Israelis go to the polls to vote for a new prime minister, Netanyahu's Likud party hopes the speech will buy them another seat or two in the parliament. Polls currently show that Netanyahu and his rivals are neck and neck. On Tuesday, Netanyahu's supporters took to the evening news shows and asked the Israeli public if they could envision another Israeli politician getting so many standing ovations from Congress.
"Can anyone imagine [Labor Party leader Isaac] Herzog sweeping away Congress like that?" asked Limor Livnat, a minister in Netanyahu's government, in an interview on Israel's army radio.
Despite assurances that Netanyahu was not using the speech as part of his campaign, his Likud Party has run two ads that tout the speech as an example of the Israeli premier's leadership. Still, polls show that the threat of a nuclear Iran lags far behind socioeconomic issues that Israelis are taking into consideration when they vote.
"I don't think about Iran day to day, I think about my bank overdraft and how expensive the milk is," said Hanasab. "Israelis are sick about hearing about how Iran is dangerous, it's more dangerous for us to lose our homes because we can't afford the rent."
Hanasab came to Israel in 1972, years ahead of the revolution, with her husband and brother. She says her sister, however, remains in Iran, afraid to leave behind the culture and language she has known her whole life.
"Part of us, we love being Iranian even if Iran is a country we left. The Israeli media tells us to be afraid of Iran, but the nuclear program is not the whole country," said Hanasab, who is among Israelis who keep an Iranian passport that allows them to travel to Iran via Turkey and visit family there. "Anyway, I wouldn't tell my sister to move here because how would she make a living? In Iran she loves comfortably but here her money would be worth nothing and she would be poor."
Earlier this week, a group of young Israelis began pitching tents on Tel Aviv's exclusive Rothschild Boulevard in a re-enactment of a tent protest four years ago that saw a record number of demonstrators complaining about the cost of living in Israel. On Tuesday, the tent protest remained small in comparison to the 2011 numbers, but youths said they would remain on the boulevard to remind passersby that the cost of living had increased under Netanyahu's leadership.
Hanasab said she drove by the protest with her son, but that the young men and women in the tents looked like "hippies." Watching Netanyahu on Tuesday, she insisted that "no one knows how to deal with Iran."
"I'm Iranian and I will tell you. Iranians are tricky. You do not know you have a deal with them until they sign the line and even then they will try to bargain," said Hanasab. "Of course, I don't trust Obama to negotiate a great deal for Israel. But I don't trust Netanyahu either. It's been 10 years that he tells us he will stop Iran and he's still saying it."
Ziona Sepharzadeh, who translated much of the speech to Farsi for her husband while they ate together at Hanasab's restaurant, said that she was proud to see Netanyahu speak in front of Congress, but worried that he had damaged relations with the U.S.
"We keep hearing that he made Obama angry, that he arranged to make the speech behind Obama's back or something like that. It seems like too much chutzpah," said Sepharzadeh, who voted for Netanyahu in the last two elections. "We need as many friends as possible if we are going to stop Iran."
Hanasab, overhearing the comments, yelled back, "You remember Iran, do people ever stop Iran or do they just think they do? The only way to stop Iran is to make them want to do something else more."