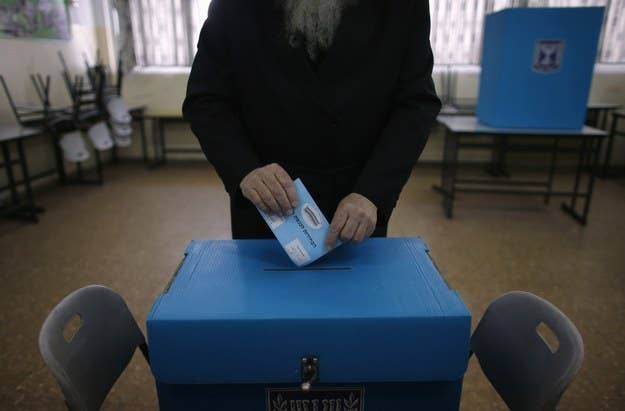 RAMLE, Israel — Nour Aslan was on the fence about voting, but then she got an automated text message warning her that if she didn't vote "the Arabs were coming." So Aslan, a Palestinian citizen of Israel, not only got herself to her local polling station, she made sure her two daughters and sister came as well.
"This is an outrage. It is embarrassing. Are we not citizens of Israel? Do we not deserve to vote?" said Aslan. She said she had never voted in an election before but was "shaking with anger" over the text message, which Netanyahu's Likud Party sent to millions of Israelis Tuesday morning, to galvanize more voters.
"We are sick of being seen as the enemy. We are not the enemy. We are citizens of this country, and I want to see my members sit in the Knesset [parliament] and legislate for all of us – Arabs and Jews – to have better lives," said Aslan, who along with many in this small town were getting ready to vote for the Joint Arab List, a newly formed alliance of the Arab parties headed by political newcomer Ayman Odeh.
As Israel went to the polls Tuesday to vote for a new government, one of the most closely watched populations in the country were the Palestinians citizens of Israel, also known as Israeli Arabs. Early morning polls show that 10% of the population had turned out by 11 A.M. local time, compared to only 3% during the last elections in 2013. The high turnout among Palestinian citizens of Israel — who make up 20% of Israel's population of eight million — is all the more relevant as in past years the group has showed up to the polls in numbers lower than the national average.
Among the left-wing Israeli parties, there was hope that a large bloc of Arab parties would be interested in joining a coalition headed by the Zionist Union's Isaac Herzog. Among the right-wing, the rejuvenated Arab sector was a cause for fear, as politicians tried to outdo each other with automated text messages sent to Israeli cell phones and warnings over what could happen in Israel with the surge in Arab voters casting ballots.
"The right-wing government is in danger. Arab voters are coming out in droves to the polls. Left-wing organizations are bussing them out," Netanyahu said in this video, posted in Hebrew to his Facebook page.
His comments were turned into this meme by a supporter of the Joint Arab List.
Netanyahu continued in the video saying, "Get out to vote, bring your friends and family, vote Likud."
In Tel Aviv, BuzzFeed News spoke to three people who came out to vote for the Likud because they were concerned about the large Arab turnout and the srong poll numbers for the center-left parties.
"I don't really like Netanyahu, but I don't want a left-wing government so I guess I have to vote for him," said Chevazelet Abergil, a 42-year-old shopkeeper. "I wasn't going to vote, but then I felt like I would regret it if we wound up with the Arab parties in the government."
Not to be outdone, Avigdor Lieberman, whose right-wing Yisrael Beitenu Party is in danger of not crossing the necessary 3% threshold to join the Israeli parliament, released a statement Tuesday declaring "Netanyahu also knows that if the Arabs are voting in droves, only a strong Lieberman can stop them." Last week, Lieberman asserted that "disloyal" Israeli Arabs should be beheaded.
"This is a joke. That Lieberman tried to get the Arab parties kicked out of the Knesset and now he might not be there himself. His desperation is evident in his racist attacks on us," said Muhammed Kassbah, a local politicians in Ramle who said he's "never seen the Arab street so excited to vote."
"Whatever issues are plaguing Israel they are worse for us here," said Kassbah. "Ramle is one of the poorest cities in Israel. We have a problem with drugs, with crime, and our problems are ignored much much more than the problems of our Jewish neighbors."
Those standing in line to vote in Ramle confirmed to BuzzFeed News that they had never seen such a large turnout for elections. And while many were excited to vote, they expressed skepticism over whether Arab politicians would have real say in the Knesset.
"I don't think they will be able to do anything. I think they will be locked out," said Muhammed Wajaf, a 24-year-old student. "The Jewish parties will never let them make a real change."
Muhammed Moussa, a 37-year-old teacher agreed that he had little optimism that Israel would stop it's slow shift shift to the right. Comments made by Netanyahu on Monday that if he were reelected he would never create a Palestinian State only cemented for Moussa that the current government wanted him to live as a second-class citizen in Israel.
"At least I can vote. My cousins in Hebron, they have no vote. They cannot vote on the army that occupies them," said Moussa. "The most we can hope for is that we vote in enough of our people to the Knesset so that we can block Netanyahu from becoming prime minister again."