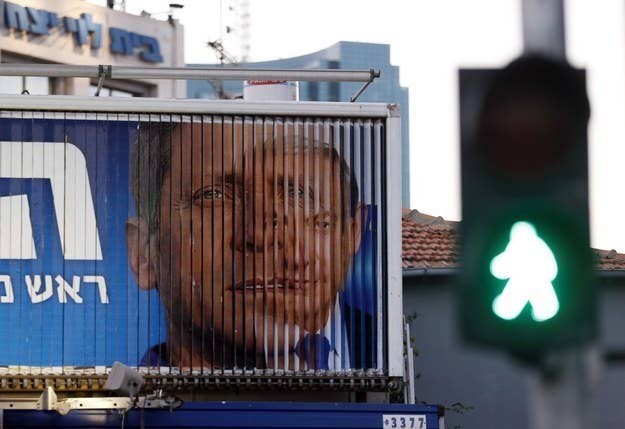 TEL AVIV — For a brief second on Sunday night, Israeli Prime Minister Benjamin Netanyahu looked nervous. Tens of thousands of supporters had gathered in Tel Aviv's Rabin Square to cheer on the right-wing government coalition he leads, but it was the shouts of a man standing near the stage that seemed to unsettle the Israeli prime minister, who grimaced slightly before flashing the crowd a big smile.
"It was nothing really," said David Maron, who brought his whole family to the rally from the West Bank settlement of Ariel. "The man had a deep voice and it sounded like a boo for a second instead of a yay. I think everyone is just on edge."
The moment was short, but captured a Netanyahu who is fighting to hold onto power. The prime minister's voice appeared earnest as he pleaded with the crowd during the rare appearance to vote for him on Tuesday, saying there was a "real danger" he could lose his job.
After years of refusing public debates, interviews by the Israeli press, and public campaigning, Netanyahu is suddenly on the media blitz of his life, giving interviews to five Israeli news outlets in the span of three days, shaking hands and kissing babies for the cameras in Likud Party strongholds. His advisers know that this could be the tightest race Netanyahu has ever fought, and in an election that has been best characterized as the Netanyahu versus Not-Netanyahu campaign, the longtime Israeli leader has been noticeably absent from the spotlight.
On Monday, the night before Israel went to the polls, Netanyahu made headlines during an interview with Sheldon Adelson-owned NRG website, saying that if he were re-elected, a Palestinian state would not be created. The move was widely seen as an effort to take votes away from Naftali Bennet's right-wing Jewish Home Party, which has been drawing pro-settlement voters away from Netanyahu's Likud.
"We had to get him out there on TV and radio, reminding Israel that he is prime minister," said one Likud Party strategist, who conceded that, at first, Likud thought they could win the elections without heavy campaigning by Netanyahu. When Netanyahu first called for early elections in December due to infighting in his coalition, internal Likud Party polls saw him sweeping to victory said the strategist. The plan was for Netanyahu to run for re-election as he always had, on the basis of his security background and on polls that showed that most Israelis had trouble imagining anyone but Netanyahu leading the country. "There was no doubt, in the prime minister's office, that they were going to shake things up a bit, move around the seats, and reform a coalition with Netanyahu as the head … nobody thought it would be this tight of a race."
The most recent polls show Netanyahu's Likud Party winning 20 seats in Israel's 120-seat parliament. While Israel's polls have, in the past, been highly unreliable in predicting the final outcome of elections, it would appear that Netanyahu is trailing behind the joint Zionist Union list run by ministers Isaac Herzog and Tzipi Livni, which final polls predict will get 26 seats.
In Israel's parliamentary system, however, it is not the number of seats that determines who becomes prime minister, but the ability to put together a coalition of parties who give an endorsement for that person to become party leader.
"Right now, if we believe the polling numbers, there is a more natural coalition of right-wing parties that Netanyahu could put together than a cobbled-together mix of other parties that Herzog and Livni could put together," Arye Golan, an Israeli presenter and political analyst, said on Israel's national radio Sunday. "Nothing is guaranteed, of course. We will have to wait until Tuesday to know."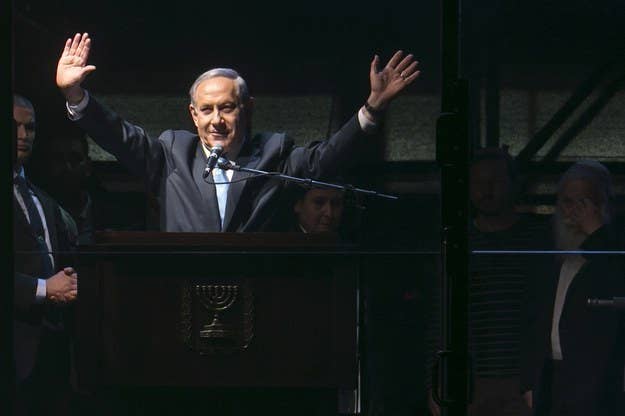 Before Netanyahu addressed the crowd on Rabin Square on Sunday, Lior Gazriel, a 27-year-old former Likud Party voter, left his home, saying he wasn't interested in hearing the speeches at the rally.
"The only way Netanyahu knows how to collect votes is by scaring Israelis into voting for him," said Lior Gazriel, a 27-year-old former Likud Party voter. Less than 24 hours before the ballot boxes in Israel are open, Gazriel is still debating over how to cast his vote.
"Instead of telling us what he will do, he spends all his time making us afraid. First it was Iran, now it's some left-wing government that is going to destroy us?" said Gazriel. "I'm not left wing at all, I don't want them, but I'm definitely not afraid of them."
"I'm honestly split, and nothing said or done in this campaign has convinced me that these people, the candidates, will fix all the problems we have in Israel," Gazriel said. "I'm just sick of voting out of a place of fear and I feel like that is all Netanyahu is selling."
During his term in office, Netanyahu has repeatedly promised Israel that he would stop Iran from acquiring nuclear weapons, and that he would protect Israel's borders from enemy states. Israel has fought two wars with Gaza under his tenure, while rockets fired by Hamas militants in Gaza reached deep into central Israeli cities.
In the last few days of campaigning, Netanyahu has repeatedly warned Israelis that they had to "close the gap" between his party and Labor, lest they vote in a left-leaning coalition.
"If we don't close the gap there is a real danger that a left-wing government will rise to power. This danger exists despite the fact that most of the public doesn't want Tzipi [Livni] and Bougie [Herzog] to lead the government," said Netanyahu at the rally.
A left-wing government, according to Likud supporters, would be an invitation to Israel's enemies to attack. Only Netanyahu can save Israel from the threat of a nuclear Iran, Hamas tunnels that snake their way under the Gaza border, or the tens of thousands of Hezbollah rockets pointing toward Israel from southern Lebanon.
"It's crazy that we think there is no one who can save Israel but Netanyahu," said Dan Shapinski, who on Sunday sat with his former classmate, Gazriel, at a café just 10 minutes from Rabin Square. "We need saving from the cost of living, not just from Iran."
Socioeconomic issues have taken a central role in this Israeli campaign season, challenging the long-held notion that Israel would always vote based on security issues first. The growing cost of living in Israel, the lack of affordable housing and the widening gap between the rich and poor are a constant subject of conversation among Israelis.
"I'm 32 and I live in an apartment with two roommates because otherwise there would be no way I could afford a place in Tel Aviv," said Gazriel. "Look at this café, a coffee here is almost $5. Americans come here and roll their eyes, and most of them are making double what the average person in Tel Aviv makes."
Netanyahu's advisers admit that they thought his speech to Congress last month would give him more of a bump in the polls. But in Israel, few seemed impressed by the speech and many were worried that Netanyahu caused lasting damage to U.S.-Israel ties. Over the weekend, Netanyahu began tackling questions about the economy during his interviews.
"I think that the problems of the public are genuine," the prime minister told Israel Radio. "The difficulties of young couples or newly released soldiers to buy a house are a genuine problem that we are going to solve."
Yet most Israelis see Netanyahu as a leader who has long supported big banks and monopolies. "He's talking about the price of a house, but it's just lip service. How would he know the price of the house when has three villas to choose from?" said Gazriel.
His friend, Shapinski, interjects, "How would any of them know the cost of an apartment to us? That's the problem with politicians in Israel, there is not one candidate for prime minister who I feel gets it … we are just voting for the least bad option."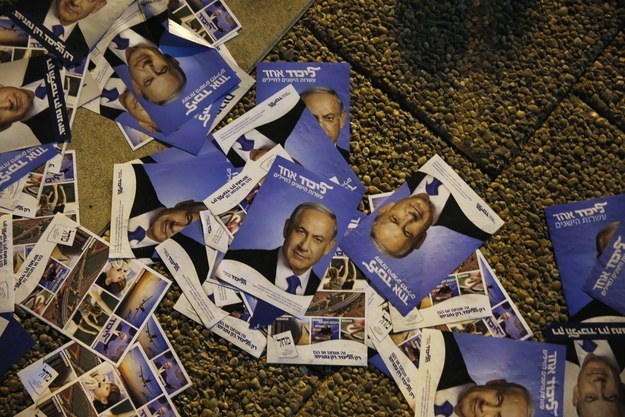 If Netanyahu becomes prime minister following Tuesday's vote, and serves for at least three years, he will hold the title of Israel's longest-serving prime minister.
Love Netanyahu or hate him, these elections have boiled down to Netanyahu or Not-Netanyahu in the eyes of Israeli voters. Undecided voters are still asking themselves: Is Netanyahu the only man who can securely defend Israel or do the other candidates have the security credentials? Is Netanyahu the only Israeli prime minister who could get multiple standing ovations from Congress or do the other candidates have the proper gravitas? Even the socioeconomic issues are framed by candidates running against Netanyahu as what the government has failed to achieve on socioeconomic grounds, versus the promises made by other parties.
The V15 movement, a grassroots campaign that has attracted tens of thousands of young Israelis in recent months, has the singular missive of convincing Israelis to vote for anyone but Netanyahu (or anyone who would support Netanyahu in forming a coalition).
"Our message to Israel is that if they don't act now, they will have Netanyahu as their leader forever," said Itamar Weizman, one of the group's founders. "Israelis have voted according to what they are used to for so long. They need to not be afraid to vote for something different. After all, if they keep voting the same they will keep getting the same."
In southern Tel Aviv, the Cohen house is divided between the Netanyahu and not-Netanyahu clans. Less than 24 hours before Israel goes to the polls, members of the family are still getting into screaming matches over who should be the next prime minister of Israel.
"Only Bibi," chants 24-year-old Asaf Cohen, in a chorus using Netanyahu's nickname. "King Bibi, our once and future king."
His mother and two older brothers aren't as sure. Ronen Cohen, 34, feels like Netanyahu is too cozy with the country's moneyed elite, and Dan Cohen, 31, thinks that under Netanyahu the gap between the rich and the poor will continue to grow. Both are considering voting for politicians like Moshe Kahlon, who left Likud to start the centrist Koolanu party, or Yair Lapid, previously a minister in Netanyahu's cabinet, who heads the similarly centrist Yesh Atid Party.
"The truth of it is that all our arguments are framed by Netanyahu. Why Lapid? Because he's more into socioeconomic issues than Netanyahu. Why Kahlon? Because he's like Netanyahu but more a man of the people," said Ruhama Cohen, 51, who has voted for Likud her whole life but now says she doesn't know what to do. "Israel sees everything in relation to this one man These elections, the only question everyone asks is, 'are you voting for Bibi or someone else?'"
If he loses, she said, it's because he lost it for himself.
"He just needed to give us a reason to keep voting for him," Ruhama Cohen said. "He's doing all these speeches now but is too little too late? I'm not sure."
She still isn't sure who she'll pick when the polls open on Tuesday.
"I wish we could do this campaign over again and force Netanyahu to start giving speeches earlier, and to have a debate between all the candidates so that we could really see their positions," Cohen said.
With such a close race, it seemed unlikely that any of the candidates would get a solid mandate from the people to lead.
"So the next prime minister will start his job feeling as shaky as all of us," said Cohen.