Netanyahu Doubles Down On Congressional Address
"As prime minister it is my duty to do everything to prevent this dangerous deal and therefore I'm determined to go to Washington and present my position in Congress."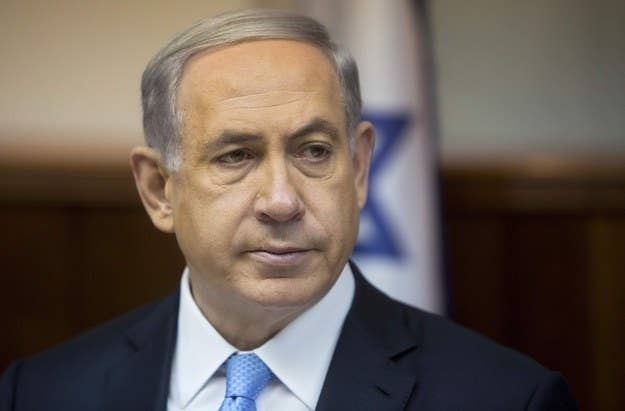 JERUSALEM — Israeli Prime Minister Benjamin Netanyahu said Monday that he will go forward with his planned speech to the U.S. Congress, citing it as his "duty" to speak to U.S. lawmakers about the dangers of a "bad deal" with Iran.
"While some are busy with protocols or politics, a bad deal with Iran is taking shape," wrote Netanyahu in a series of tweets explaining why he would go to D.C. despite the furor over his speech.
Netanyahu's speech is scheduled for March 3, just two weeks prior to Israeli elections. The invitation to speak in D.C. has angered many, who believe it to be an attempt by Netanyahu to use an invitation by Speaker of the House John Boehner, a Republican, to bolster the Republican Party's hawkish view on Iran, while snubbing the White House's ongoing efforts to reach a deal with Iran over its nuclear program.
"There is a bad agreement taking shape in Munich. According to reports, Iran, without violating the agreement, will be able to manufacture dozens of nuclear bombs. As prime minister it is my duty to do everything to prevent this dangerous deal and therefore I'm determined to go to Washington and present my position in Congress," said Netanyahu Monday evening at a pre-election convention of his Likud Party.
Earlier in the day, there were reports that Netanyahu could seek a way to step back from the speech to Congress, choosing instead to speak to an AIPAC convention or to cancel the trip altogether. A poll conducted by Israel's Army Radio, one of the country's most popular radio stations, found that 47% of Israelis believe that Netanyahu should cancel his trip to D.C. Another 34% said he should go forward with the trip, while the rest were undecided. Of those polled, 63% said that whether or not he spoke in D.C. would not affect their vote in the upcoming Israeli elections.
Meanwhile, President Barack Obama told reporters Monday that "very real differences" existed between him and Netanyahu over the negotiations with Iran. Speaking at a press conference with German Chancellor Angela Merkel, Obama defended his decision not to meet with Netanyahu in D.C.
"As much as I love Angela, if her election were two weeks away, she probably would not have received an invitation to the White House," he said at a press conference. "And she probably wouldn't have asked for one."
He also waved off the demands being made by Netanyahu that new sanctions be placed on Iran, saying it was not the White House's view that it was "not possible to get a deal with Iran."
"At this juncture I don't see a further extension being useful if they have not agreed to basic formulation and the bottom-line that the world requires," Obama said. "We now know enough that the issues are no longer technical. The issues now are: Does Iran have the political will and the desire to get a deal done?"
Sheera Frenkel is a cybersecurity correspondent for BuzzFeed News based in San Francisco. She has reported from Israel, Egypt, Jordan and across the Middle East. Her secure PGP fingerprint is 4A53 A35C 06BE 5339 E9B6 D54E 73A6 0F6A E252 A50F

Contact Sheera Frenkel at sheera.frenkel@buzzfeed.com.

Got a confidential tip? Submit it here.