Judge Orders Retrial For Al Jazeera Journalists In Egypt After Year Of Imprisonment
One journalist's lawyer tells BuzzFeed News that the new trial could come as soon as next month.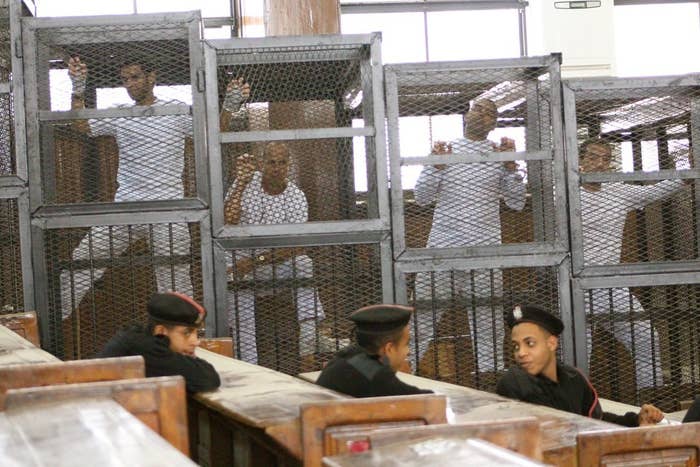 An Egyptian court on Thursday ordered a retrial for Al Jazeera journalists Peter Greste, Mohamed Fahmy, and Baher Mohamed, allowing for the case to be tried at a criminal court as early as next month.
A lawyer for Fahmy told BuzzFeed News that once the case is referred to criminal court, the judge in the new case could order the three men to be released on bail. Last Saturday marked exactly one year since the three were arrested at the Marriot Hotel in Cairo and charged with a myriad of offenses including terrorism and aiding the now outlawed Muslim Brotherhood movement. The three men have maintained that they were arrested simply for doing their jobs as journalists, and that their arrests were due to the then deteriorating ties between Qatar, which own the Al Jazeera network, and Egypt.
At trial, prosecutors backed their accusations that the three men supported terrorism and spurred unrest in Egypt by showing evidence that included videos of Greste on a safari holiday with his family, and documentaries filmed by Greste in Africa.
Fahmy and Greste were sentenced to seven years in prison, while Mohammed got an additional three years because he was found with a spent bullet casing.
In recent months diplomats and human rights workers have hope that Egyptian President Abdel-Fattah el-Sissi would use his power to pardon or deport the foreigners under a new law, whether or not the court grants the appeal. That would allow Greste to return to Australia, and Fahmy to Canada if he drops his second, Egyptian nationality. Mohammed's case would remain as he holds only Egyptian citizenship.
Egyptian human rights workers credited a recent improvement in Egypt-Qatar relations with the retrial of the journalists. This month Qatar has shut down its Egyptian affiliate, Al Jazeera Misr, and terminated the contracts of all remaining Al Jazeera journalists in Egypt. The network was repeatedly accused of showing pro-Muslim Brotherhood coverage, and aiding the short-lived Morsi government following the Egyptian revolution.
Sisi said last month a presidential pardon for the three was being "examined" and would be granted only if it was "appropriate for Egyptian national security."
Sheera Frenkel is a cybersecurity correspondent for BuzzFeed News based in San Francisco. She has reported from Israel, Egypt, Jordan and across the Middle East. Her secure PGP fingerprint is 4A53 A35C 06BE 5339 E9B6 D54E 73A6 0F6A E252 A50F

Contact Sheera Frenkel at sheera.frenkel@buzzfeed.com.

Got a confidential tip? Submit it here.