Journalist "Disappeared" From Egyptian Prison Could Die Within Days
The #SaveAbdullah campaign was launched after Abdullah Elshamy suddenly vanished from his prison cell following a long hunger strike. Update: Al Jazeera releases video of Elshamy from his prison cell.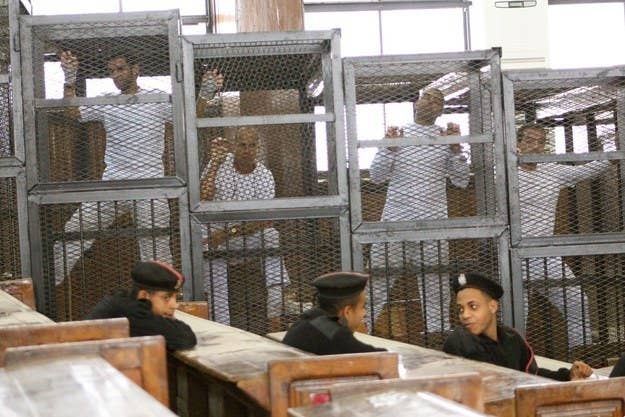 A campaign to save the Al Jazeera journalist Abdullah Elshamy, who has disappeared from his prison cell in Cairo, was launched by activists and reporters on Wednesday under the hashtag #SaveAbdullah.
Elshamy was arrested on Aug. 14, 2013 while on assignment for Al Jazeera at the Muslim Brotherhood protest camp in Rabaa, Cairo. On Jan. 21, he began a hunger strike, after authorities said they could hold him indefinitely without bringing charges against him.
"Abdullah is running out of time. We demand that he is admitted to an independent hospital immediately. With experts saying he may die in few days, every journalist, every organization, and every human has to do something to save this 26-year-old journalist," said Al Jazeera spokesperson Osama Saeed.
Three other Al Jazeera journalists are currently on trial following their arrest from Cairo's Marriott Hotel on Dec. 30, 2013. Egyptian authorities are trying Peter Greste, Mohammed Fahmy, and Baher Mohammed on charges of creating false news, smearing Egypt's reputation, and aiding terrorists. The trial has been called a kangaroo court and a "shame" by human rights groups, who said it was laughable that the journalists' personal computers and camera equipment, and a 2011 Greste-made BBC documentary about Somalian bandits were shown as evidence that they took part in terrorist activities.
But those three at least have trials. Lawyers and family members of Elshamy say that authorities have refused to bring charges against him, or provide an explanation for why he is being held. While Egypt's new constitution prohibits the indefinite detention of an Egyptian citizen without trial, Egyptian courts have refused to apply the constitution in Elshamy's case.
Online, many have protested Egypt's treatment of Elshamy.
Over the weekend, doctors met with Elshamy and ran tests that showed his hunger strike had left him with kidney dysfunction, severe anemia, and low red blood cell count. After more than 100 days on hunger strike, Elshamy has lost a third of his body weight.
Elshamy's lawyers demanded that authorities move him to a hospital and give him treatment, but instead Elshamy has disappeared from his cell and has not been seen since Monday.
When asked about Elshamy's whereabouts, Egyptian prison authorities denied that anyone with his name had been in their care.
"Abdullah Elshamy is asking for his rights in a fair trial. He is detained unlawfully and no charges have been filed against him, although Article 10 of the Declaration of Human Rights states that every individual has the right to be submitted to a fair independent court," said Hoda Abdel Moneim, head of Egypt's Al Horreya Observatory for Detainees Rights.
In a moving letter from prison, Elshamy narrated his ordeal at the hands of prison guards to force him to start eating. What will happen to him now remains unclear.
It's 3 in the morning while everyone in the cell is fast asleep. A breeze of air penetrates the ceiling full of iron rods in a hurry, 16 of us are lying in an space of 12 meters. By my right and left bags dangle and are narrowly fit to help us live in this place.I say life timidly and reluctantly, as there is no life here. Today I complete 160 days of captivity in jail without any charges. Outside, there are colleagues who live with consent to be mouthpieces and witnesses to the violation of the freedom of media and agree to it.I do not regret any day I've stayed in this place. Neither have I made any offense against any human being nor participated in the falsification of anyone's consciousness. My work is available on the Internet for those who want to see it, I take pride of my work in Al Jazeera network. I will always say that regardless of where I was.I do not belong to any group or ideology. I belong to my conscience and my humanity, and I do not take interest in what is been said in the local media about me or my colleagues. History doesn't forget.Our freedom will prevail, for my colleagues, "Mohamed Badr - Muhammad Fahmi - Baher Ghorab - Peter Greste" and myself.We are witnesses of freedom and will always be remebered as that. I know that a prosecutor who's clearly lost his senses of justice or a judge who works by orders from above will all be forgotten and despised.I chose to be on hunger strike to send a few messages; one to journalists who choose to falsify the facts and cover up for the violations of freedoms and media, the other to the Egyptian junta that I do not fear losing my life in my struggle for freedom. Nothing will break my will or dignity.
Update: Al Jazeera just released this video, which they say is leaked footage of Elshamy, who says he is filming the video as a "record for history" and to hold Egyptian authorities responsible.
Update 2: Elshamy's family have located him in Egypt's notorious Tora jail, which has held some of the country's most high-profile prisoners.
Sheera Frenkel is a cybersecurity correspondent for BuzzFeed News based in San Francisco. She has reported from Israel, Egypt, Jordan and across the Middle East. Her secure PGP fingerprint is 4A53 A35C 06BE 5339 E9B6 D54E 73A6 0F6A E252 A50F

Contact Sheera Frenkel at sheera.frenkel@buzzfeed.com.

Got a confidential tip? Submit it here.