Israelis And Palestinians Take Matters Into Their Own Hands
Israelis are dusting off guns from storage fearing security forces can't defend them from lone wolf attacks. Sheera Frenkel reports from the West Bank for BuzzFeed News.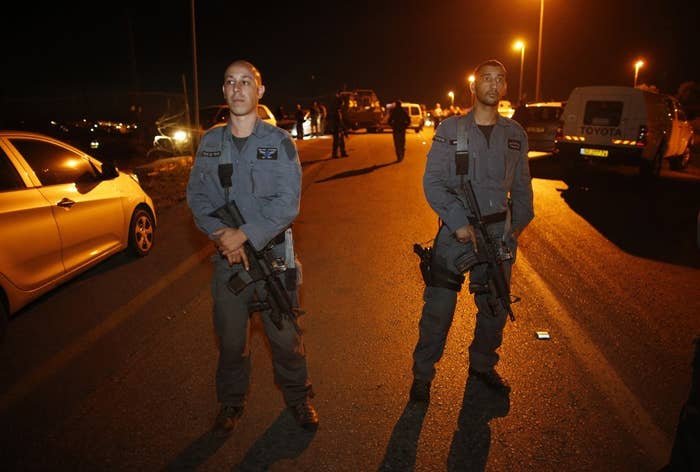 HEBRON, West Bank — One thumb hooked into the strap of the M16 rifle slung over his shoulder, Yonatan Feldman stood on the side of a highway junction, surveying cars as they passed in front of him.
Feldman is part of a group of self-appointed watchmen who have come out in recent days to create a heightened security presence across the West Bank. It was just a few miles away that 26-year-old Dalia Lamkus was run over and then stabbed to death on Monday night as she hitchhiked near her home in the Gush Etzion settlement bloc. Her attacker was Mahar al-Hashmalud, 30, a Palestinian resident of Hebron. Earlier that day in a separate attack, Nur a-Din Hashiya stabbed and killed 20-year-old soldier Almog Shilony in broad daylight on a Tel Aviv sidewalk.
The attacks — coming fresh on the heels of a series of similar incidents in Jerusalem — have put everyone on edge, and spurred debate in Israeli and Palestinian media over whether they were witnessing the start of a new intifada. But unlike previous years, in which Palestinians militant movements strategically tried to shake Israel's security with planned acts of violence, recent weeks have seen individuals carry out sporadic, and often opportunistic, attacks. Having no Palestinian leadership to negotiate with, Israel's government is at a loss over how to stop the violence from spiraling out of control. For Feldman and many like him, it means they can't rely on the Israeli government to protect them — and are taking matters into their own hands.
"I have had a license for a gun for many years and at times in the past have carried it with me," said Feldman, 43, who lives with his wife and five children in the Gush Etzion settlement block. Israeli law has special allowances that allow Feldman, and other Jewish settlers in the West Bank, to receive a gun license. While roughly 7% of Israelis have a gun license, the concentration of gun owners is much higher in the West Bank. "I stopped carrying [my rifle] for a while, but now I feel it is necessary again. You never know when a terrorist will strike, and you can't rely on others to protect you."
He dug out his rifle a few days ago, he said, as did one of his friends who had not carried a firearm since 2004. Army surplus and weapons stores across Israel are reporting selling out of stock in recent days.
"My friend told me he was insisting his wife now carry a gun too, so he is taking her to learn to shoot," said Feldman. "We all feel the need to defend ourselves, our families, from this new type of violence that is happening."
Israeli police have warned that there is little they can do to stop what they call "lone wolf attacks" by Palestinians in recent weeks. They have ranged from using a car to plow into a crowd of people on a Jerusalem train platform to stabbing Israeli soldiers on a Tel Aviv sidewalk in broad daylight. And while some of those carrying out the attacks have ties to Palestinian militant movements, like Islamic Jihad or Hamas, few in Israel believe there is much coordination or planning behind them.
"I don't see many measures that can be taken to stop individuals from trying to harm other individuals," said Maj.-Gen. (Ret.) Yaakov Amidror, in a conference call with reporters on Tuesday. "As far as we know they are individuals."
Israeli Prime Minister Benjamin Netanyahu has tried to make assurances that he is using whatever means are at his disposal to stop the attacks.
In a direct address to the Israeli public, Netanyahu vowed to take serious security measures to stop the violence. Video is in Hebrew:
Netanyahu said his cabinet had taken a variety of steps, including increasing the number of troops on the ground, demolishing the homes of people convicted of committing terrorist acts, and taking harsh action against those who throw firebombs, firecrackers, and stones — even fining the parents of minors who do so.
On Tuesday, three additional platoons were added to Israel's already heavy presence in the West Bank, according to a report on Israel's army radio station. Impromptu checkpoints dotted the roads that wind their way around the hilly West Bank, where soldiers stopped cars and encouraged drivers to be vigilante. At the bus stations and highway junctions where many of the attacks have been focused, large concrete barrier blocks are being brought in to try to wall off areas where pedestrians might stand. Palestinian drivers complained that the new security measures have doubled or even tripled the time it takes them to get to work, and that many are choosing to remain home rather than risk being interrogated at a checkpoint.
"They [the Israeli government] are trying to create a fortress, but that will never work," said Mohammed Salam, a 37-year-old Palestinian, who was waiting on Tuesday morning on a popular highway junction near the southern West Bank city of Hebron for a friend to give him a lift to his job at a construction site inside the Gush Etzion settlement bloc. "We work in their settlements and in their cities. You can't separate us from them. And if some person gets it into his head to become a shaheed [martyr], how will you stop him?"
He pointed to Hebron, where clashes have been ongoing for days between rock-throwing Palestinian youths and Israeli soldiers. By the afternoon, 22-year-old Imad Jawabreh had been killed and several others injured in the clashes.
"Nobody told them to do that, for the boys to protest and throw rocks — it was their decision. Everyone is angry, and what we are seeing now is because we don't have our state," said Salam.
Peace talks between the Israeli and Palestinian governments have been deadlocked for years, after repeated U.S.-led efforts have dwindled from White House-led direct talks to indirect talks between intermediaries. Few on either side still believe it is possible that a peace deal will be reached, or that the two-state solution — which would see side-by-side states, peacefully co-existing — will be realized.
"Nobody has hope," said Salam. "People have wanted resistance but there is no one to lead them."
Meanwhile many Palestinians bemoan their own lack of political leadership. Fatah, which controls the West Bank, and Hamas in Gaza have once again failed to reconcile. The long-feuding groups have been attempting to reconcile and form a unity government since the summer of 2007, when Hamas seized control of the Gaza Strip, but nothing has come of it.
But, while PA chair Mahmoud Abbas has voiced support for the recent spate of attacks, as have many militant groups, including Hamas, there is no indication they are organizing or controlling them directly.
Instead, many Palestinians have shown their support with popular slogans and songs that have emerged in recent weeks to encourage individuals to carry out violent acts. In this song, the chirpy chorus encourages Palestinians to "run over the settlers."
Ahmed Sayyad, a 19-year-old Palestinian student from Hebron, said that there was popular support for the protests and for what he called the "actions" against Israel.
"After the war [in Gaza] this summer, where so many were killed, and with everything happening in Jerusalem, people are feeling desperate to defend themselves," said Sayyad, referring to hundreds of new homes that are being constructed in Jewish settlements in East Jerusalem. He has friends that have been attacked by fringe, right-wing Jewish groups who call for anti-Palestinian rallies on Facebook pages.
He said that the problems over the Al Aqsa Mosque Complex, known to Jews as the Temple Mount, were "the final straw." Last month, prominent Israeli activist Yehuda Glick was shot and injured as he left an event hosted by his organization, the Temple Mount Institute. The group advocates for the right of Jews to visit and pray at the site. The area, which is considered sacred by both Muslims and Jews, is among the most contentious in all of Jerusalem. In 2000, former Israeli Prime Minister Ariel Sharon was widely seen as sparking the second intifada when he paid a very public visit to the area.
"This is what caused the intifada before, when I was only a child. It is not surprising it would lead to it again now," said Ahmed.
Sheera Frenkel is a cybersecurity correspondent for BuzzFeed News based in San Francisco. She has reported from Israel, Egypt, Jordan and across the Middle East. Her secure PGP fingerprint is 4A53 A35C 06BE 5339 E9B6 D54E 73A6 0F6A E252 A50F

Contact Sheera Frenkel at sheera.frenkel@buzzfeed.com.

Got a confidential tip? Submit it here.