Israeli Prime Minister's Party Blamed For Iranian Porn Twitter Follow
Apparently, all it took for Iran and Israel to finally have a direct line of communication was a little bit of erotic Persian literature.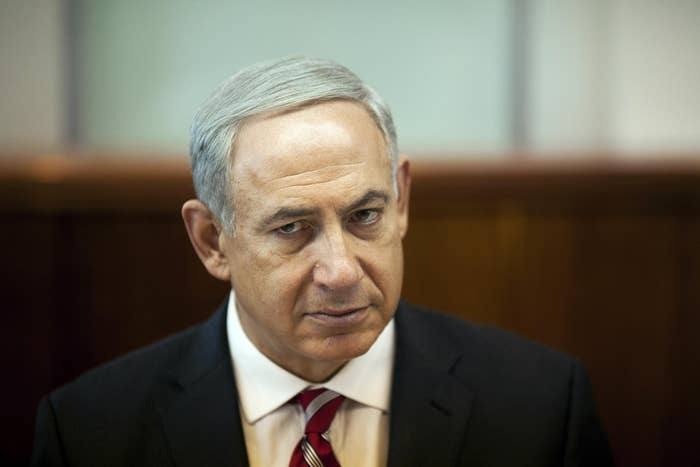 It hasn't been a good month for Israeli Prime Minister Benjamin Netanyahu on Twitter.
On Sunday morning, the Israeli premier woke up to the news that not only had his official Twitter account followed an Iranian sex site, the embarrassing follow had been turned into an Internet meme.
The gaffe was the second time this month that Netanyahu has spawned a Twitter trend. A little over a week ago he told BBC Persian that Iranians should overthrow their government so that they could be free to wear jeans. Iranians responded by tweeting at Netanyahu hundreds of photos of jeans-wearing Iranians, and asked the Israeli premier to re-analyze his intelligence on Iran.
"The whole thing made Netanyahu into a joke on Twitter, exactly as Iranian President Hassan Rouhani has become a star on Twitter," said Carmel Merav, an anchor on Israel's army radio station. "Let's hope Netanyahu can do better in a real war than he has in this Twitter war."
What made @Netanyahu's follow of @PersianHotBooks, a feed that describes itself as a "library of hot sex books in [Farsi] the Persian language," even stranger was that Netanyahu rarely follows anyone on Twitter.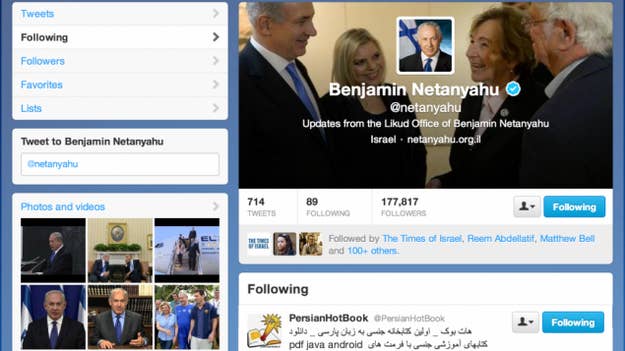 On Sunday morning, Netanyahu's Twitter account showed that he followed 89 feeds. By mid-afternoon, the number had dropped to 81, perhaps as a result of the close inspection the prime minister's Twitter account is suddenly getting.
Which of @Netanyahu's handlers decided to follow @PersianHotBooks is unknown. The feed has only 46 followers and barely has a presence on Twitter. Last month, Netanyahu and Iranian President Hassan Rouhani tweeted at each other after each leader appeared at the United Nations General Assembly. The tweets were the closest the two have ever come to a direct line of communication, but the accounts stopped short of following each other.
Netanyahu's follow of @PersianHotBooks is the first Iranian national he appears to follow on Twitter, leading many on Twitter to conclude that it took a special type of Iranian to get the dialogue going between the two countries.
"It's clearly a mistake, but I have no idea how a mistake like this could happen," said one former aide to Netanyahu, who left his office earlier this year. "He doesn't really take a huge interest in Twitter and social media so it was always up to the office to handle his accounts."
She said that the job had passed through several hands and that she did not know who managed the Twitter account these days. A spokesman for Netanyahu said that the Prime Minister's Office had nothing to do with the Twitter feed. Chico Menashe, a reporter for Israel Radio, said Sunday that Netanyahu's political faction, the Likud, had been running the account and said that following the Iranian port site was a "malfunction."
A spokesman for the Likud Central Committee, confirmed that the group had "access to Netanyahu's Twitter account," but added that so did others, "in several government ministries."
"We are investigating how this happened, and whether it was an act of sabotage," he said.
Netanyahu's account only followed @PersianHotBooks for seven hours. Still, it was long enough for Iranians to seize upon the new diplomatic exchange between the two countries.
Sheera Frenkel is a cybersecurity correspondent for BuzzFeed News based in San Francisco. She has reported from Israel, Egypt, Jordan and across the Middle East. Her secure PGP fingerprint is 4A53 A35C 06BE 5339 E9B6 D54E 73A6 0F6A E252 A50F

Contact Sheera Frenkel at sheera.frenkel@buzzfeed.com.

Got a confidential tip? Submit it here.