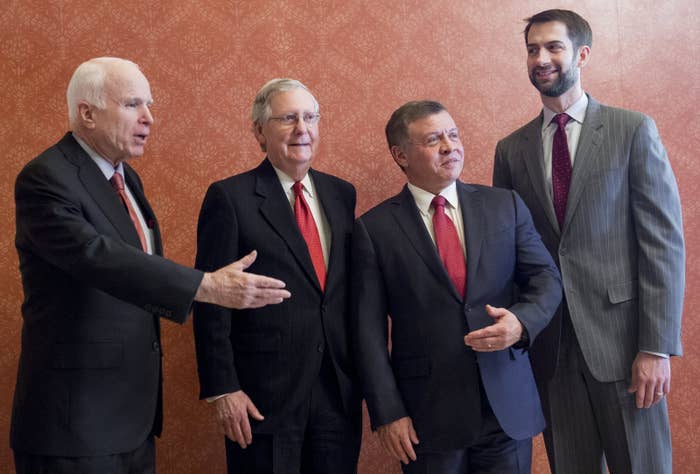 WASHINGTON — King Abdullah of Jordan Tuesday told members of the House Foreign Affairs Committee that Israeli intelligence officials are worried President Donald Trump will move forward with relocating the US Embassy from Tel Aviv to Jerusalem.
According to a lawmaker present at the meeting who asked not to be named, King Abdullah said Israeli officials are concerned that moving the embassy would "enflame tensions among radical groups." Jordan's Information Minister Mohammed Momani has also called the move a "red line" for Jordan that would "inflame the Islamic and Arab streets" and serve as a "gift to extremists."
"This has been a hypothetical for a long time and we prefer it stay that way," said one Israeli intelligence officer, who spoke with BuzzFeed News earlier this month. "Moving the US Embassy is something which gains us little and which could, potentially, inflame tensions."
The intelligence officer said that if the Trump made a big show out of moving the US Embassy it would almost certainly "end in unnecessary violence."
"We have communicated to our counterparts in the [American] security establishment that this situation carries the risk of a new round of violence in Jerusalem," said the officer.
David Keyes, a spokesman for Israeli Prime Minister Benjamin Netanyahu, told BuzzFeed News, "The Prime Minister believes that moving the US embassy to Jerusalem, the capital of Israel, is a great idea. We believe all countries should relocate their embassies to our nation's capital."
Throughout his campaign, Trump promised he would move the US Embassy from its current location in Tel Aviv to Jerusalem. Similar promises have been made by past US presidential candidates, though they have never been upheld due to the potential ramifications of the move. During the last months of his presidency, Barack Obama renewed a presidential waiver that delayed plans to move the embassy to Jerusalem until May, at earliest. While Israel sees Jerusalem as its capital, and the home of its parliament, government ministries, and high court, Palestinians see the city as earmarked for the capital of their future state.
By moving the embassy, Trump would be signaling that he has signed on to Israel's view of the city, overturning decades of international conventions that have treated the status of Jerusalem as an issue that remains to be settled in peace talks between Israeli and Palestinian officials.
Officials within Netanyahu's government have had mixed reactions to Trump's promise. Israeli Defense Minister Avigdor Liberman, long seen as one of the more hawkish members of Netanyahu's government, has questioned whether it would be wise for Trump to prioritize the move upon taking office.
Several Israeli defense officials who spoke to BuzzFeed News on condition of anonymity, due to the sensitive nature of the subject, said there were concerns that moving the embassy would serve as yet another rallying point for Islamist extremists looking to recruit new followers.
"There is nothing that draws more emotion than the status of Jerusalem. It would be giving a gift to those preaching for new violence against Israel, it would be a tool for recruitment," said one Israeli defense officer.
During his meeting with the House Foreign Affairs committee, King Abdullah also said the Israelis have indicated that ISIS "has been recruiting in Israel" in an effort to open a new front within the country, and that the embassy's move could ultimately drive recruits to the terrorist organization.
A spokesperson for the Jordanian Embassy did not return a request for comment.