Netanyahu Claims Victory "Against All Odds" In Israeli Election
With 99% of ballots counted early Wednesday, Netanyahu's Likud Party captured a six seat lead over chief rival Zionist Union — a stunning victory for the prime minister.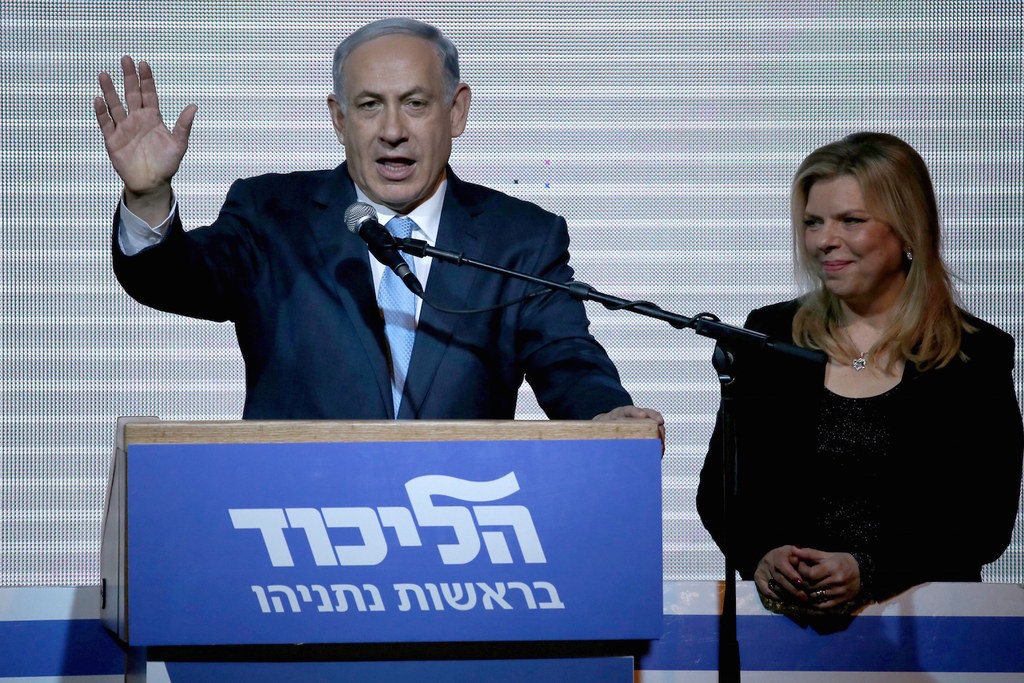 Here's The Latest:
Israeli Prime Minister Benjamin Netanyahu's incumbent Likud Party defeated a challenge from the moderate Zionist Union party.
Likud has about 30 seats in parliament out of 120. The Zionist Union has about 24 seats.
Netanyahu very likely has the support to claim a fourth term in office.
The result is a stunning turnaround — exit polls showed the election was very tight.
Zionist Union leader Isaac Herzog called Netanyahu to congratulate him. Netanyahu said at a rally that, "against all odds, we have scored a major victory."
It was a bruising election that saw Netanyahu move firmly to the right — at one point he said there would be no Palestinian state under his watch — in a last-minute media blitz.
Zionist Union leader Isaac Herzog has called Benjamin Netanyahu to congratulate him on his election win. On Wednesday morning, Herzog told reporters:
A few minutes ago I spoke with Prime Minister Benjamin Netanyahu and congratulated him on his achievement and wished him luck.

This morning has not been any easy one for us or our followers. We will lead and fight together with our partners to the Knesset with the values we believe in. We will fight for the Israeli citizens for social justice, diplomatic prospects, equality and democracy with hope and belief, in order to have a Jewish and democratic country, just and safe. We would like to thank everyone who believed in us, with all of our hearts.
Israel awoke Wednesday morning to the news that Prime Minister Benjamin Netanyahu had secured a significant lead with more than 99% of the ballots counted.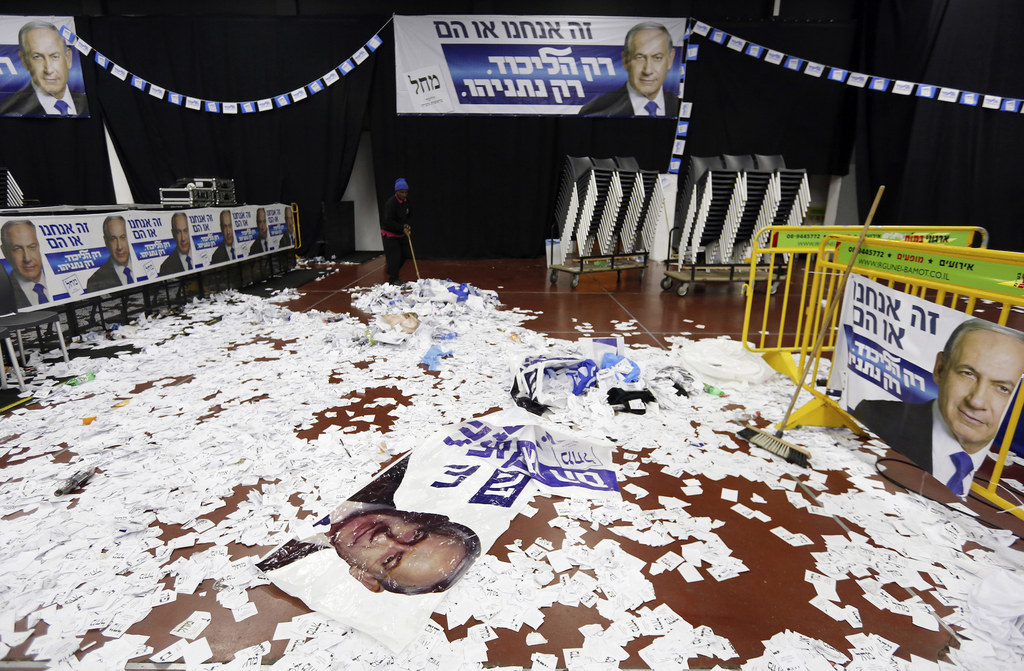 Netanyahu's Likud Party has won 30 seats in the 120-member Knesset, giving them a comfortable lead over the Zionist Union Party, which sunk down to 24 seats. Exit polls published late Wednesday night had predicted that Zionist Union and Likud were neck and neck with 27 seats. Israeli political analysts said they had never before seen exit results that were so far off the mark.
Lawmakers from Netanyahu's Likud said Wednesday morning that they had begun the process of coalition talks to form a government. They are expected to unite with right-wing nationalist parties in the parliament to gather a 60-seat majority.
"Reality is not waiting for us," Netanyahu said in a victory speech Tuesday night. "The citizens of Israel expect us to quickly put together a leadership that will work for them regarding security, economy and society as we committed to do — and we will do so."
Despite a steady drop in the polls in recent weeks, Netanyahu's Likud Party was able to shore up votes through a media blitz that took a hard turn towards the right. In the days before Israel voted, Netanyahu promised that on his watch, there would be no Palestinian state. He also promised to continue building in Israel's West Bank settlements at record rates.
U.S. and EU officials have, to date, refused to comment on Netanyahu's remarks. The official policy of most Western governments is that Israeli and Palestinians officials should reach a negotiated peace deal that involves two states, side-by-side, one Israeli and the other Palestinian.
With nearly all votes counted early Wednesday, Prime Minister Netanyahu appeared to have defeated his chief opponent in a stunning election victory.
Netanyahu's Likud party secured a six-seat lead over Zionist Union, a surprising win for the prime minister after pre-election polls showed the rival party with a narrow lead.
With 99% of ballots counted, Likud picked up 30 seats in Parliament while opponent Zionist Union captured 24, Israel's Haaretz reported.
The victory meant Netanyahu was all but certain to remain prime minister and serve a fourth term.
Netanyahu's Likud party appeared headed for victory late Tuesday, leading the opposition Zionist Union by nearly 180,000 votes.
Netanyahu addressed supporters Tuesday night, telling the crowd, "against all odds, we have scored a major victory for the Likud."
Opposition leader Herzog says he will form a coalition to create a "real socially-minded government for Israel."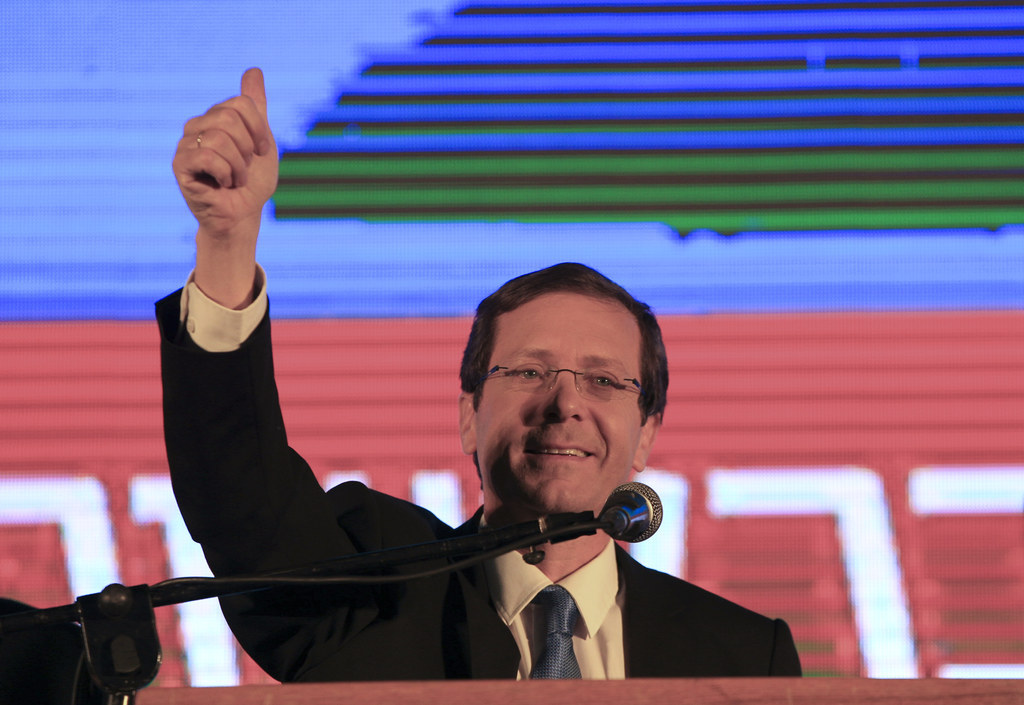 Isaac Herzog, the leader of the Zionist Union Party, spoke to his supporters Wednesday night and said he was forming a team to begin negotiations for him to build a coalition.
"This result allows us to return to power," Herzog said after exit polls showed a likely tie between the Zionist Union and Netanyahu's Likud Party.
"We will wait for the real results — everything is open," he said. Results will continue coming in through the night, with final numbers only being published around dawn.
Herzog also told supporters that he wanted to create a "real socially minded government for Israel."
Both Zionist Union and Likud officials have said that they might have to form a government together, sharing power in a rotation agreement.
Exit polls show that the Joint Arab List has secured a spot as the third-largest party in Israel, with 13 seats in the 120-seat parliament.
Members of the list had previously said they won't join a coalition, but officials in the party said Tuesday they were "listening to what Herzog has to say."
"We are listening to what Herzog says, that is all at this point," said one party official, when reached by BuzzFeed News by phone. "We are happy with our results today."
Joint Arab List MK Ahmed Tibi said at a press conference on Tuesday that he was disappointed that the right-wing had managed to close the gap with Labor.
"The general results are contrary to the expectations and a dissapointment. We thought the Israeli public would want to go in the direction to change the grim social-political-economic reality," said Tibi, who added that he was disappointed by comments made by Netanyahu on Tuesday morning that warned of the Arabs voting "in droves."
"To scare the public from participation of citizens in the elections just because they are Arab — imagine the prime minister of France or Sweden saying this about Jewish voters," Tibi said. "It is embarrassing and racist at the least and he should be ashamed he said that sentence."
Naftali Bennet, the head of the Jewish Home Party, also claimed victory for Likud and other conservative parties on Israel's Channel 2.
I was asked a few minutes ago if I was disappointed by our public, by the national-religious public. I tell you: It's just the opposite. I am proud of religious Zionism. I am proud of the members of religious Zionism because it is a true ideological public. It is called to the task of settlement, and it reports for duty. It is called to pioneering tasks, and it reports for duty. It is called to social activity throughout Israel, and it reports for duty. And this time it was called to a political task, and it reported for duty big time.
Israeli President Reuven Rivlin has confirmed that he will work to convince Netanyahu and Herzog to form a government together.
One Labor Party official, reached by phone by BuzzFeed News, said that Herzog was still waiting for the final election results before they decided on their next step.
"We would still like to be the ones to form the next government," said the official, who spoke off-record because Labor had not yet come out with an official statement. "We know there will be pressure to form a unity government but we don't think that is what Israel wants."
Likud party officials also said they were awaiting final results, though Netanyahu, on his Facebook page and Twitter, wrote, "Against all odds, a great victory for Likud, a great victory for the nationalist camp headed by Likud, a great victory for the nation of Israel."
"Netanyahu doesn't want a unity government, but sometimes you find yourself with no choice. In this case, the most likely scenario is that the prime minister will agree to pay Zionist Union a heavy price, among other things, leaving Bennett or Lieberman in the opposition, to make it easier for Herzog to make the move agreeable for his party," wrote the Haaretz newspaper.
Netanyahu sparked controversy in the waning days of the campaign with statements intended to bolster his support among conservative Israelis.
On Monday, the prime minister made headlines telling the press that there would be no Palestinian state were he to remain in office. While polls were open, his party sent a mass SMS warning to their supporters warning that Arab voters were "coming out in droves." Netanyahu also posted a video warning the same to Facebook.
Western governments invested in the peace process said their commitment remained despite Netanyahu's comments. In response to a question from BuzzFeed News, the United Kingdom's Foreign Office said: "We believe that only a negotiated two-state solution will resolve the Israeli-Palestinian conflict once and for all and end the occupation. There is no alternative that can deliver peace and security for both Israelis and Palestinians."
Prime Minister Netanyahu is already declaring a win despite the probable tied number of seats in the Knesset.
TEL AVIV, Israel — Israeli Prime Minister Benjamin Netanyahu's Party appears to be tied with Isaac Herzog's Zionist Union party in Israel's national elections, with most exit polls giving each candidate around 27 seats in Israel 120 seat parliament.
The cheers that went up from Likud Party headquarters on Tuesday night were loud, but followed by a quick hush of concern and craning of necks as the results rolled in.
With elections this close, what mattered more was the eight other parties holding seats in the parliament. Final results won't be in for hours, but pollsters have already begun to debate who will be the first to cobble together the necessary 60-seat majority to form a coalition and become Israel's Prime Minister.
"It's enough, what he got was enough and for that I'm happy," said Avi Steinmer, a longtime Likud Party supporter who came to the Tel Aviv headquarters Tuesday night to celebrate with other Likud activists. "Look, of course I wish he had a clear majority, but this is better than he had a few days ago so for that I am happy."
The polls conducted in Israel last week showed Herzog with a three-to-four seat lead over Netanyahu. But a media blitz by the Israeli prime minister over the weekend appears to have been enough to close the gap with Herzog.
"I changed my mind at the last minute. I decided that I had to vote for Netanyahu," said Saram Marom, a 35-year-old lawyer who had originally planned to vote for Naftali Bennet's Jewish Home Party.
Polls show that quite a few Israelis also made the shift from Bennet to Netanyahu on Tuesday, with the Jewish Home Party going down in seats to Likud.
"To be honest, it's not as good for us. Bennet was always going to be the coalition partner. We needed other parties to do well so that our coalition would be stronger together," said Steinmer.
One Likud Party strategist. who agreed to speak to BuzzFeed on condition of anonymity, said there was talk of Netanyahu and Herzog forming a national unity government together – where the two men would rotate the prime ministers office.
"Neither party wants that, but there is fear that it could be forced on us," said the strategist.
Sheera Frenkel is a cybersecurity correspondent for BuzzFeed News based in San Francisco. She has reported from Israel, Egypt, Jordan and across the Middle East. Her secure PGP fingerprint is 4A53 A35C 06BE 5339 E9B6 D54E 73A6 0F6A E252 A50F

Contact Sheera Frenkel at sheera.frenkel@buzzfeed.com.

Got a confidential tip? Submit it here.