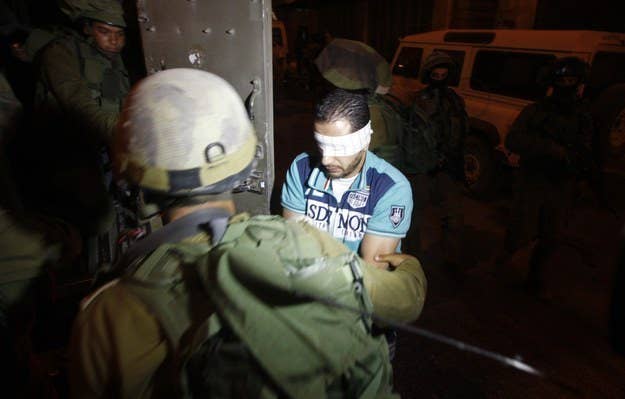 HEBRON, West Bank — One of the men accused of involvement in the kidnapping and murder of three teenagers confessed to masterminding the crime under "heavy torture," his lawyer said on Wednesday.
Hussam Qawasmeh was detained by Israel three weeks ago in the wake of the murder of the three teens — Eyal Yifrach, Gilad Sha'er, and Naftali Frankel — which prompted a series of events that sparked the Gaza conflict.
As Israeli officials announced they were ready to extend the cease-fire in the Gaza Strip, the question of whether the accused kidnapping group was part of Hamas — or acted on orders of the Hamas leadership in Gaza — remains a divisive one. Hamas has repeatedly denied involvement in the kidnapping, and Israeli intelligence officers who spoke to BuzzFeed continue to cast doubt on the involvement of Hamas. Other Israeli officials have argued that the Islamist movement was behind the deaths of the three teens.
The role of Hamas' senior leadership in the killings has emerged as a central question. An 18-page summary of the investigation by Israel's internal security services, reviewed by BuzzFeed on Wednesday, makes no mention of Qawasmeh receiving orders from the Hamas leadership to carry out the attack. The summary also indicates, however, that the investigation is ongoing.
According to Israeli authorities, who revealed the arrest late on Tuesday, Qawasmeh was the head of a Hamas cell that carried out the kidnapping and murders. The evidence summary says he not only masterminded the operation, but also helped bury the bodies in an empty field he owned in Hebron. BuzzFeed previously reported that at least four members of the family had been arrested.
"Hussam Qawasmeh, in addition to Marwan Qawasmeh and Amar Abu Issa, were members of a Hamas cell that kidnapped and killed three Israeli teenagers on June 12, 2014," reads the report, prepared by state prosecutors in response to a family petition to stop a demolition order against their homes. (Israel often demolishes the homes of Palestinians it believes are involved in militant activities.) A note in the report said that in addition to Hussam Qawasmeh's confession, the state has more evidence but is waiting to release it as the other two suspects in the crime were still at large.
Fadi Qawasami, a lawyer who is working on the case and is a distant relative of the Qawasmeh family, told BuzzFeed that Qawasmeh's confessions had happened under "heavy torture."
"What he said during interrogation was that he was responsible for ordering the kidnapping," said Qawasami. "The orders came from him personally."
Hussam Qawasmeh was arrested while trying to flee the country using false documents. He is now being held at a facility run by Israel's internal security services, the Shin Bet, in the seaside city of Ashkelon. Neither Qawasami, or other lawyers involved in the case, have been able to visit him, as he is still under interrogation.
Qawasami had, however, seen other clients linked to the case. He spoke of dozens of cases in which people who had been even loosely associated with the Qawasmeh family had been tortured by being made to stand, or hang, in uncomfortable positions. In one case, a friend of Marwan Qawasmeh's was tortured to the point where he confessed to taking part in the kidnapping, only to have his confession thrown out by prosecutors when it was discovered that he had lied about his involvement, Qawasami said.
"Since the kidnapping of the Israeli teens, the number of cases where torture is being used is unbelievable," Qawasami said in an interview with BuzzFeed in East Jerusalem. "Anyone who has any connection or relationship to the kidnappers has been arrested and tortured."
Those closest to the investigation continue to doubt the involvement of the Hamas leadership.
Last week, Israeli intelligence officers told BuzzFeed they had not found a direct link to Hamas in their investigation into the kidnapping. "If there was an order, from any of the senior Hamas leadership in Gaza or abroad, this would be an easier case to investigate. We would have that intelligence data. But there is no data, so we have come to conclude that these men were acting on their own," said one intelligence officer.
When reached for comment Wednesday, after the Israelis had revealed the arrest of Qawasmeh, the same officer told BuzzFeed that from an intelligence standpoint, a connection still did not exist to the senior Hamas leadership.
"Was it possible they were a lone Hamas cell that was operating on their own, trying to show up Hamas in Gaza? Yes, that's possible," said the intelligence officer, who spoke to BuzzFeed by telephone. "But from the point of view of our investigation, we haven't found that tie to the senior Hamas leadership, to orders that were made to carry out a kidnapping at this time."
Hamas, the Islamist movement that controls the Gaza Strip, has both a political and a military branch. Much of its leadership is based abroad, while its presence in the West Bank has become increasingly fragmented amid crackdowns by both Israel and the rival Palestinian Fatah movement, based in the West Bank. Israeli officials have warned that lone Hamas cells acting alone have become an increasing concern in recent years.
Several Israeli newspaper accounts have painted Qawasmeh as either a senior leader in Hamas as a whole or as a senior leader in Hamas in the West Bank. Yet local Hamas officials continue to insist that is not the case. The group has been quick to claim responsibility for attacks in the past.
"It is obvious that what happened in Hebron was an individual incident. If it had been organized by Hamas, the kidnappers would not have been allowed to kill the three boys — they would have wanted to keep them alive in order to bargain and try to use them to release prisoners," said Ala Rimawi, an expert in Islamist parties and a Hamas member in the West Bank. Hamas advocates armed resistance against Israel and has in the past used suicide bombings, kidnappings, and shootings to attack Israel.
Qawasami, the lawyer, said that his client was acting on his own. "Israel is trying to tie this to Gaza, by saying the money for the operation came from Gaza," he said. "But that is not exactly true. It probably came from Hussam Qawasmeh's brother in Gaza — it was a thing between brothers."
"This is something they could have planned to boost their own family's name, for their own motives," said Qawasami. "When Mahmoud returned to Gaza, he was a nobody, just another guy there."
Hussam's brother, Mahmoud Qawasmeh, was exiled to the Gaza Strip by Israel in 2006 after a prisoner exchange.
Qawasmi said he had represented clients on several other cases, in which people who were members of Hamas acted on their own accord. "Of course in some cases commands are given from Hamas. And in those cases Israel often has the intelligence, the evidence to stop the attacks from taking place. But in other cases someone decides to do something on their own, and they contact someone else on a freelance basis," said Qawasami. "They do this without coordination, as a lone cell."
The Israeli military did not answer repeated requests for comment on the case.
IDF Spokesman Lt. Col. Peter Lerner told McClatchy in an interview that even if Hamas had not given a direct order, there had been almost 60 attempts to abduct Israelis. "Hamas does not need to give a direct order [for a kidnapping]," said Lerner.
In previous interviews, Lerner has pointed out that Hamas regularly celebrates and advocates the kidnapping of Israeli civilians to be used as bargaining chips. In June 2006, Israeli soldier Gilad Shalit was kidnapped and held for five years until he was finally released in a deal that saw more than 1,000 Palestinian prisoners freed in exchange.
Some in the region increasingly believe that the members of the family — which has a history of carrying out attacks without Hamas approval — was acting out as an act of "mutiny" against the group. Asad El-Ewaiwi, a Hebron-based political scientist familiar with the family, said he believed the three men carried out the attack as a signal to Hamas — coming just as the group was hoping to change its fortunes by joining up with a unity government with the Palestinian Authority. The new government, created after the collapse of peace talks led by U.S. Secretary of State John Kerry, offered Hamas gradual political acceptance and direly needed funds, but angered those who wanted to see Hamas assume a more militaristic stance.
Israeli officials continue to search for the two other suspects. The investigation summary outlines their previous arrest records. Marwan Qawasmeh, 29, from Hebron, was first arrested at the age of 18 for "security offenses" and was last detained by Israeli security services in 2010. Amr Abu Issa, 33, also from Hebron, is related to the Qawasmeh family and was last imprisoned in November 2005. Hussam Qawasmeh, 40, was imprisoned from 1995–2002.