Israel Is Struggling To Find High-Level Targets As War In Gaza Escalates
"The moment one of them pops his head above ground, or makes a mistake, he will be targeted."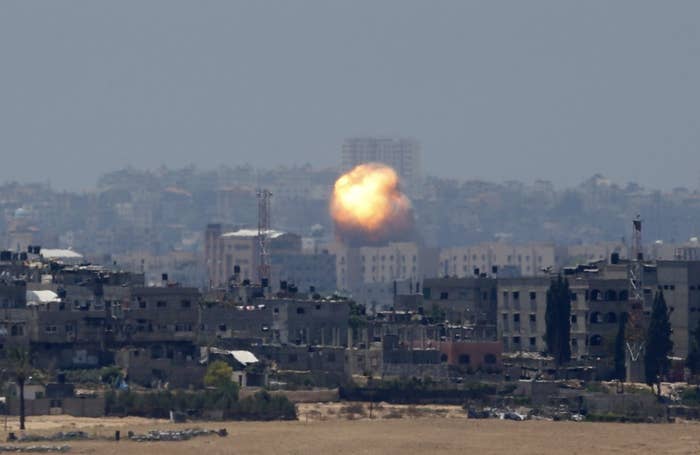 Israeli Prime Minister Benjamin Netanyahu ordered his military to intensify attacks on Gaza Wednesday, but senior officers in the air force say that they are struggling to find "primary targets" to hit in Gaza.
"We do not have the element of surprise, as we did in 2008, or even 2012. The senior leadership went into hiding days ago," said one Israeli air force intelligence officer, who spoke to BuzzFeed in a background briefing Wednesday.
Over the last 48 hours, Israel has hit hundreds of targets across Gaza, while militants have shot hundreds of rockets into southern and central Israeli communities. Gaza's Health Ministry said that more than 40 people had been killed and hundreds wounded.
Israeli officials have said that few "senior Hamas operatives" had been killed in the first days of the offensive, as was the case in previous Israeli military operations into Gaza. In 2012, Israel hit the leader of the Hamas military wing, Ahmed Jaabri, in a targeted assassination on the first day of Operation Pillar of Defense. In 2008, the first day of Operation Cast Lead saw hundreds of Hamas police officers and recruits killed in the first day of air strikes.
The most senior Hamas commander killed this week, according to Israeli and Palestinian officials, was Mohammed Shaaban, head of the Hamas Naval Commando unit. Shabaan, who was relatively unknown before his death, was killed along with two people, when the car they were traveling in was targeted by air-strike.
"Last week, as things started to heat up, all their senior membership went into hiding. By the time Israel took to the decision to act in Gaza, they were underground," said the Israeli officer.
Amos Harel, chief military correspondent for Haaretz, said that the Hamas leadership has gone into hiding in pre-prepared bunkers and an underground tunnel network.
"Netanyahu will wait for them to come out. The moment one of them pops his head above ground, or makes a mistake, he will be targeted," said Harel.
The Israeli officer said Israel would not hesitate to carry out targeted assassinations, despite coming under heavy criticism from international human rights groups for using them in the past.
"We will hit them when we find them," he said, adding that Hamas had also "gotten smarter at hiding their advanced weapons. We are hitting secondary targets."
When asked to clarify what amounted to secondary targets, the officer said that Israel was hitting the homes of senior Hamas commanders, even thought they knew those homes had been evacuated. They were also hitting rocket-launching sites, he said, though they had not yet been successful in hitting the main cache of the long-range rockets that have been successful in travelling over 100 miles to strike deep into central Israel.
"It is our estimate that Hamas and Islamic Jihad have an arsenal of hundreds of long range rockets," he said, adding that 30 to 40 rockets were destroyed in airstrikes, and that an additional 30 had been deployed.
The long-range rockets include Iranian made Fajr missiles, and a locally made missile called the R160.
Sheera Frenkel is a cybersecurity correspondent for BuzzFeed News based in San Francisco. She has reported from Israel, Egypt, Jordan and across the Middle East. Her secure PGP fingerprint is 4A53 A35C 06BE 5339 E9B6 D54E 73A6 0F6A E252 A50F

Contact Sheera Frenkel at sheera.frenkel@buzzfeed.com.

Got a confidential tip? Submit it here.