Israel Awaits Storm Of Accusations After New Report On Yasser Arafat's Death
"For me, I have always been sure the Israelis did it," one Arab-Israeli lawmaker said after a new report said Arafat may have died of polonium poisoning. But the findings raise more questions than answers.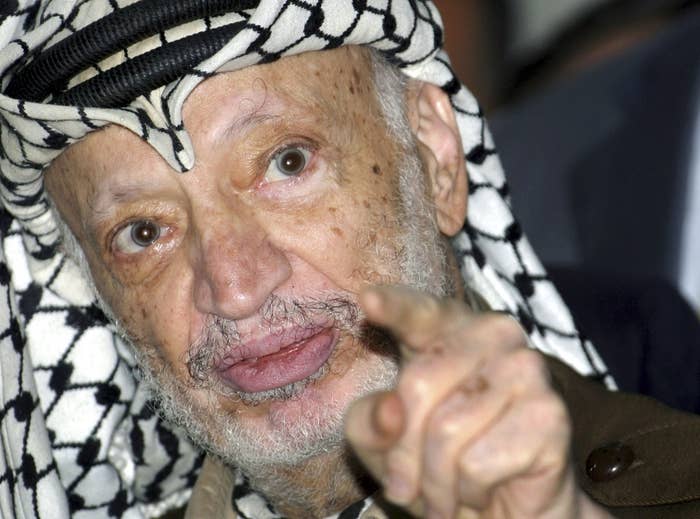 CAIRO — Israeli officials said Wednesday they believed it was only a matter of time before fingers were pointed in their direction after a new report indicated that Palestinian leader Yasser Arafat may have been poisoned.
"Most Palestinian believe that we were behind his death, now their anger will be renewed," said Ran Cohen, an Israeli left-wing politician and former lawmaker who met with Arafat in his final years. "There does not need to be any more bad blood between Israelis and Palestinians, but that is unfortunately what is likely to happen."
Swiss scientists said on Wednesday that samples taken from Yasser Arafat's grave show that his body had at least 18 times the normal levels of radioactive polonium 210 in his body, a finding that led them to announce that they were 83 percent sure he was poisoned with the rare and highly radioactive substance.
One Arab-Israeli lawmaker, who did not want to be named until he read the report in full, already pointed the finger at Israel when reached by BuzzFeed: "We know that Israel has polonium and that they are one of the very few countries who have it. It is natural for us to assume that they were the assassins responsible for killing Arafat," the lawmaker said. "For me, I have always been sure the Israelis did it. Now I want to be sure that it was this polonium substance."
Polonium-210 is a rare substance that scientists estimate is 250,000 times more lethal than cyanide if ingested. The most famous case of polonium poisoning occurred in 2006, when Russian spy turned Kremlin critic Alexander Litvinenko died after drinking tea laced with polonium-210 at a London hotel.
The only other country that has allegedly recorded deaths by polonium poisoning is Israel. A report in the book The Bomb in the Basement, a historical account of how Israel became a nuclear power, claims that several deaths in the 1960s were caused by a leak of polonium-210 in a laboratory in central Israel. The book alleged that Professor Dror Sadeh, a physicist who researched radioactive materials, was exposed to polonium along with several of his colleagues, all of whom subsequently died.
Commenting on the 108-page report issued on Wednesday, Yigal Palmor, a spokesman for Israel's Foreign Ministry, said that the results of the report were "highly dubious."
"This is no concern of ours anyways. We are observing it from the side. If they try to stick it to us it will be so ridiculous no one would take it seriously," said Palmor. "What we are seeing here is not a wide-ranging investigation. What we do see is the latest episode in the never-ending soap opera between Suha Arafat and Arafat's successors." He said that while no one was accusing Israel of being behind the poisoning at this stage, he was sure that, "accusations will happen sooner or later."
The report is likely just the beginning of what is sure to be a lengthy, and controversial, debate over Arafat's final days. The report by the Swiss scientists concluded that the findings only "moderately" supported the theory that Arafat's cause of death was polonium poisoning.
Notes in the report stress that there were several critical problems with their investigation, including that it had been based on limited samples, that eight years had passed between Arafat's death and testing and that the "chain of custody" of some of the specimens was unclear.
"We are still waiting for other groups involved, the Russians and the French, to deliver their findings. Then they will have to compare their findings This is really the beginning of a long process that is sure to raise more questions that answers before we are sure of what killed him," said one Palestinian official who was involved in the exhumation of Arafat's body earlier this year. "The Palestinian people, the world, have a right to know who and what killed him. But whatever the answer is, we are sure it will be explosive."
The report stated that 60 samples of his body tissue were taken and 20 each distributed to the Swiss team, a French team and a Russian team. Al Jazeera, which was the first to report the findings, said that the Russians were expected to disclose their results soon, while the French were taking more time to review their results.
Arafat died in a French hospital at 75 on November 11, 2004 after falling ill in his headquarters in the West Bank city of Ramallah. His doctors said that during his final weeks he had symptoms of nausea, stomach pain and later liver and kidney failure. Reports in several media outlets have said that Arafat's medical records say he died from a stroke resulting from a blood disorder, but no post-mortem examination or cause of death was ever officially announced
The uncertainty led to conspiracy theories — ranging from Arafat dying from HIV/Aids to suspicions that he was poisoned by rivals or by Israel.
His death remained a mystery until 2012, when his widow, Suha Arafat, handed over his final belongings to a French lab which found high levels of polonium-210 in his toothbrush and underwear – among other things. She then announced that she had changed her mind, and would allow his body to be exhumed and for samples to be taken by medical teams for testing.
Speaking in Paris to Al Jazeera, Arafat's widow, Suha, said the results revealed "a real crime, a political assassination".
"This has confirmed all our doubts. It is scientifically proved that he didn't die a natural death and we have scientific proof that this man was killed."
Matthew Kalman, author of the book The Death of Yasser Arafat, said he and co-author Matt Rees had interviewed Palestinian officials at the time of Arafat's death who had no doubt there was evidence of foul play.
"There is a very tight circle of people who would have had the necessary access to Arafat in order to carry out this kind of close quarter poisoning," said Kalman. "In order to deliver something like poison, because Arafat essentially shared the food and drink that was being eaten by everyone in the [his headquarters] the muqata, the person would have had to have been someone very close to him indeed."
That group included current PA Chairman Mahmoud Abbas and ousted Palestinian official Muhammed Dahlan.
Dahlan's name has been mentioned in several internal Palestinian committees of inquiry, which suggested that Dahlan gave Arafat poisoned medicine.
So far, Palestinian officials have refused to name names or point fingers over who would have had access polonium, or how it would have been delivered. Several Palestinian officials have questioned the motives of Al Jazeera Channel, which began the investigation into Arafat's death and has played a key role in convincing Suha Arafat to exhume her husband's remains.
Clayton Swisher, an Al Jazeera journalist, has a long history with investigating Arafat's death.
Swisher, a former U.S. Secret Service bodyguard who became friendly with Arafat after working as his guard, personally delivered Arafat's final belongings to the laboratories for investigation.
On Wednesday he challenged several journalists on Twitter who raised questions over the Al Jazeera report.

Sheera Frenkel is a cybersecurity correspondent for BuzzFeed News based in San Francisco. She has reported from Israel, Egypt, Jordan and across the Middle East. Her secure PGP fingerprint is 4A53 A35C 06BE 5339 E9B6 D54E 73A6 0F6A E252 A50F

Contact Sheera Frenkel at sheera.frenkel@buzzfeed.com.

Got a confidential tip? Submit it here.