Israel Answers Obama's Warnings On Peace By Saying "We Won't Give In To Pressure"
President Obama says ahead of a visit by Israeli Prime Minister Benjamin Netanyahu that the "window is closing on peace."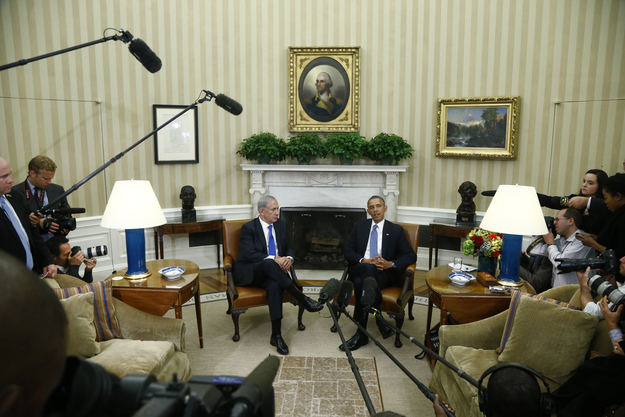 A defiant Benjamin Netanyahu prepared to meet with President Barack Obama Monday afternoon amid an atmosphere that officials around him called "tense" and "difficult."
Minutes after he landed in Washington, D.C., Netanyahu told reporters, "I won't give in to pressure," in response to a plea by President Obama for Israel to avoid "international fallout" by agreeing to a proposed U.S. framework for a peace deal with Palestinians.
"It has to be a good deal. I will stand up firmly for the vital interests of the state," said Netanyahu.
Strategic Affairs Minister Yuval Steinitz, backed Netanyahu saying, more bluntly, "I didn't like all of the remarks. I think there is no reason to put pressure on Israel."
"Netanyahu will, I think, give a clear answer: 'We are ready for peace. We want to advance a diplomatic accord. But we, rightly, worry about and fear for our national security,'" said Steinitz.
While Netanyahu was mid-flight, Bloomberg published an interview with Obama which featured one of his strongest criticisms to date of the reticence of both Israeli and Palestinians leaders to make progress on the peace process.
President Obama said that on March 17 he will meet with Palestinian Authority President Mahmoud Abbas to see if he was "sincere about his willingness to recognize Israel and its right to exist, to recognize Israel's legitimate security needs, to shun violence, to resolve these issues in a diplomatic fashion that meets the concerns of the people of Israel."
President Obama also said that he would warn Netanyahu Monday that the "window is closing" for a peace deal. President Obama said that if there was "continued aggressive settlement construction," Washington would have limited ability protect Israel from "international fallout."
In what appeared to be a direct answer to the White House, Israel's Central Bureau of Statistics announced Monday that Israel built twice as many new homes in the West Bank in 2013 than it did the previous year. The announcement came just hours before Netanyahu was scheduled to arrive in the White House.
"This announcement did not need to happen today, but it did to send a message that Israel stands strong on settlements," said one hardline lawmaker in Netanyahu's party who asked not to be quoted on record. "We will not give up the settlements and if the U.S. wants to try and threaten us with this nonsense boycott campaign they will quickly see that we do not respond well to threats."
He added that he interpreted Obama's comments of not being able to protect Israel from "international fallout" to be a reference to the Boycott, Divestment, Sanctions (BDS) campaign. In comments made to BuzzFeed last month, senior Palestinian officials including one of the chief negotiators Nabil Shaath, said that the Palestinian government was already preparing paperwork for application into numerous international bodies through the U.N., and that they would not hesitate to take Israel to court over the settlements, which are widely seen as illegal under international law.
The U.S. has repeatedly pressed the Palestinians to freeze their efforts in the U.N. to give peace negotiations an opportunity to move forward. One of the conditions of the current talks, led by Secretary of State John Kerry, were that the Palestinian Authority hold off on application to new U.N. bodies until April 29, the nine month deadline set for the two parties to make progress.
With that deadline now less than two months away, doubts have been raised on both sides whether Kerry and his team will be able to make any progress on the long-stagnant peace deal.
While Kerry began with high hopes that he would get the two sides to sign an interim agreement by the end of the nine-month timeline, his team began floating the idea of a "framework agreement" several months ago. The framework, they explained, would be more streamlined than a fully developed interim agreement, and would set forth the principles for the rest of the talks.
But Israeli and Palestinian officials quickly pounced upon the framework agreement, with each side raising multiple complaints. In January, Israeli officials said that both sides would be given an opportunity to raise their objections to their agreement, and that the framework would be "non-binding." As of last week even that language had changed, with reports in the Hebrew-language daily Maariv that Kerry could seek a "verbal agreement" from the two sides — or nothing at all.
Sheera Frenkel is a cybersecurity correspondent for BuzzFeed News based in San Francisco. She has reported from Israel, Egypt, Jordan and across the Middle East. Her secure PGP fingerprint is 4A53 A35C 06BE 5339 E9B6 D54E 73A6 0F6A E252 A50F

Contact Sheera Frenkel at sheera.frenkel@buzzfeed.com.

Got a confidential tip? Submit it here.