ISIS May Be Using Chemical Weapons
New photos have emerged from Kobani, which show injuries possibly resulting from a blistering agent, experts say. The images, which appear to stem from a July incident, would be the first case of ISIS using chemical weapons in battle. Warning: This post links to graphic images.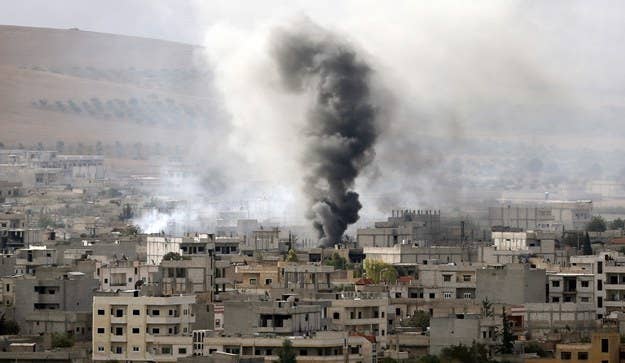 As ISIS continues to battle Kurdish forces for control of Kobani, a town on the Syrian-Turkish border, graphic photographs have emerged (warning: graphic images at the link) of injured Kurdish fighters with blistering wounds and peeling skin.
"The injuries in the photographs appear to be consistent to some sort of chemical burn," said Jerry Smith, the former head of Syria operations at the Organization for the Prohibition of Chemical Weapons, and now head of the independent security consultancy RameHead. He spoke to BuzzFeed News after reviewing the photographs. "On the balance of probability, the limited evidence indicates the people in the photographs have suffered from some from, amongst other possible trauma, chemical burns. If the intent by the user was to have the chemical caused injury and death, then whatever it might be (warfare agent or a toxic industrial material), a chemical weapon was used."
The photos were first published by the Middle East Review of International Affairs (MERIA) Journal. Jonathan Spyer, editor of MERIA, wrote that Israeli chemical-weapons experts reviewing the photographs believed that mustard was the most likely chemical agent used.
Spyer said he was given the photos by Kurdish sources approximately one month ago, and that they document an incident from July 12. While Spyer's sources speculated that mustard agent was used, other chemical weapons experts have argued that a different blistering agent may have been used.
"In comparison with the photographs of sulphur mustard (Bis(2-chloroethyl) sulphide — commonly know as mustard gas) victims, these injuries appear to differ in a number of aspects," said Smith. "Firstly, the boundary between the damaged and undamaged top dermal layers appear to be less apparent than those as with mustard injury. Secondly, the exposed lower dermal layers appear far less reddened than those of a mustard injury. Mustard agent causes blistering, and whilst blisters may have burst and been removed, some of the photographs appear to indicate more of a friction, rather than chemical, effect. However, these photographs alone are unlikely to provide sufficient evidence of a definite conclusion as to the actual nature of the damaging chemical."
Still, he added, "the photographs appear to be consistent to some sort of chemical burn."
Hamish de Bretton-Gordon, a British chemical weapons expert, said that ISIS has long had the intent to create and use chemical and biological weapons and that it was unsurprising that on a rudimentary level they would begin to deploy chemical agents in battle.
"The majority of the rebel groups in Syria, the Kurds, and the Iraqi army fighting ISIS aren't well-equipped to defend themselves against a chemical agent," said Bretton-Gordon. "That ISIS is using chemical agents, is something we should be worried about. It is something that the international community should be looking into."
He said that it was highly unlikely that ISIS had the ability to manufacture chemical agents. It was more likely, said Bretton-Gordon and Smith, that they had seized a chemical agent from stockpiles in either Syria or Iraq, and then fashioned a rudimentary method of deploying it.
"What we've seen in Syria, when the regime delivered Sarin, they loaded it into rockets … and we've at least once case when ISIS militants were killed as they tried to load a rocket with chlorine and the rocket exploded killing 15 of them," said Bretton-Gordon. He added that there were two likely possibilities by which ISIS would have gotten a chemical agent — from a secret chemical weapons stockpile kept by the Assad regime in Syria, and hidden from U.N. inspectors, or from a stockpile in Iraq left over from the Saddam Hussein regime.
Iraq's ambassador to the U.N. Mohamed Ali Alhakim, sent a letter to U.N. Secretary General Ban Ki Moon in July stating that ISIS had captured a former chemical weapons facility in the Iraqi town of Muthanna, northwest of Baghdad. The bunker, he said, had sarin-filled rockets, as well as "mustard-contaminated" artillery shells.
At the time, State Department spokeswoman Jen Psaki disputed Alhakim's account, saying that the two bunkers "don't include intact chemical weapons ... and would be very difficult, if not impossible, to safely use this for military purposes or, frankly, to move it."
Since then, however, U.S. officials have voiced concerns that ISIS has not only captured chemical weapons, but has deployed them, including in a chlorine gas attack on Iraqi soldiers.
"There are many important questions we now need to be asking. Does ISIS have chemical weapons, and if so, how much? This calculus would affect the current decision-making process of the U.S. and our allies who are deciding on how best to fight the spread of ISIS," said one U.S. diplomat based in Jordan, who has reviewed recent intelligence on ISIS. "Would we be willing to see boots on the ground knowing that ISIS could hit them with a chemical agent? My suspicion is that if these photos are valid, we will have to revist that option."
The U.S. and its allies are currently conducting airstrikes against ISIS targets in Iraq and Syria, while considering other options such as arming moderate rebel groups fighting ISIS. Kobani, on a small hill opposite the Turkish border where dozens of media outlets have amassed, has become a highly visible symbol of resistance to ISIS, as control of the town has wavered between the militant group and Kurdish fighters in recent weeks.
"Everyone is paying attention to Kobani because it is the battle reporters can physically watch. If ISIS used chemical weapons there, it begs the question why we didn't know sooner," said the U.S. diplomat.
Sheera Frenkel is a cybersecurity correspondent for BuzzFeed News based in San Francisco. She has reported from Israel, Egypt, Jordan and across the Middle East. Her secure PGP fingerprint is 4A53 A35C 06BE 5339 E9B6 D54E 73A6 0F6A E252 A50F

Contact Sheera Frenkel at sheera.frenkel@buzzfeed.com.

Got a confidential tip? Submit it here.