Is Egypt Lifting Its Crackdown On Activists And The Press?
The decision to release Egyptian activist Alaa Abdel-Fattah on bail Sunday was seen by some in Egypt as a hopeful sign that others may also soon be released.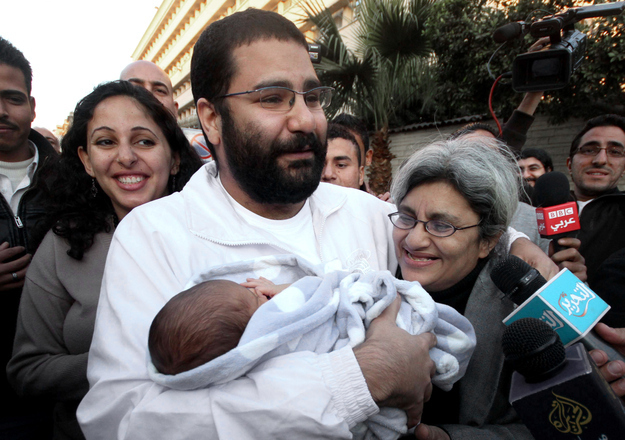 CAIRO — The scene outside the Egyptian court where the trial of activist and prominent blogger Alaa Abdel-Fattah was adjourned Sunday was jovial. Dozens of his supporters lingered long after the judge's decision to release Abdel-Fattah and his co-defendant Ahmed Abdel-Rahman on bail.
Some said they were eager to congratulate the two, while others said they were suspicious that last-minute red tape would keep the prominent Egyptian activist from being freed.
"We have no more trust, no more faith in the system," said Ahmed Baraket, a 21-year-old Egyptian student. "Until I see them walking out as free men, I won't feel satisfied."
By nightfall, most had left. Abdel-Fattah's family had posted bail and his co-defendant was released, but red tape did, indeed, keep him in prison until nearly midnight. Still, his release was celebrated as one small ray of hope that a months-long crackdown on activists and journalists in Egypt might soon be coming to a close.
For the many that had spent months fighting for his release, it was a joyous moment.
"There are different schools of thought, but some are indeed hopeful that we are seeing a change in policy," said Omar Robert Hamilton, an activist and family member of Abdel-Fattah's. "But really, everyone has stopped trying to guess what will happen even five minutes from now in Egypt."
According to Egyptian government figures, over 16,000 people — ranging from Islamists to liberal activists — have been arrested since the military ousted the Muslim Brotherhood-led government on July 3. Prisons are badly overcrowded, and many courts are backed up with cases going back months.
The decision to release Abdel-Fattah on bail was seen as a sign that Egypt's government might be looking to ease its sweeping crackdown on dissidents in Egypt. Abdel-Fattah, whose previous arrests spurred a wide-reaching campaign including the #FreeAlaa hashtag on Twitter, stood as a symbol to many.
"It always feels like when a regime is trying to assert themselves they arrest Alaa. It's a sign that we are returning to an autocratic, repressive rule," said Baraket, the student. "I am surprised they released him on jail, but I will not be happy until the charges are dropped against him, and all the others who are being unjustly held."
Hope that Abdel-Fattah's release on bail could portend an easing of restrictions on other prisoners was bolstered Sunday when the family of jailed Al Jazeera correspondent Mohamed Fadel Fahmy received a letter from Egyptian President Adly Mansour promising a speedy trial in the case.
The government charges that Fahmy, along with Al Jazeera journalists Peter Greste and Baher Mohamed, ran a terror cell and fabricated news from within the luxurious Marriott Hotel.
In his letter, Mansour promises to do what he can for the journalists.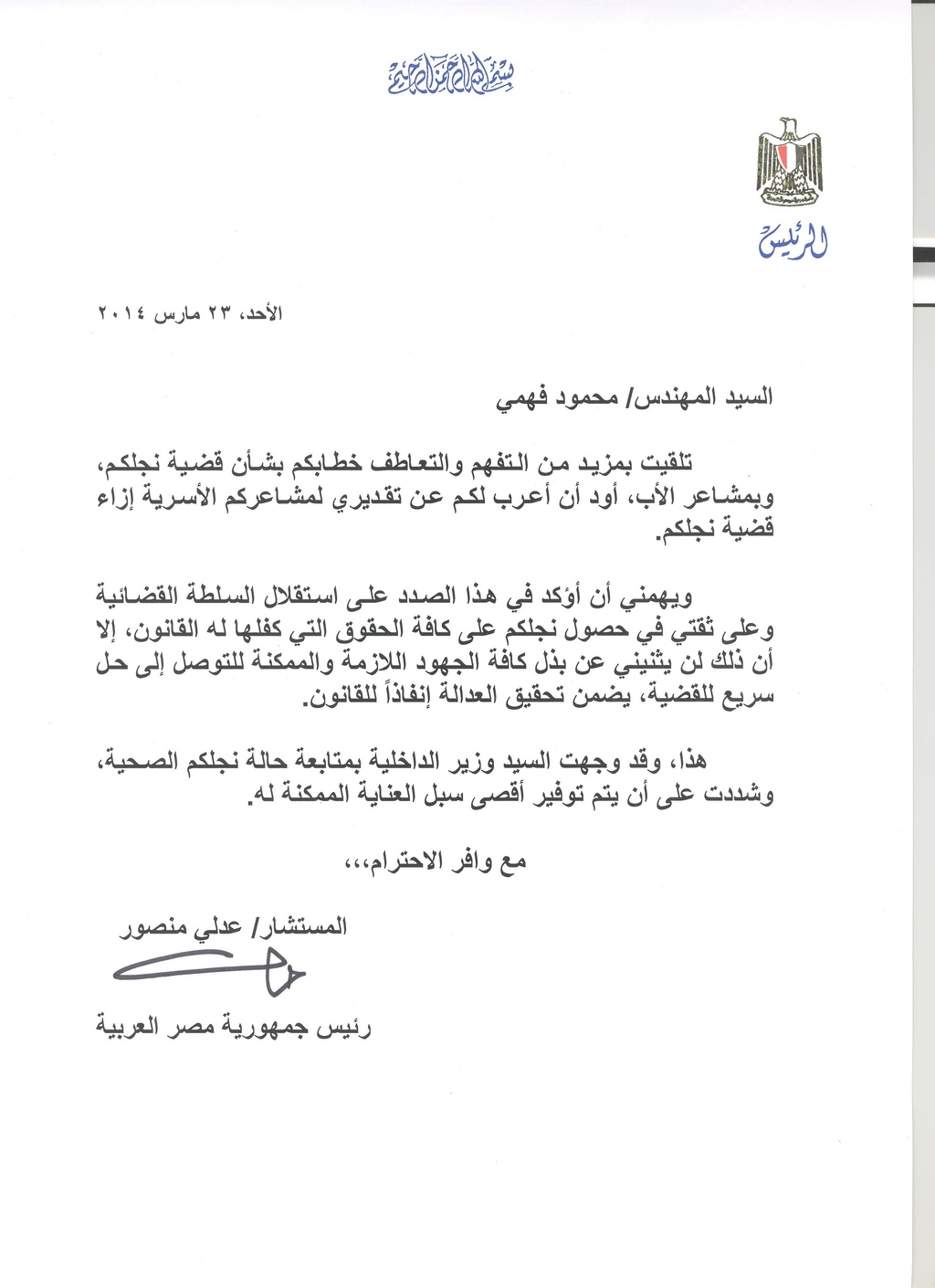 The journalists' trial is set to resume Monday, with many now hoping that a judge will order improved conditions in their shared prison cell. Fahmy, whose injured shoulder was permanently damaged after months of poor prison conditions and a lack of medical attention, has asked to be given access to a specialist.
Fahmy, Greste, and Mohamed's supporters also began tweeting Sunday that they hoped Egypt's judiciary was moving "in the right direction."
Ahmed Seif, Abdel-Fattah's father and lead lawyer, said his release was welcomed as a "start on a long road to try to guarantee justice." Justice, he says, "has become like rolling the dice. It depends on so many other things, not including the rule of law or how clever the defense is."
Some noted that while small steps forward were being made, the arrests of other activists continued. On Sunday Brotherhood supporters and students at the Islamic university of al-Azhar kept up their near daily protests, and at Cairo University hundreds of students rallied, demanding the release of detained colleagues.
In the evening at least one police van could be seen leaving the Cairo University campus with people inside, but police refused to comment on how many had been arrested.
Sheera Frenkel is a cybersecurity correspondent for BuzzFeed News based in San Francisco. She has reported from Israel, Egypt, Jordan and across the Middle East. Her secure PGP fingerprint is 4A53 A35C 06BE 5339 E9B6 D54E 73A6 0F6A E252 A50F

Contact Sheera Frenkel at sheera.frenkel@buzzfeed.com.

Got a confidential tip? Submit it here.