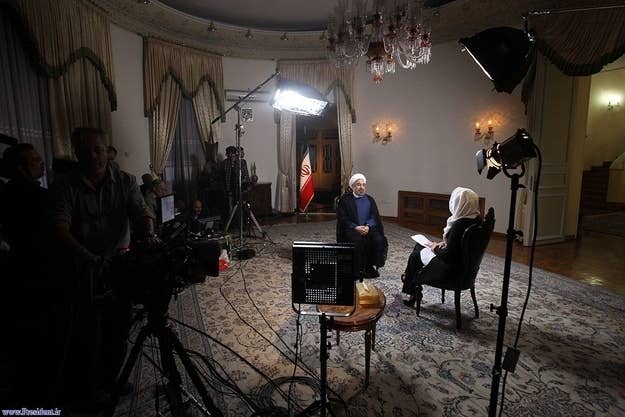 An Iranian official has said that Iran is mulling legal action against CNN on the basis that the television station falsified Iranian President Hassan Rouhani's statements on the Holocaust in a much-touted interview with Christiane Amanpour.
"After distorting the statements of our country's president, now CNN must be banned and proper legal action needs to be taken in this regard," the semi-official Fars news agency quoted Allaedin Boroujerdi, chairman of the Iranian Parliament's National and Security Foreign Policy Commission, as saying Saturday. "This action by the CNN meant betrayal of trust and it can be pursued and protested."
The scandal over whether Rouhani did or did not acknowledge the Holocaust in his interview with Amanpour comes just as diplomatic relations between the United States and Iran have started to warm for the first time in decades.
The outrage over the interview, given last week, was a bitter ending to what was otherwise a highly successful trip to the United Nations General Assembly (UNGA) by Rouhani. His charm offensive convinced many that Iran was ready for a diplomatic deal that would end the standoff over Iran's nuclear program.
He almost said everything exactly right.
"The only words, or word, that Rouhani may have misspoken on continue to haunt him," said Chico Menashe, a diplomatic correspondent on Israel national radio. "And no one is ready to let this go."
The word, of course, is the Holocaust. And the question is whether or not Rouhani acknowledged it.
During their hour-long interview on Sept. 24, Amanpour asked Rouhani to clarify his position on the Holocaust. His answer has spurred a huge debate: Did the Iranian president use the word "Holocaust"? And did he adequately express sympathy with the tragic events of the Holocaust and acknowledge the crimes of Nazi Germany?
On the one side are CNN and Rouhani's supporters. On Sunday, Iran's foreign minister Javad Zarif offered further clarification during an interview with ABC's This Week in which he said, in English, that the "Holocaust is not a myth," and that Supreme Leader Ayatollah Khamenei "rejects and condemns the killing of innocent people."
When asked about the brouhaha over Rouhani's CNN interview, Zarif said it came down to a matter of translation.
"This is the problem when you translate something from Persian to English," Zarif said. "You may lose some of the meaning. This has unfortunately been the case several times over. The point is, we condemn the killing of innocent people whether it happens in Nazi Germany or whether it is happening in Palestine."
But many remain unconvinced. In a somewhat unpredictable alliance, hardline Iranian officials, including the semi-official FARS state news agency, suspicious of Rouhani's overtures to the West, have joined with right-wing pro-Israel advocates to argue that CNN purposefully mistranslated Rouhani's CNN interview to make him appear more sympathetic.
FARS was the first to argue that there was a mistranslation, but the issue was quickly picked up on Twitter, including by Israeli government spokesman Ofir Gendelman.
Noah Pollak, the executive director of the Emergency Committee for Israel, was clear about siding with the Iranian state news agency as well:
The anti-CNN side was bolstered when the Wall Street Journal dedicated not one, but two editorials to the subject, arguing in the latest that CNN willfully misled the public over Rouhani's statement.
"As we pointed out in the editorial, Mr. Rouhani never uses the word 'Holocaust.' He merely speaks of "aspects of historical events," reads the editorial, which goes on to slam CNN for asking for an apology.
"We will not be offering an apology to CNN, though we will be happy to accept theirs," it ends.
So what did Rouhani actually answer to Amanpour's question on the Holocaust: "Do you accept what it was? And what was it?"
According to a transcript posted on CNN's website, Rouhani answers:
"I have said before that I am not a historian personally and that when it comes to speaking of the dimensions of the Holocaust as such, it is the historians that should reflect on it. But in general, I can tell you that any crime or - that happens in history against humanity, including the crime that the Nazis committed towards the Jews, as well as non-Jewish people, is reprehensible and condemnable, as far as we are concerned."
And according to the Iranian State news agency, FARS, the translation should read:
"I have said before that I am not a historian and historians should specify, state and explain the aspects of historical events, but generally we fully condemn any kind of crime committed against humanity throughout the history, including the crime committed by the Nazis both against the Jews and non-Jews, the same way that if today any crime is committed against any nation or any religion or any people or any belief, we condemn that crime and genocide. Therefore, what the Nazis did is condemned, (but) the aspects that you talk about, clarification of these aspects is a duty of the historians and researchers, I am not a history scholar."
So which version is right? Of three Farsi-speakers Buzzfeed had listen to the original Amanpour interview, all agreed that either version was an acceptable translation.
"The truth is that neither version is wrong," said Raz Zimmt, an editor of "Spotlight on Iran" and researcher at Tel Aviv University. "That might make this situation more difficult, but what really happened is that people are pulling at straws."
Farsi, he explained, has no exact translation for the word "Holocaust." A person could use "genocide" or "historical event" or "crimes against humanity."
"So technically he did not say 'Holocaust,' but I think it's a very silly argument to make because it is obvious he is referring to the Holocaust, and is answering a direct question about that event," said Zimmt. "People are just looking to draw their own political conclusions over what he said."