Increasingly Cut Off From The World, Gaza Battles Power Outages And Sewage Floods
Things have gone from bad to worse in the Gaza Strip, as nearly 1.7 million people are currently living without electricity for up to 16 hours each day, sewage floods one of the world's most densely populated cities.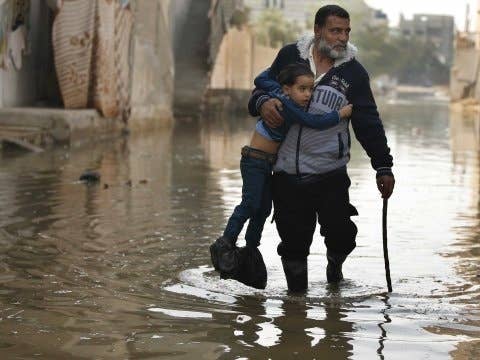 Cairo – Rania Hiyati has found herself facing a daily dilemma of whether or not to send her children to school from her home in the Gaza Strip.
The less than one mile her children have to walk to reach school daily has been flooded with sewage for days. Local health officials say that polio has been detected in the untreated sewage, after several outbreaks have been reported nearby this year.
"I don't want to keep them back from school, but I cannot take a chance to their health," the 27-year-old mother of four said by telephone. "When I can find a car to take us we leave, but otherwise, I am afraid to let them walk through it. What sort of people are we that we have to let our children walk through filth?"
A video released by the Institute for Middle East Understanding shows children trying to circumvent the pool in Gaza City.
Many in Gaza say the situation has gone from bad to worse in recent months.
Since the July overthrow of the Muslim Brotherhood Party in Egypt, the flow of Egyptian fuel to Gaza has all but dried up, dwindling from a million liters a day to 10-20,000 liters a week, according to a report released by the U.N.
The lack of fuel caused the shutdown of the Gaza's only power plant last week, which provides for one-third of the isolated coastal strips electricity. The lack of power led to the breakdown of the sewage treatment plant, which flooded the low-lands of Gaza City with sewage and threatened to get into the city's underground water supply.
Power outages can last up to 16 hours a day, local residents told BuzzFeed.
"We are back to relying on just a few hours of power, but we do not know when it will come or go," said Mohammed Rashi, a 44-year-old storekeeper in Gaza City. He said he has kept his store shut, catering only to clients in the neighborhood who come knocking on his door for goods.
The lack of goods, he said, was due to the Egyptian army's closure of many of the smuggling tunnels that used to provide a lifeline between the Gaza Strip and Egypt.
Allowed to flourish for decades, the tunnels took on new importance when the Islamist Hamas movement seized the Gaza Strip in 2007, and Israel declared a punishing, partial blockade on Gaza.
Earlier this year, specialty tunnels brought in everything from flat-screened tvs to a KFC delivery service that took several hours to bring fried chicken from an Egyptian village in Sinai through the tunnels to the Gaza Strip.
But a campaign by the Egyptian military has targeted many of the tunnels, in what Palestinians said was the most resounding blow to Gaza's black-market economy in years.
"Yes, it's true that some of what they have stopped is luxury items but that is a very small percentage. They are also blocking everything else we need," said Rashi. "We need everything and we are getting less and less each month."