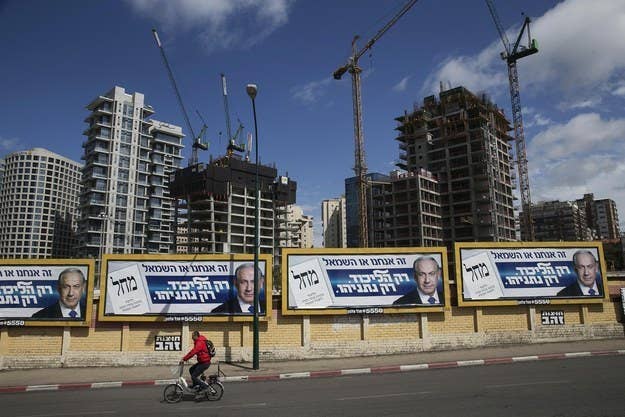 SDEROT – From her home in Sderot, Chava Maron can still see the ditches left by rockets that landed in open fields during Israel's war with Gaza six months ago. They are a constant reminder of the security threats Israel faces, she says, and yet — for the first time in her life — she says she won't cast her vote based on those threats.
"When you live in Israel you think a lot about security. When you live in Sderot, so close to Gaza, you think about it even more," said Maron, a mother of two who was born and raised in this small town less than a mile from the Gaza border. "I always voted based on who I thought would keep me safe. But enough is enough, nobody has kept us safe. Today, I'm more in danger of losing my house because I can't pay the mortgage, than losing it to a rocket fired by Hamas."
Maron is one of a group of Israelis which surveys indicate will cast their vote based on socio-economic issues on Tuesday's elections. Over the last month, polls have shown a steep rise in the importance Israelis will place on socio-economic platforms over security concerns. The shift, say political insiders, has hurt Israeli Prime Minister Benjamin Netanyahu, who Israelis feel is strongest on security issues. In recent weeks, Netanyahu has run campaign ads arguing that he kept Israel's economy stable for decades in an effort to combat a belief by many Israelis that he supports big banks and monopolies.
Netanyahu was further hurt by a government report released last month which showed that the average price of a home in Israel had risen 55% between 2008 and 2013. The report placed the blame squarely on Netanyahu.
The V15 movement, a grassroots group whose entire mandate is to oust Netanyahu from office, has seen that the ads most likely to go viral are the ones in which they attack the prime minister for the rising cost of living.
"It's absolutely the issue that Israelis talk about most, and even more so for young Israelis," said Itamar Weizman, the founder of the V15 movement. "Netanyahu might go on and on about Iran, but tell that to the guy working a full-time job for 10 years who will never be able to afford to buy an apartment."
V15's ads like this one tell people that rather than getting fed up by the cost of living, they should cast their ballots for a candidate who promises socio-economic change.
Netanyahu's rivals have run similar ads, with political newcomers Yair Lapid and Moshe Kahlon — as well as veteran parties such as Isaac Herzog's Labor — asking Israelis if their wallets can afford another four years of Netanyahu.
"In Netanyahu's office, they were convinced that concern about the economy was a passing thing and that Israelis would go back to doing what they always do, vote on security," said Moshe Amiri, a longtime Likud Party activist from Tel Aviv. "We kept pressing them, saying they were making a mistake. Enough about Iran and Hamas, talk to Israelis about the price of milk. But nobody listened to us."
Amiri said that after 23 years of voting for Likud, he was casting his vote for Kahlon's Kulanu party on Tuesday.
"I became convinced, actually, because of my son. God blessed me with a good job and when I got married I could afford to buy an apartment," said Amirir. "But my son is 35, he's an engineer, and he just moved to Berlin with his wife. He said to me, 'dad, I'll never be able to afford a comfortable life in Israel,' and he was right. This made me sad — Israel can't afford to keep losing our young people to other countries because we make it impossible for them here."
One Likud campaign strategist, who agreed to speak to BuzzFeed on condition of anonymity because he wasn't authorized to speak to the press, said that there was an "echo-chamber" around Netanyahu in the early days of the campaign.
"Everyone around him was encouraging him to focus on Iran, on security, that is what has won elections for him in the past. It was an echo chamber and nobody was listening to advice that this election might be different," said the Likud strategist. "But the speech to Congress did not give him the boost he expected. We have done some campaigning on socio-economic issues in the past few days, but there is concern for why we didn't do this earlier."
In Sderot, Maron and her husband are planning to go to some local Likud events this weekend, but only to see old friends and question why the party hasn't done more for their city.
"Netanyahu loves to talk about Sderot and come here for a photo op during the war. But we need saving from poverty not just from Hamas," said Maron.
As she speaks her husband, Moti, shakes his head. He says his wife has convinced him to vote for Moshe Kahlon, but that he is still nervous about how a political unknown will handle himself if there is another war with Gaza.
"It is easier to vote for what you are used to, but if we do that we will continue to get what we have gotten," said Moti Maron. "Sure, he talks tough about Hamas or Iran or whatever, but talk is cheap. We should know – we have no money."