Hundreds Of U.S. Citizens Are Left Stranded In Gaza After Evacuation Plan Fails Them
"I felt this urgency, like I have to go now, my daughters are in danger."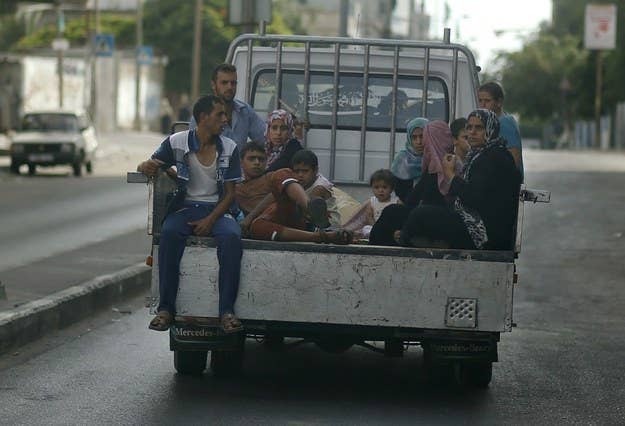 EREZ CROSSING, ISRAEL – The phone call came just after midnight, informing Eman Mohammed that she would have a window of approximately 30 minutes to evacuate herself and her two young children from Gaza.
From 6 a.m. to 6:30 a.m Sunday, foreign nationals in Gaza were asked to arrive at a U.N. facility in Gaza City. From there, diplomats said, they would be moved by bus to the border and evacuated from the Gaza Strip.
"Do you know how hard it is to get anywhere in Gaza right now? And I have two young children with me," said Mohammed, a Palestinian-American national who spoke to BuzzFeed by phone. "I tried hard to get there, but there was no way. So now I am stuck here in Gaza City."
Mohammed is one of several hundred Palestinians with dual American citizenship who remained in Gaza Sunday night, unable to leave as fighting there entered its seventh day. The Ministry of Health in Gaza said that more than 174 people have been killed in the last week, as many as one-third of them children. While regional and western officials, including those from the U.S., have pressed both sides to agree to a cease-fire, Israel's top leadership and Hamas officials abroad have said that the recent round of fighting could continue for days, or weeks to come.
"I'm so worried, mostly for my children," said Mohammed, who has been working as a freelance photographer in Gaza for years, and who recently became a TED fellow. "This isn't easy for anyone, to be stuck here."
Mohammed said she has been trying to leave Gaza for weeks. She entered Gaza through its Rafah border crossing with Egypt last month to visit family, bringing her two young daughters, 3 years old and 18 months old, with her. Once inside, she discovered that to leave required a complex system of bribing Egyptian officials to be put on a "VIP list," which, if she was lucky, would get them out.
"I wrote the U.S. Embassy and they told me they couldn't help. They said they couldn't interfere to get me out," Mohammed said. It was only after organizers from TED contacted the embassy directly that a consular officer got in touch with her, she said.
"For more than a week they asked me the same details over and over again — information from my passport and my daughters' passports that I had already given them," she said.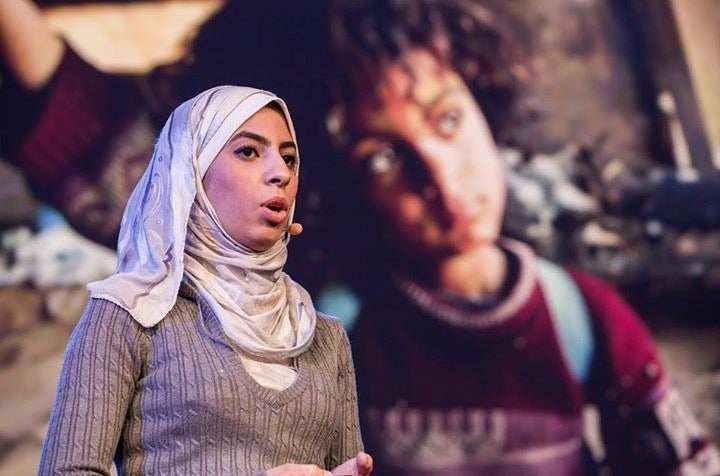 Eman Mohammed (left) and her daughter.
Meanwhile, violence along the border was spiraling out of control. Israeli airstrikes hit Gaza, and rockets fired by Hamas and Islamic Jihad militants in the Gaza Strip began hitting deep into central Israeli cities. One night, Mohammed came home to discover that her youngest daughter was bleeding heavily from her mouth and nose, the result, she said, of intense blasts of air from bombs exploding nearby.
"I went into her room to kiss her good night, and there was blood all over her face, it was so, so frightening," she said. "I felt this urgency, like I have to go now, my daughters are in danger."
It would take another day, however, before the U.S. phone call to evacuate came. Hamas would only allow the convoy to depart if it was coordinated through the U.N., and the U.N. set a narrow window for foreign nationals to arrive at one of its Gaza City facilities from 6 to 6:30 a.m.
"Do you know how hard it is, for a mother with two young children, to travel in the middle of a war?" Mohammed asked. She couldn't find any taxis willing to navigate the bomb-ridden streets and the numerous government compounds that had shuttered whole blocks for protection. She was told she could only bring one bag, and she didn't know what to do with her photography equipment or photo archive. Not even a stroller to help ferry her two young daughters was allowed.
"No one helped me, no one answered questions," she said.
Another U.S. national also stranded in Gaza said instructions were confusing and "sent out at the last minute."
"We asked to be evacuated, we asked for help, but from where we live, it was impossible to get to Gaza City at 6 a.m.," said Fatima Attab, a mother of three from Houston, Texas, who was visiting her extended family in Gaza when the fighting broke out. "I feel so afraid. And the children are crying. I told them we would leave this morning and now they keep asking me, 'Why are we still here, Mommy?'"
Leslie Ordeman, a press attaché at the U.S. Consulate in Jerusalem, said that approximately 150 people with U.S. citizenship had been evacuated from Gaza on Sunday.
"We sent out a message on the 10th of July, telling U.S. citizens living in Gaza who were interested in leaving to send us their information," Ordeman said. "The consular staff then followed up with people. The end results were that those people who were willing and able to leave Sunday morning left."
The U.S., he added, was currently speaking to Egypt about opening its Rafah crossing with Gaza and allowing U.S. citizens to exit through that border.
On Sunday evening, Mohammed received an email advising her that Rafah would be open from 9 a.m. to 3 p.m. on Monday.
"I am worried about getting there. Traveling through that area with my daughters will not be easy," she said. Some of the most intense Israeli shelling has been along Gaza's southern border, near the Rafah crossing. "They didn't guarantee our safety getting to Rafah, or even once we went through."
In the email, shared with BuzzFeed, the U.S. State Department stresses, "United States Citizens who travel through the Rafah border crossing into Egypt do so at their own risk." The email added that U.S. personnel would not be on hand to help them cross at Rafah, or in Sinai, which is deemed extremely dangerous for U.S. nationals by the U.S. Embassy in Cairo.
"I really don't know if I will go," Mohammed said. "I think I will try, but I am very concerned about the safety getting there, and also the safety of crossing through Sinai. But if it is our only chance, we will go."
On Monday morning, Mohammed took her two daughters to Rafah crossing. Once there, she was told that U.S. officials had failed to coordinate with Egyptian officials and that no American nationals would be let through.
"Why did they send me here?" she asked BuzzFeed over the phone. "Since the morning they have been bombing the roads. It was dangerous to come here, but we took the chance. Now we are trapped."
Rafah, along Gaza's southernmost border with Egypt, is one of the most heavily bombed areas in the coastal strip. Mohammed said she was with two other families who had also made the journey are who were now weighing their options.
"The U.S. Embassy told us they would get us out through Rafah, they took our passport numbers and everything and said we would be able to get out. Now we hear through the Egyptians that nobody called them, nobody informed them," said Mohammed.
The U.S. Consulate said, "We are working on it, it's a priority," but added that they could not advise the families whether to stay in Rafah or try to make their way back toward Gaza city.
This story erroneously identified Eman Mohammed as a dual Palestinian-U.S. citizen. It has been changed to reflect that while she has a green card and U.S. residency, she does not hold U.S. citizenship.
Sheera Frenkel is a cybersecurity correspondent for BuzzFeed News based in San Francisco. She has reported from Israel, Egypt, Jordan and across the Middle East. Her secure PGP fingerprint is 4A53 A35C 06BE 5339 E9B6 D54E 73A6 0F6A E252 A50F

Contact Sheera Frenkel at sheera.frenkel@buzzfeed.com.

Got a confidential tip? Submit it here.