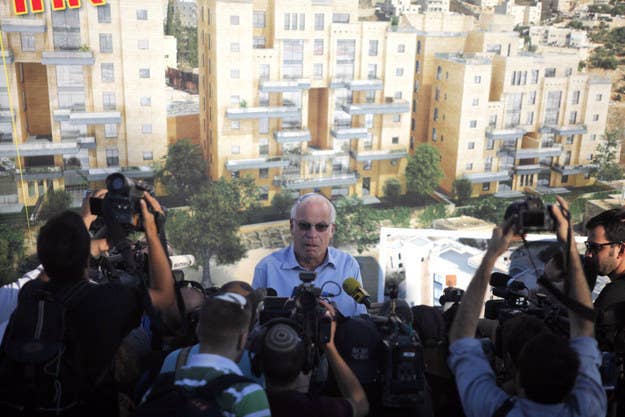 It was just after 7 a.m. Tuesday, April 1, when the tenders for 708 new homes in the East Jerusalem settlement of Gilo landed on Israeli Housing Minister Uri Ariel's desk. He already knew that in a few hours, he would take to Israel's national radio stations and speak in the name of Jonathan Pollard, a convicted Israeli spy currently serving his sentence in an American prison. And Ariel would ultimately set the stage for the peace process disintegration that has unfolded over the last 48 hours.
Ariel, a minister with the Jewish Home Party, had the choice to sign the tenders, approving the new housing at a critical moment in the already fragile peace talks, or delaying them for several days and signing them when the current crisis in talks had faded from the headlines. Recently ranked as "one of the most effective" right-wing members of the Israeli parliament and a resident of a West Bank settlement, Ariel's position on the settlements was well-known.
That morning, Ariel chose to sign the tenders, heaping more fuel onto the fire of tit-for-tat statements by Israeli and Palestinian leaders at a moment when the White House was doing whatever it could to quell those flames and keep the talks alive. In the ensuing hours he would give at least three radio interviews in which he slammed efforts by the U.S. to keep the peace negotiations going as "futile." Plans to grant a presidential pardon to convicted Israeli spy Jonathan Pollard as a "sweetener" for Israel to stay in the negotiations were soundly dismissed by Ariel, who said that Pollard was against being released at this stage. The headlines spread quickly through the local press, with many analysts quoting Ariel as they called the efforts to keep the peace process alive a "bad deal." By Tuesday evening, the Palestinians were announcing their intention to take unilateral action and join the U.N., and Secretary of State John Kerry canceled his planned emergency trip to the region as he voiced frustration with the lack of leadership by both Israelis and Palestinians.
"I would not say that Ariel caused the peace process to fail, that would be giving him too much power, but I would say he knew where to place the straw that would break the camel's back," said one U.S. official who was involved in the negotiations. "He applied pressure, in the right time and in the right way, that was very effective in sabotaging what was already an extremely delicate moment."
In the days leading up to Ariel's decision to publish the tenders and make the statement regarding Pollard, Kerry had been busy trying to patch together an agreement that would see the talks extended past their April 29 deadline. Israel had refused to release the fourth, and final, group of Palestinian prisoners who were slated to be freed over the weekend, citing the Palestinian refusal to extend negotiations. The U.S. official involved in negotiations said that, as of Monday evening, Kerry had been "very hopeful" that his compromise — which would see talks extended through 2015 in exchange for at least 400 additional Palestinian prisoners released, and the release of Jonathan Pollard — would be accepted by both sides, and receive final approval from the White House.
Kerry, said the U.S. official, was completely caught off guard and infuriated by the announcement that Israel had approved new housing tenders for the settlements Tuesday morning.
"There is always a choice for when a minister signs tenders," said one senior official at Israel's Housing ministry, who spoke to BuzzFeed on condition of anonymity as he was not authorized to speak to the press. "Of course, there is an automated process whereby tenders reach a minister's desk whenever they reach it. But nobody would say anything or even notice if it took a day here or a day there to sign the tenders. The choice to sign the tenders that morning was Ariel's and it was made knowingly."
Another Housing Ministry employee, who also spoke anonymously, said that the tenders approved by Ariel were actually old tenders for Gilo, which he chose to sign at that date to create the maximum possible controversy. His accusations, however, could not be independently verified, and repeated calls to Ariel's office by BuzzFeed went unanswered.
It was not by chance, added the official, that the tenders were for Israel's east Jerusalem settlements, an area that Israel's leadership see as an inseverable part of the future Jewish State.
"These tenders were a statement about where the peace process was heading, a statement he knew the Palestinians could not ignore," said the official.
And so that evening, when Palestinian Authority Chairman Mahmoud Abbas went on live television to sign 15 international treaties, and announce he would be seeking to join U.N. bodies, Palestinian officials blamed the 708 new settlement homes for their decision.
"Israel has reneged on their agreements with us with the building of these homes," said Palestinian government spokesman Xavier Abu Eid. "Both with failing to complete the final stage of our agreed-upon prisoner release and with these settlement homes they have broken agreements and so we feel compelled to go forward and seek membership to these international bodies."
The Palestinians, he stressed, were still committed to remaining in the peace process until April 29, though it appeared less and less likely that the talks would be extended past that date.
In Israel, meanwhile, public opinion had turned against the idea of releasing Pollard from American prison, after Ariel's radio interviews in which he stated that Pollard would not want to be released while more Palestinians prisoners were set free.
"I was personally told he is against being released in such a shameful deal," said Ariel, during a morning interview with Israel's Army Radio station.
Two Israeli journalists who spoke to Ariel that day said they were given the impression that he had recently spoken to Pollard and was voicing his wishes.
"That was certainly the distinct impression I received. He was very adamant that Pollard did not want to be part of this deal," said one of the journalists, who asked to speak off-record as he admitted that perhaps he had been "overzealous" in reporting Ariel's views. "In retrospect, I may have been aware that Ariel doesn't actually speak to Pollard himself, and that he was feeding us this information for his own political purposes. But we were eager to report any aspect of the Pollard deal."
Gil Hoffman, political editor of the Jerusalem Post, who is in frequent contact with Pollard's wife, Esther, and has reported extensively on the "Free Pollard campaign," said there was no way Ariel was speaking for Pollard.
"Those around him are very upset by what was being said by politicians in Pollard's name," said Hoffman. "Pollard absolutely wanted to be released, there is no doubt about this."
While Pollard penned an oped in the Jerusalem Post eight months ago, pleading with Israel not to release him in a prisoner exchange with Palestinians, he had no objections to being pardoned by Obama as what he saw as a "sweetener" to ongoing peace negotiations, said Hoffman. Pollard's family in Israel, and those working on his campaign, were extremely upset as headlines throughout the day picked up on what Ariel had said and printed them as Pollard's personal opinion.
By Thursday, any deal — with or without Pollard — appeared farther away than ever. A seven-hour marathon session between Israeli, Palestinian, and U.S. negotiators ended in a screaming match, according to several of those who took part, and the White House released a statement saying it was "disappointed" with both sides.
By Thursday evening Israel had announced it was conclusively cancelling the fourth round of the Palestinian prisoner release. The Palestinians had taken unilateral moves, said Israeli Minister Tzipi Livni, and "new conditions were established" that made the release of prisoners impossible.
Kerry, in his first public comments since the crisis in talks began told reporters in Algiers, "In the end, my friends, as all of you know, you can push, you can nudge, but the parties themselves have to make fundamental decisions and compromises, the leaders have to lead, and they have to be able to see a moment when it is there … There is an old saying, you can lead a horse to water but you can't make it drink. Now is the time to drink, and the leaders need to know that."
Ariel, in Israel, also released his first comments since his statements on Pollard were picked up across the international press. On his Facebook page, he called for Israel to officially annul the Oslo Accord, the 1993 agreement that set the benchmark on what a two-state solution would look like.
"The takeaway here isn't that Ariel is an extremely powerful man who had the power to break the peace process," said the U.S. official involved in negotiations. "It is that the two sides don't have the willingness to really engage in a serious process right now. So a straw, any straw at all, would give them enough of an excuse to try and walk away."