How Netanyahu Won The Elections — And What It Means For Israel
"You cannot misread what has happened here. This is a victory for Netanyahu."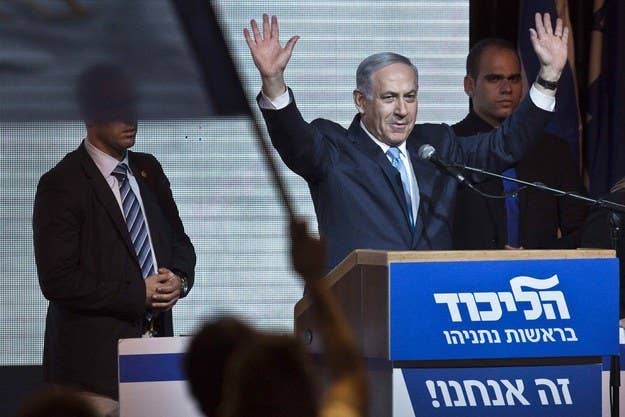 TEL AVIV — Malka Mizrahi was literally holding the ballot of another candidate in her hand when she decided to switch her vote and re-elect Israeli Prime Minister Benjamin Netanyahu. Her sister, Meira Ramon, who went to vote with her in the coastal city of Bat Yam, also voted for Netanyahu, though for weeks she had been telling pollsters she would vote for the pro-settlement Jewish Home party.
"It just didn't feel right to vote for Jewish Home, although for weeks that's what I told people I would do," said Ramon. "When my fingers touched the ballot I felt like I had to vote for Netanyahu. It's a feeling, how do I explain it?"
Israelis went to sleep to exit polls showing that Netanyahu had tied with the left-of-center Labor Party, and awoke to news that Netanyahu's Likud had swung ahead to become the largest party in Israel's parliament by a wide margin. The final results, which give Netanyahu 30 seats of the 120-seat parliament, leave no question that Netanyahu will be Israel's next prime minister. After weeks of being told that Netanyahu would barely scrape by with 20 seats, and frantic warnings by Netanyahu that there was a "real danger" that the right-wing could lose, it appears that Israel will soon have one of its most right-wing governments to date.
"The people of Israel have spoken. This is what they want," Likud Minister Gilad Erdan told BuzzFeed News at Likud Party Headquarters Tuesday night. "You cannot misread what has happened here. This is a victory for Netanyahu."
How that victory happened, and why both the pre-election polls and exit polls were so far off the mark, will leave Israeli political analysts scratching their heads for months to come. For many of the Israelis who spoke to BuzzFeed News on election day, the decision to vote for Netanyahu was an emotional one. They spoke of Netanyahu's last-minute media blitz — he gave five interviews in three days — and of feeling "safe" with Netanyahu as prime minister.
"He said things which made sense to me," said Mordechai Zemut, a 39-year-old accountant who spent the day at the beach with his children before deciding at the last minute to rush to the polls and vote. "I wasn't going to vote because I'm so sick of all Israel's politicians. But then I realized that all these other left-wing groups were voting and that I could wake up tomorrow with some kind of socialist, communist left-wing group in power."
Zemut said he listened to Netanyahu's appeal on Facebook, in which the Israeli premier talked about Arabs "voting in droves." In previous posts, Netanyahu has referred to a global-backed conspiracy to support the left-wing and oust him, writing, "Scandinavian governments have spent millions of dollars on a campaign to remove me from power."
Speaking to Israel's Reshet Bet radio station Wednesday morning, pollsters said they saw a significant uptick in voters going to vote in the late evening hours on Tuesday — which they said were likely "emotional votes" made in response to Netanyahu's appeal. The pollsters also said that their previous polls were taken before Netanyahu made a series of serious policy statements on Israel that took a hardline stance on several issues.
In the days before Israel went to vote, Netanyahu took a hard turn towards the right. Within 48 hours he visited the Har Homa settlement and declared that he would continue to expand Israel's West Bank settlements, and then went one step further and promised that if he was re-elected he would not allow the establishment of a Palestinian State.
"Israel chose the path of racism, occupation and settlement building, and did not choose the path of negotiations and partnership between us," senior Palestine Liberation Organization official Yasser Abed Rabbo told Agence France-Presse on Wednesday. "We are facing an Israeli society that is sick with racism, and a policy of occupation and settlement building ... and ahead of us is a long and difficult road of struggle against Israel."
Palestinian officials who spoke to BuzzFeed News on Wednesday on condition of anonymity said they were waiting to see what the response of the U.S. and EU would be to Netanyahu's re-election.
"They can't sit there and say nothing, considering his declarations regarding a Palestinian State. They can't sit there and continue to say with a straight face that Netanyahu is a partner for peace who believes in a two-state solution," said one Palestinian official who spoke off-record because the Palestinian Authority has called a press conference for Thursday evening to give its official response. "What will be their reaction to this?"
As of Wednesday morning, both the U.S. and EU said they were waiting to see who formed Israel's governments and refused to comment on Netanyahu's remarks.
In Haaretz, columnist Anshel Pfeffer wrote that while the U.S. was disappointed in the results, it was unlikely to show it, saying that "sources close to the White House found it hard on Tuesday night to disguise their disappointment with the election's inconclusive results and their distaste for the prospect of having to deal with the 'new' Netanyahu, who seems even less palatable than the old. Many of them are hoping that President Reuven Rivlin will take the chestnuts out of the fire by pushing for a national unity government, which they have supported all along."
Most Israeli analysts, however, think it is unlikely that Netanyahu will invite Herzog's Zionist Union Party into a unity government, especially after lawmakers from Herzog's party declared Wednesday morning that he would lead the opposition.
The resulting government would be one of the most right-wing in Israel's history, with members of the pro-settlement Jewish home and ultra-orthodox Shas party already signed on to join the coalition. Netanyahu is also likely to convince Moshe Kahlon to join with his Koolanu party, which focuses more on socioeconomic reform than diplomacy and security.
"The people of Israel have voted and they have said no to Western intervention and meddling. They have said yes to a strong state of Israel and a united Jerusalem," said Likud Party activist Shai Marzel on Tuesday night. "Israel wants Bibi as their king."