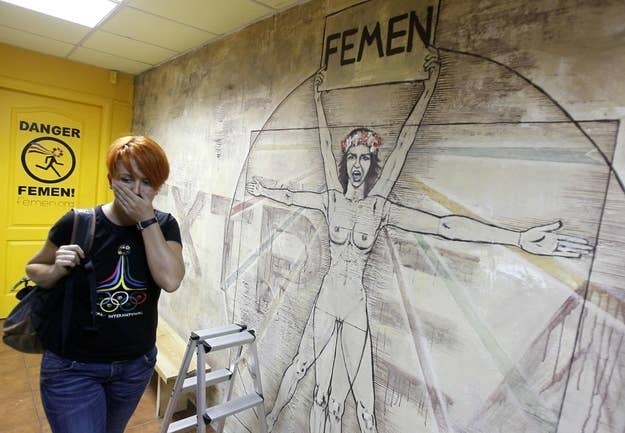 It's a Christmas gift that no one quite knows how to receive. Femen, the topless feminist protest group, has announced that it is coming to the little town of Bethlehem in the West Bank for Christmas celebrations.
Sources close to the group have said that they hope to organize a topless protest in the community garden adjacent to the Church of Nativity. The message of the protest has been left up in the air, though the group often protests against patriarchy and gender inequality — in the nude.
"I'm not sure that's quite appropriate for Bethlehem," said Ahmed Vardi, a local shopkeeper who trades in olive wood crosses and rosaries. "They don't sound like the sort of protest we need here."
In the past, celebrities ranging from Nelson Mandela to graffiti artist Banksy have visited Bethlehem, many expressing solidarity with the plight of the city's Palestinians, who say that Jewish settlements increasingly encroach on their lands, while the separation barrier cuts off commerce and trade between Bethlehem and surrounding areas.
"I don't know if they are coming to protest for us, but it sounds like they might scare off the pilgrims who come this time of year. We rely on them for business," said Vardi. "It is the most important time of the year to do business in Behtlehem."
Hundreds of thousands of pilgrims visit the Bethlehem each year to celebrate the birthplace of Christ, where Christmas Eve celebrations in Manger Square have become cornerstone events for the increasingly isolated Palestinian Christian population.
Hard-line Palestinian groups have said that if Femen comes to West Bank they will protest the group.
"Palestine is a holy and blessed area which will never be sullied by those atheist women," one Muslim activist told Gulf News. "This issue should not be discussed in the first place. There is no room for those women in Palestine. This should be realized and taken as a matter of fact."
Vera Baboun, mayor of Bethlehem, has categorically rejected any kind of protests by topless feminist activists in the city. "Any protest that does not observe Palestinian customs and traditions and which violates public decency is unwelcome," she said in a statement.
She added that while Femen will visit the Palestinian territories for Christmas, any protest the group holds will be in accordance with Palestinian values.
Support for the Femen visit was divided: